According to early Memphis and Charleston records, the Paint Rock stop was originally known as Camden. A freight house was built here in 1856 and painted in 1860.
This depot survived the Civil War, only to be blown away by a cyclone on January 17, 1870. A new frame depot was built in 1870 and remodelled in 1885. In 1888, this depot was destroyed by a storm, and a new frame depot was built to replace it. In 1895, this depot was listed as "in good condition."
This depot was destroyed in the infamous cyclone of March 16, 1932, when 309 Jackson County residents lost their lives. The destruction in Paint Rock is shown below in the photo from The Jackson County Sentinel: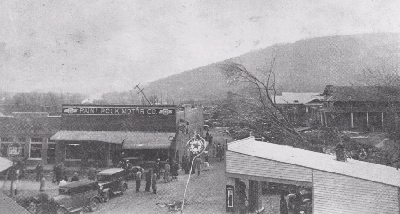 Another depot was built ont he same site, but it is now gone.
These railroaders came from Paint Rock: W. H. Bearers, A. O. McAnnally, H. D. Kennamore, Sidney David, Charles Lovelady, H. E. Buckner, Richard McCulley, R. S. Beasley, O. L. Beasley, Robert Beasley, Tilden Beasley, L. L. Smith, J. C. Gormely, Dennis Kirkpatrick, Walter Jones, S. H. Kennamore, Harry Hill, Lucian Hill, T. L. Hill, E. Smithers, Jake Smithers, and Clark Lovelady.
From Jack Daniel's book, Southern Railway: From Stevenson to Memphis (Grandmother Earth Creations: Germantown, TN, 1996).