Built in 1881, the Claybrook Building, located at 201 South Market Street. It is a two-story, painted-brick building, featuring a cornice of recessed panels and corbelled brick courses, brick pilasters at corners and center division of building, stone lintels over second floor windows on left and brick jack arches over windows on right side, aluminum sign panel attached between floors. The left store front retains cast iron vertical supports. The right store front slightly altered. The right side has plate glass display windows. The building was renovated in 1914. There are two retails spaces in this building. The left side is currently occupied by Credit Central, and the right side, which is has been used for seasonal businesses like political headquarters, is currently unoccupied.
Current view: Credit Central and Unoccupied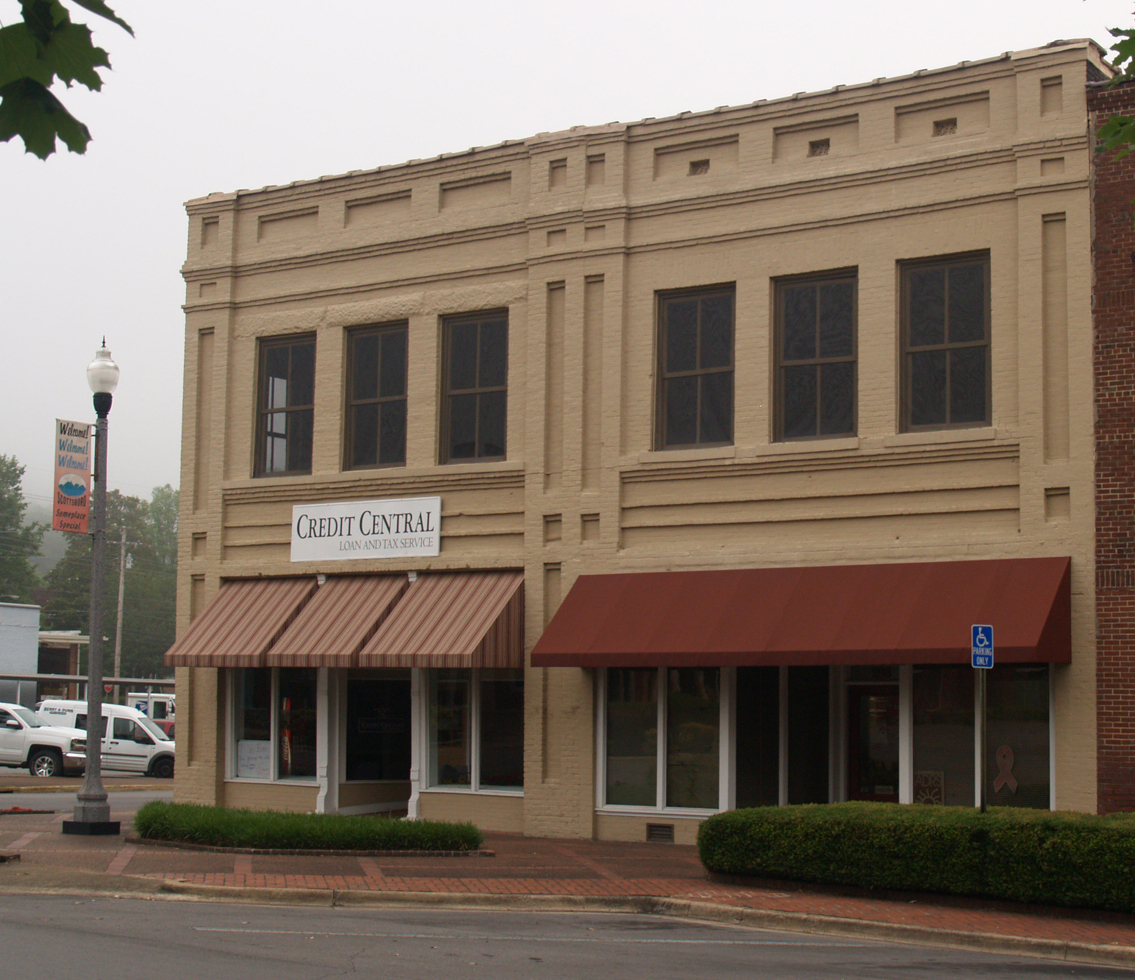 Deeds, builders, and early owners
It appears (in the absence of the original plat book for the square) that the earliest recorded owner of this lot after the land deeded to the county for the development of the square by Robert Scott was R. C. Gunter, who bought the lot in an auction on April 12, 1869 and recorded on April 7, 1871.
Jackson County Deed Book 5, page 155, reports a deed recorded on April 7, 1871: "Jackson County to R. C. Gunter [Bridgeport's steamboat Gunter family]. Lot sold on APRIL 12, 1869, to highest bidder. Lot 49 lying at the Northeast corner of Public Square, fronting 33 feet on Market Street and running back with and on Laurel Street 160 feet, containing about 1/8 acre."
It does not appear that this lot was developed by R. C. Gunter. We have not yet determined to whom Gunter sold this lot, but, Ann Chambless noted, "I suspect it was to either Bynum or Claybrook. This key city lot did not lie fallow for long, since the current building was constructed in 1881. When this building was built, Abner Rossen was mayor, and the town was concerned that the malaria epidemic ravaging Memphis might be carried to Scottsboro by Memphis traveller on the Memphis and Charleston Railroad. The July 21, 1879 proclamation in the proclaimed that "no persons, goods, or chattels from said city shall be brought with the corporate limited of said town of Scottsboro."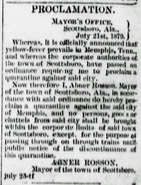 Early Claybrook businesses on this site
The building is most likely named for H. H. Claybrook. His obituary from the Scottsboro Citizen found below discusses his long career with commerce in Jackson County. H. H. Claybrook died in 1909.

1910: Howland and Claybrook
According to the 1910-11 Young & Company Directory of Alabama, a business called Butler & Claybrooke was found in Scottsboro, and was probably located on this corner. An ad from the 1905 Progressive Age for Howland and Claybrooke is shown below.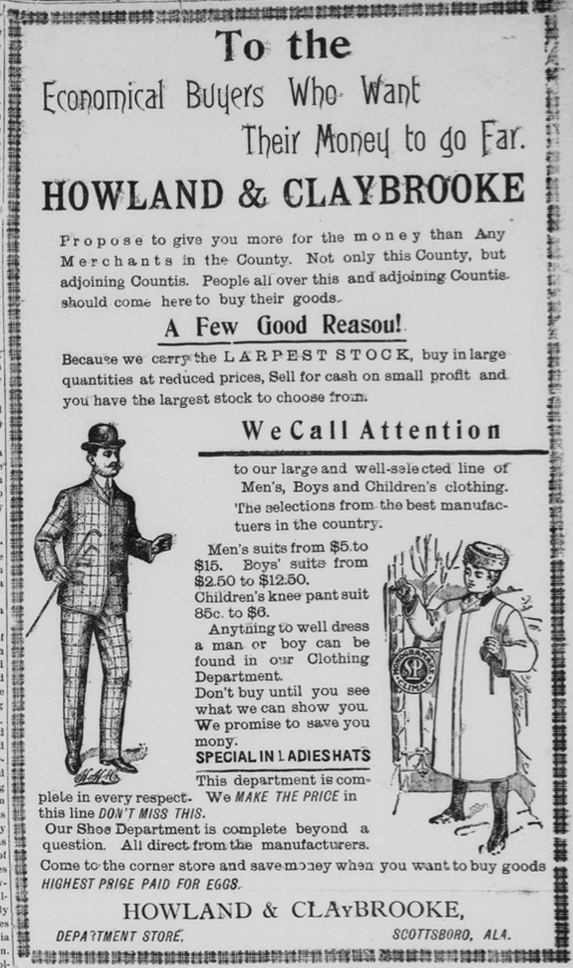 A review of early newspapers shows that this business seemed to names frequently.
Late 1920s and early 1930s: Dreamland Theater
In the 1930's, the upstairs of the Claybrook Building was the site of a silent movie theater, The Dreamland, that was slated to be the first theater in Jackson County that was equipped for sound. It's questionable whether the conversion actually occurred, however, since the manager of The Dreamland, Claude Bobo, opened The Bocanita Theater with Mary Tex Snodgrass later that same year. Mary Presley Cox remembers climbing the stairs to reach the Dreamland as a child in 1929 to see Tarzan and remembers that the soundtrack was recorded. The newspaper ad below announcing coming attractions is from the 1929 Progressive Age.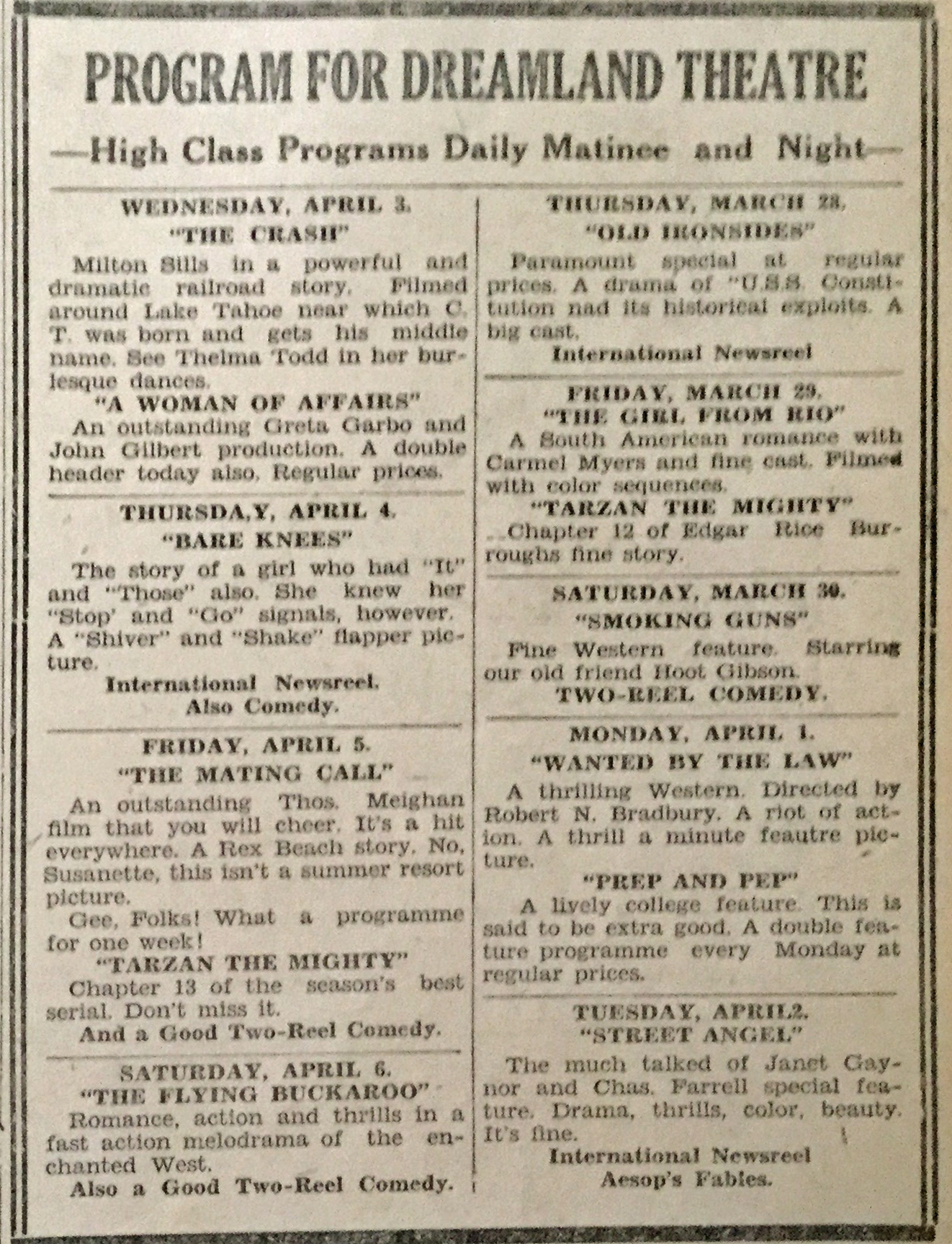 1924: Jacobs And McClendon
As noted earlier, the clothing store in this space changed names frequently, but most early businesses involved one of the Howland brothers. This one did not. It is worth noting that a Dr. McClendon built what is today Shorty Machen's Store in 1869 in Hollywood, and the other business on that side of the street in the 1940s was Jacobs' Store. It is not currently know if these businesses are related.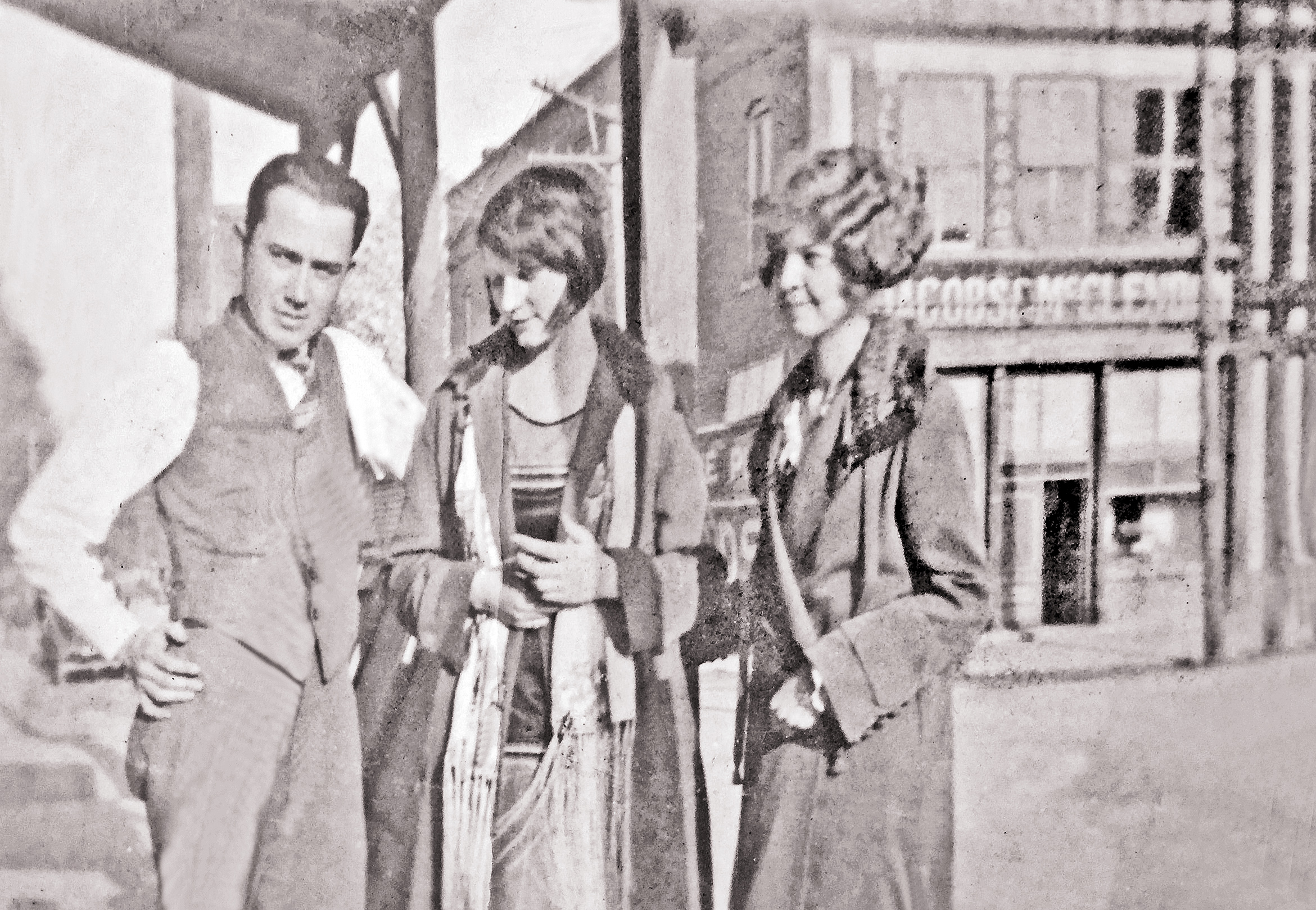 1912-1953 Wood's Grocery
The right side of this building was occupied by Wayne Wood's Grocery. According to Clayton Wood, Ed's son, Wood's Grocery opened in 1912 and remained a well-known Scottsboro business establishment for the next half century. E. D. "Don" Wood sold his farm in the Goosepond Community and moved to Scottsboro with his wife, Ella, and four children, Wayne, Delbert, Sid, and Berith. The Wood family moved into the antebellum-styled house known as the Almena Caldwell house on South Houston Street. Don Wood opened his grocery business on the square where it remained until 1953. In 1953, Wood's Grocery moved to U. S. Highway 72 across from Patrick's Lumber Company. Son Wayne and his family operated Wood's Grocery until he retired in 1962.
Don remembers that operating a small business was tough during the Depression when many small businesses failed. Grocery stores usually did a lot of business on credit, and some of these debts were never collected. Don Wood went out of his way to be helpful, and in some instances, it took years for debts to be paid. Parker W. Campbell wrote in the Feb 10, 1959 Progressive Age noted: "Back in the earlier store days, like many of the credit stores today, when customer comes in and pays up, the merchant makes him some sort of little gift to express appreciation for business. I traded on credit with Don Wood for many years and every time I paid the grocery bill he would say, 'Wait a minute, Parker, I want to send the children some candy.' If the amount I paid was pretty big, we got a pretty big sack of candy; if not so big, then a sack of candy in proportion. The 'kids' at home by this token always knew when the grocery bill was paid and whether it was a big payment or a small one."
Ann Chambless remembers, "When I was a child, my Dad raised white rabbits and sold them to Mr. Don Wood. When we would take the rabbits (ready for the meat counter) to Wood Grocery, Mr. Don Wood would always give me a stick of peppermint candy.
This photo of Wood Grocery in the Claybrook Building was taken from a larger photo of a World War II bond sale event. The ad is from the 1952 yearbook.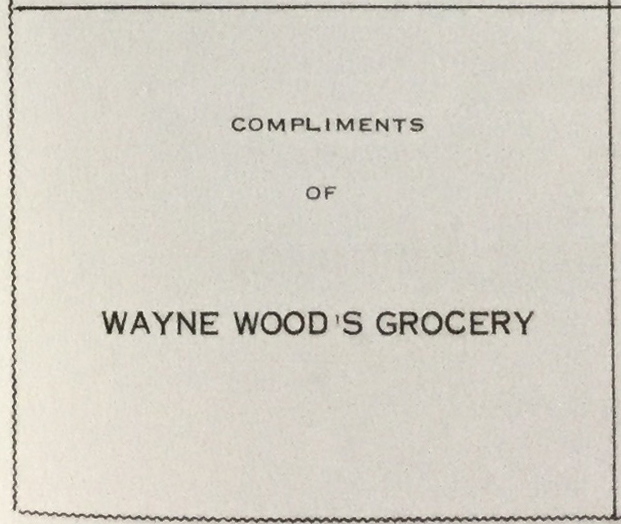 1956-1970 Darwin's and Mack Kennamer
From 1956 and 1970, this building was home to Darwin's Clothing Store. The photo below is from the 1968 Jackson County Advertiser.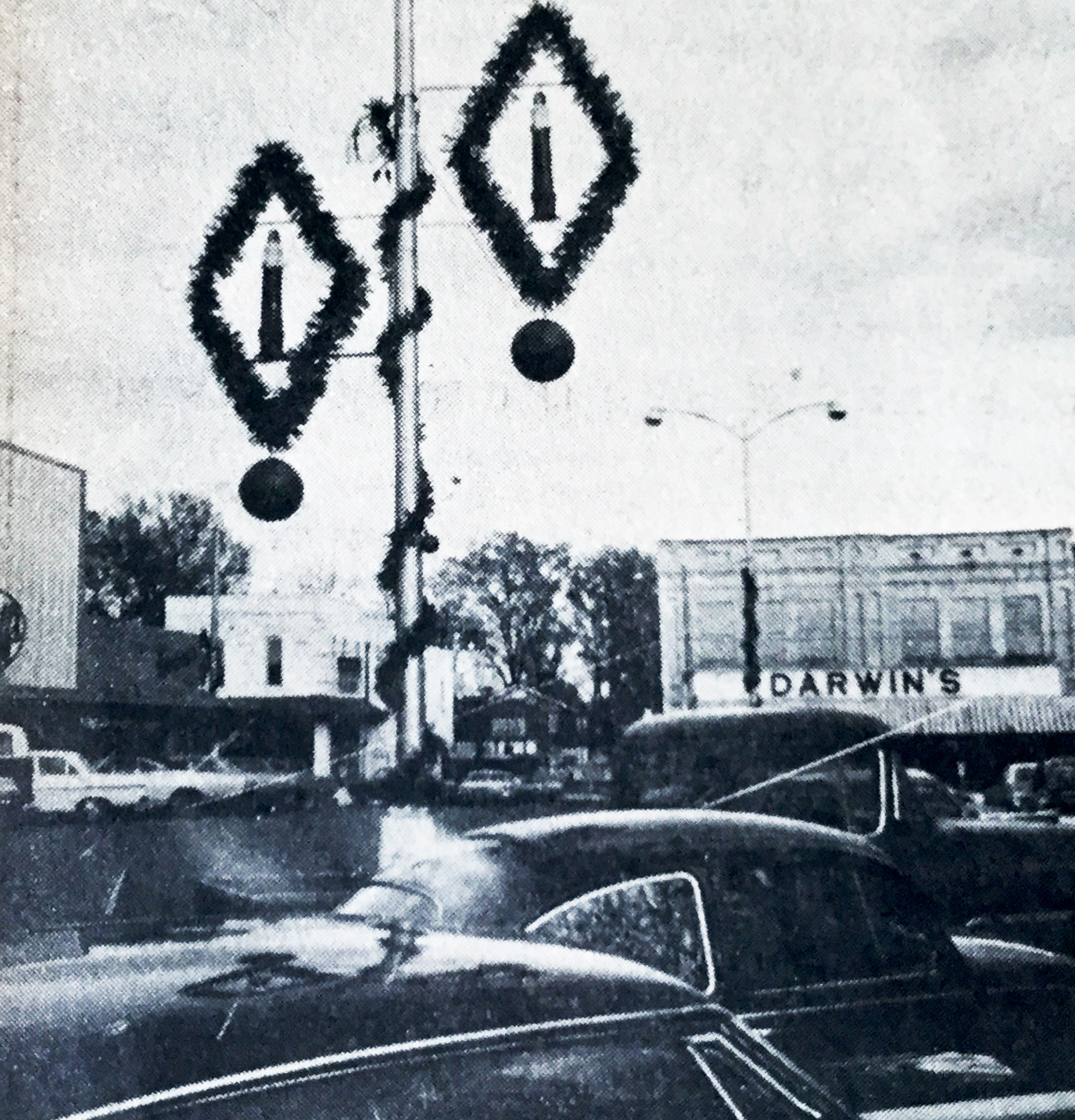 Scottsboro residents of the 1950's and early 1960's will remember Darwin's store as the school textbook sales outlet. The book department was accessed by a stairway opening onto Laurel Street. The bookstore was discontinued in the mid-60's when the state began to supply textbooks to students.
McDonald "Mack" Kennamer, the brother of Eva Kennamer Parks who managed The Quality Store with her husband Albert, managed both the Darwin's and Adams clothing stores for the W. S. Adams family from Guntersville in the late 1950s and 1960s. According to Bill Parks, the Adams father and son owned the two businesses on the corner of Market and Laurel. W. J. "Jimmy" Adams Jr. ran the Adams Casualette business which, Bill recalls, "had the cool clothes," the high-end women's labels like Villager. Darwin's, owned by W. J. Adams Sr., carried less prestigious brands. W. J. Sr. expanded his line of stores to include Darwin stores in Arab, Albertville, and Guntersville. Jimmy had other Adams stores in Mountain Brook and Decatur, where they are still in business today. Mack later opened Kennamer's Clothing Store in the Brown Building about 1964.
Bill remembers that it was Mack Kennamer's idea to sell school books at Darwin. Bill recalls that before school started in the fall, you could barely go upstairs for all the books stacked on the stair steps. Darwin's closed in 1970 or shortly thereafter.
1971-73: Big C Drugs
According to discussion on Facebook and the photo below, the Claybrook Building was the home of Big C Drugs when it opened in 1971 before they completed the store in the current location at 106 Parks Avenue and moved in 1973. The business is currently co-owned by Dexter Cordes and Jeff Stewart.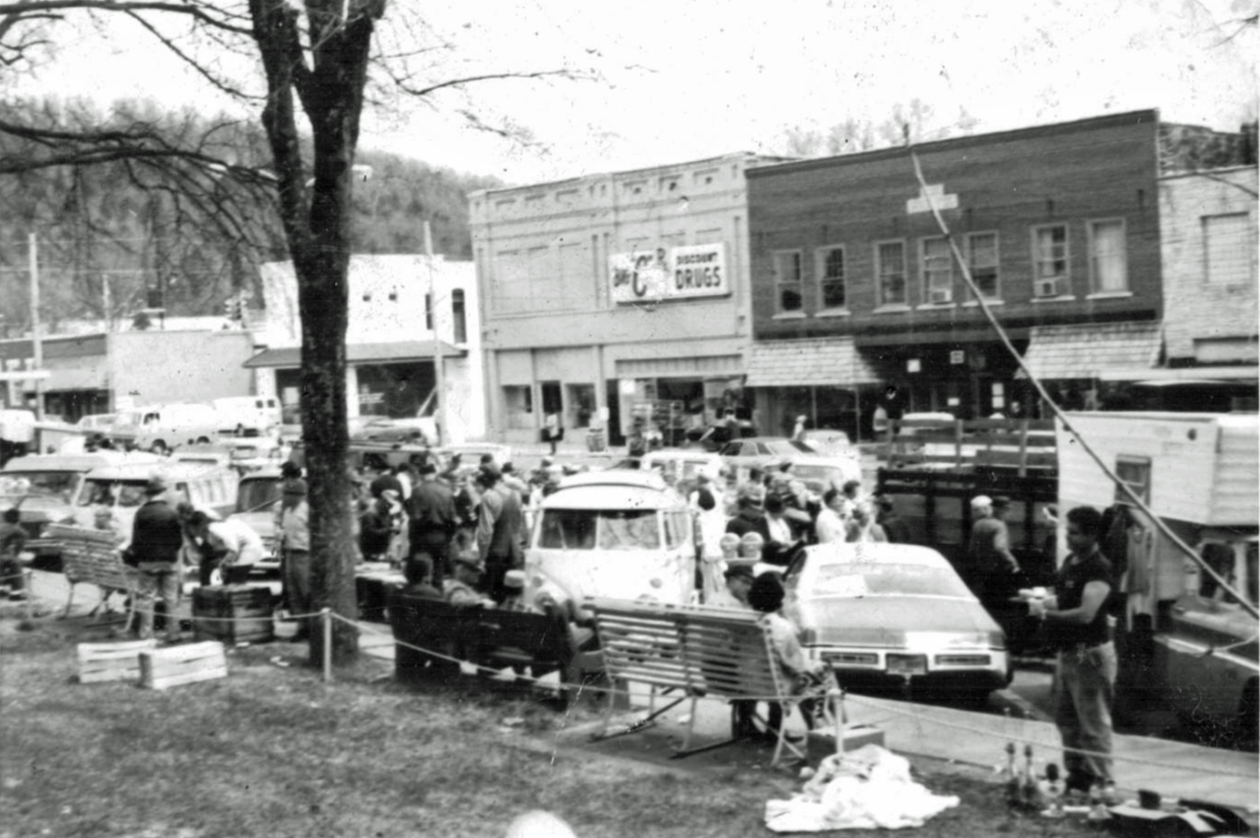 1975: Adams Casualette
After Big C moved, Adams took both sides of this building, as the photo below shows, and was known as Adams Casualette.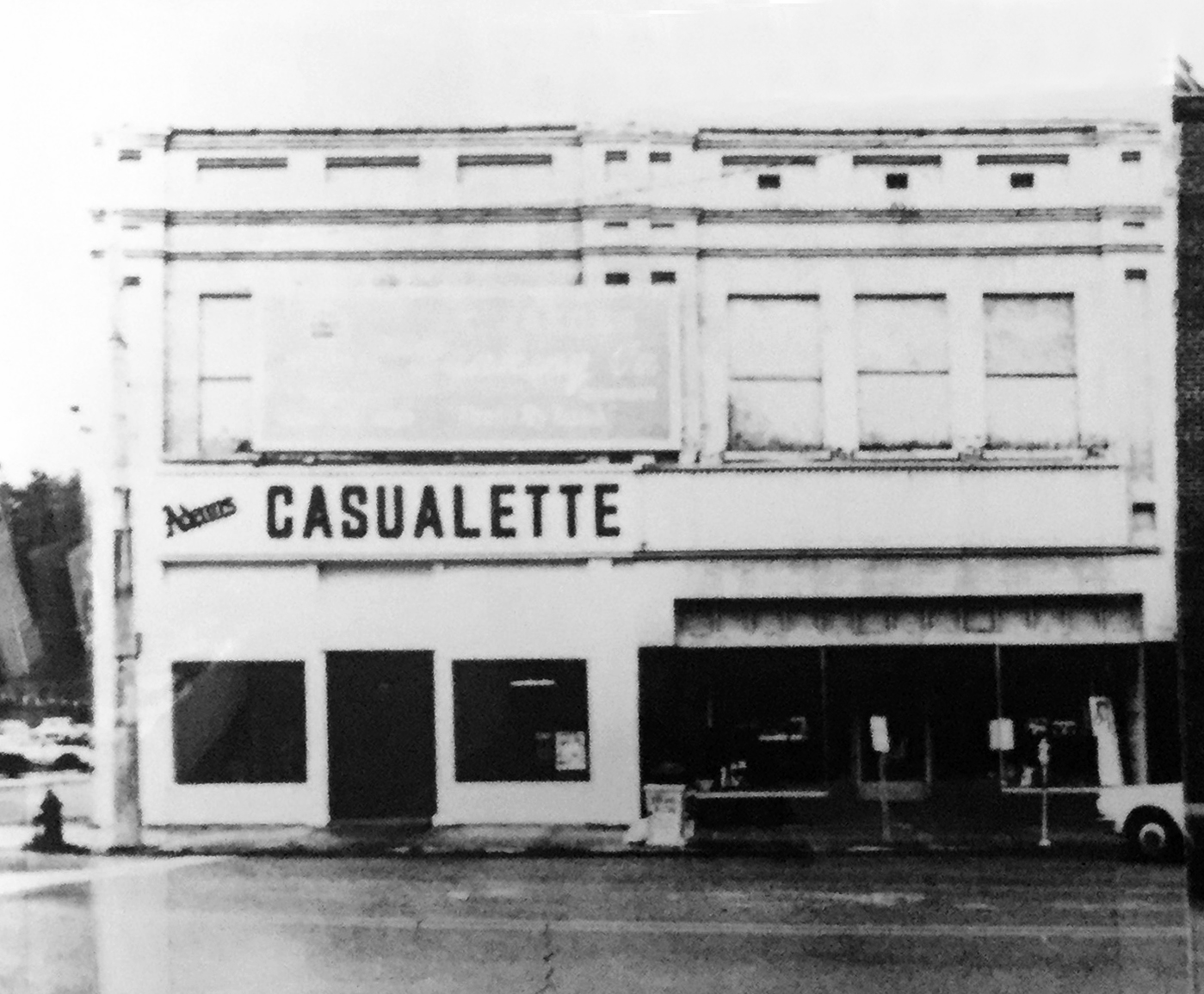 Recent tenants
Just before the renovation in the 2010s, this building was home to a high-end shoe store named Footworks.
For other views of this building, see North Side of the Square views that look east.