Built in 1931-32 as part of the Word Block, Gist Jewelry and Studios was located at 218 South Broad. It is one story brick building with glass display windows.
The business in the 1956 phone book is both the jewelry business and the photographic studio of Leroy Gist Sr. By 1960, the city directory records that the two businesses separated, and the photo studio moved further down South Broad. The jewelry business remained at this location on the square 1972 after the Ritz has closed and Southern Allsports has taken over the entire three-building space.
Both Leroy Gist Sr. and Leroy Gist Jr. were photographer. Mr. Gist Sr. made many of the photographs of early Scottsboro that are seen today. The photos in Hardee's, for example, on South Broad Street were taken by Mr. Gist Sr., as were the square pictures of the 1917 snow.
In 1953, Leroy Jr. and Irene Gist took over his father's photography business that had opened in Scottsboro in 1928. Gist Studio remained in business until late 2002. Mr. Gist became a Certified Member of the National Photographers' Association and received numerous awards for his work. According to his obituary, Mr. Gist cherished the opportunities he was given to photograph many special people and events. Much of the history of Scottsboro and the surrounding area is preserved in photographs made and shared by him.
In the 1972 city directory, this space is occupied by Edwards Drafting Service. The current tenant is this space is Southern Allsports, which has expanded its small footprint in the Ritz building to encompass the buildings on the left and right. The former Gist space is the green, left side of this building in the photo below.
Current view: Southern Allsports South Annex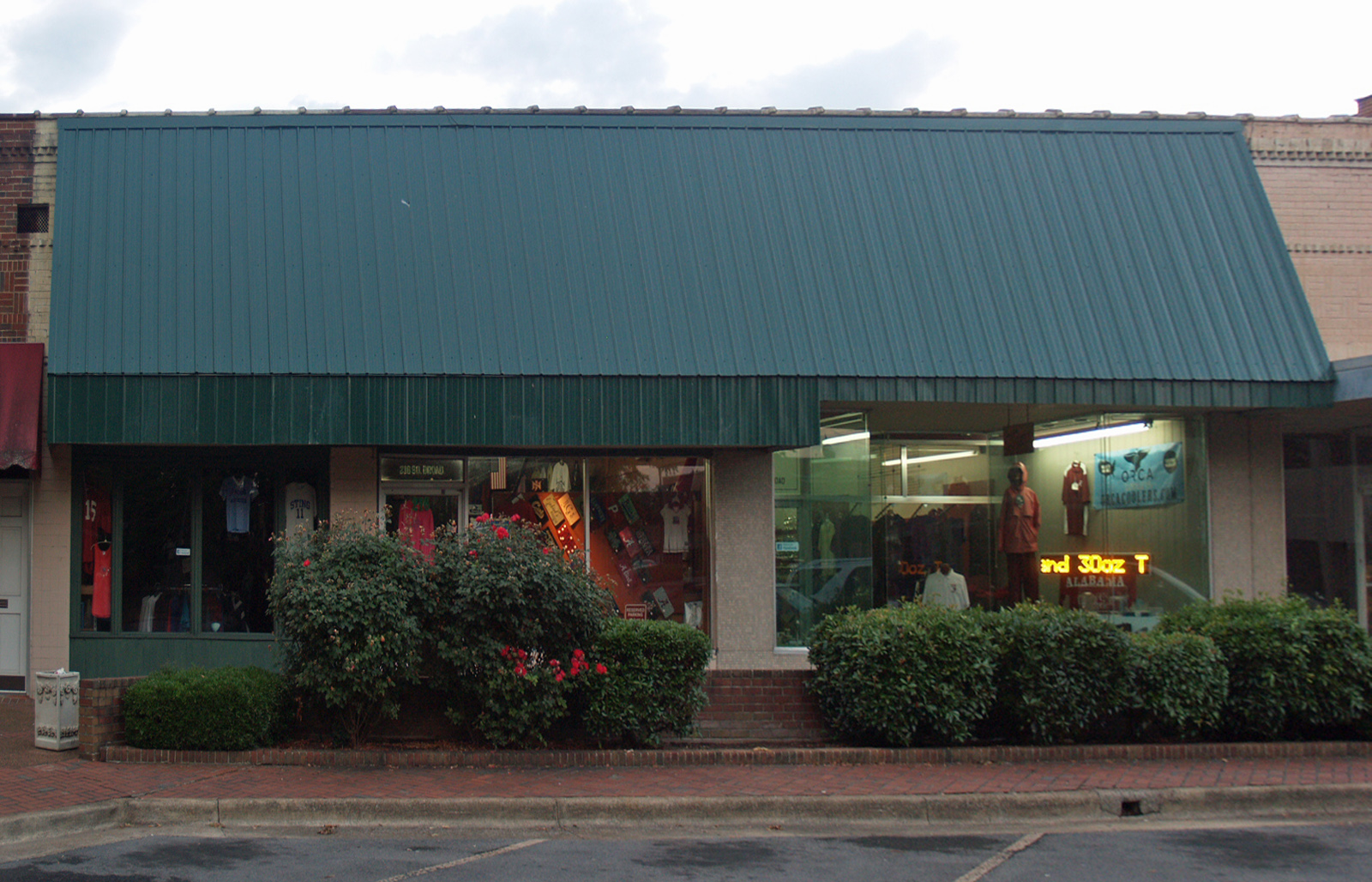 Word block buildings during World War II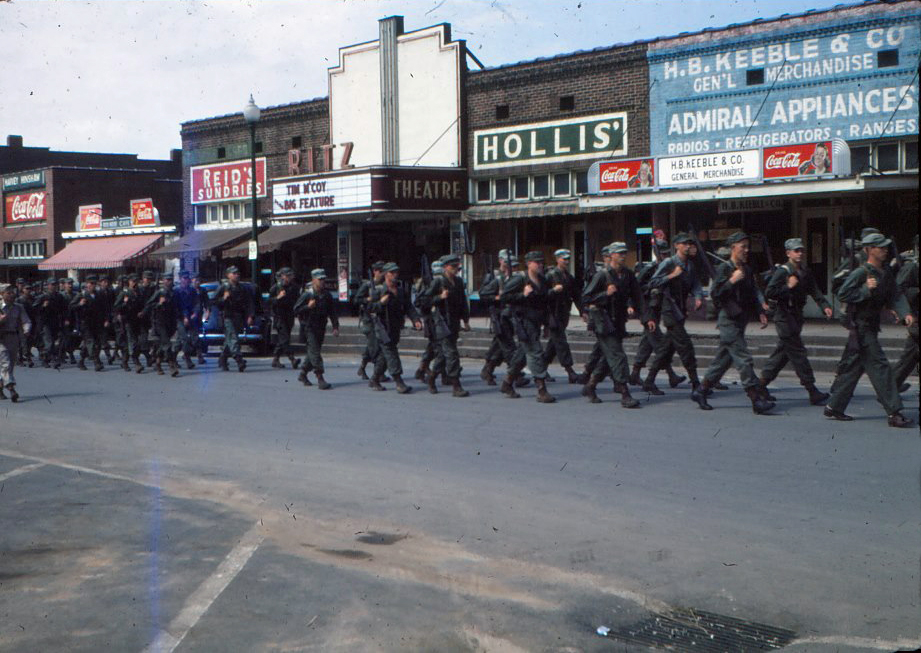 Early 1940s photo showing the awning of Gist Jewelry
1956 ad for Gist Jewelry and Studio from the phone book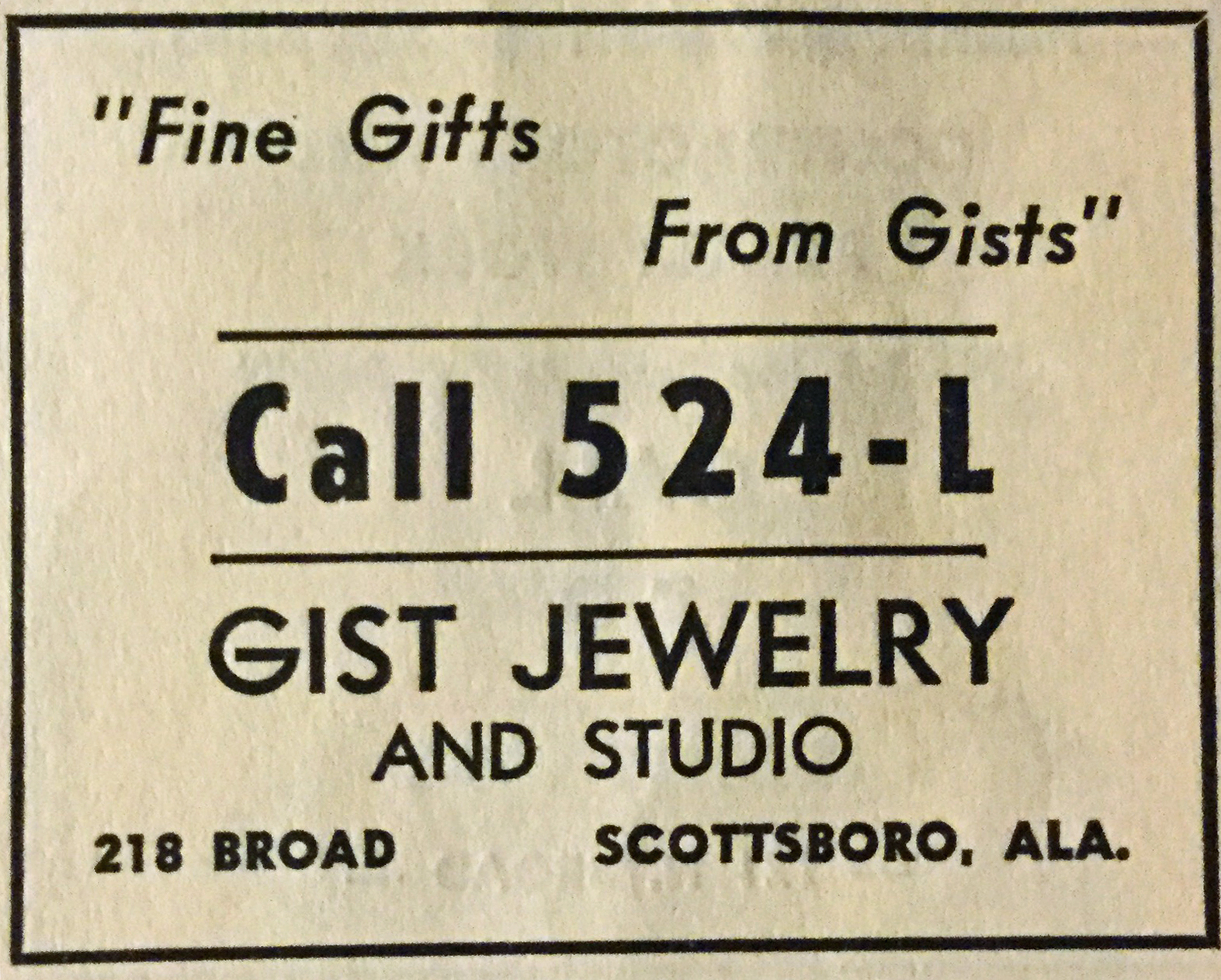 1960 ad for Gist Studio from the city directory