Established in 1909, the J. C. Jacobs Banking Company was located at 104 South Broad. Jacobs Bank was a family-owned bank that opened its first banking location just off the square on the corner of Willow and Broad. This location closed by 1967 because it is no longer found in the city directory at this address, and, as Ann Chambless notes, the lot was sold in 1978.
In 1980, the name of the banking company was changed to Jacobs Bank, and the main office was moved to 510 East Laurel Street. In 1999, Jacobs Bank was acquired by Regions Banks. The bank had multiple locations around the county in its heyday. The original building on Broad Street was torn down in 1964-65 and the main office moved to Willow Street. A new building was constructed in DATE to house The Lackey law office, which is currently in this location.
Ann Chambless has the following information about the deed to this property. Deed Book 271, p. 388, Aug 9, 1978, J.C. Jacobs Banking Co, Inc. to Louise W. Jacobs and Elizabeth Jacobs Samsa, trustees of Will of H. G. Jacobs: Lot fronting on west side of Broad Street and on south side of Willow Street known as old J. C. Jacobs Banking Co.
Current View: Patricis S. Lackey LLC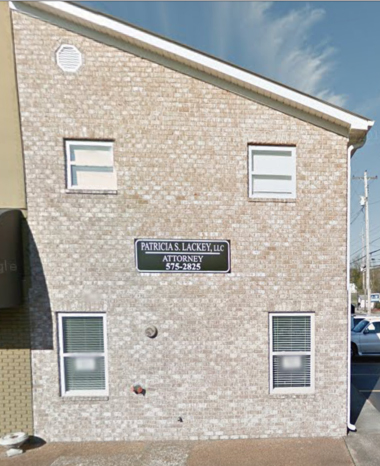 At the time that the primary business was going on at the street level, the second floor had a succession of tenants and offices. Here are some snapshot examples.
1960
Jacobs and Moody, Agents
Scottsboro Community Development Foundation
1965
Jacobs and Moody Insurance
Scottsboro Community Development Foundation
Jacobs moved from this location by 1967 and no notations are found for tenants of this building.
1910: Jacobs Bank at the 104 Broad Street location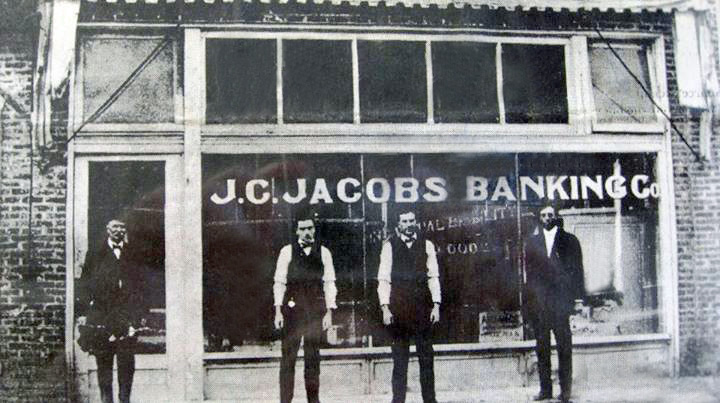 1957 aerial view of the west side, northern section
This view has Coplin Hardware in the lower left. Jacobs Bank original location at 104 South Market is visible. Notice the area left between the bank and the end of the block to accommodate the drive-in window.
1960: Jacobs Bank ad from the newspaper
The boy on his bicycle is Larry Derrick. The woman at the window is Ann Berry Moody. The date is based on Larry's age.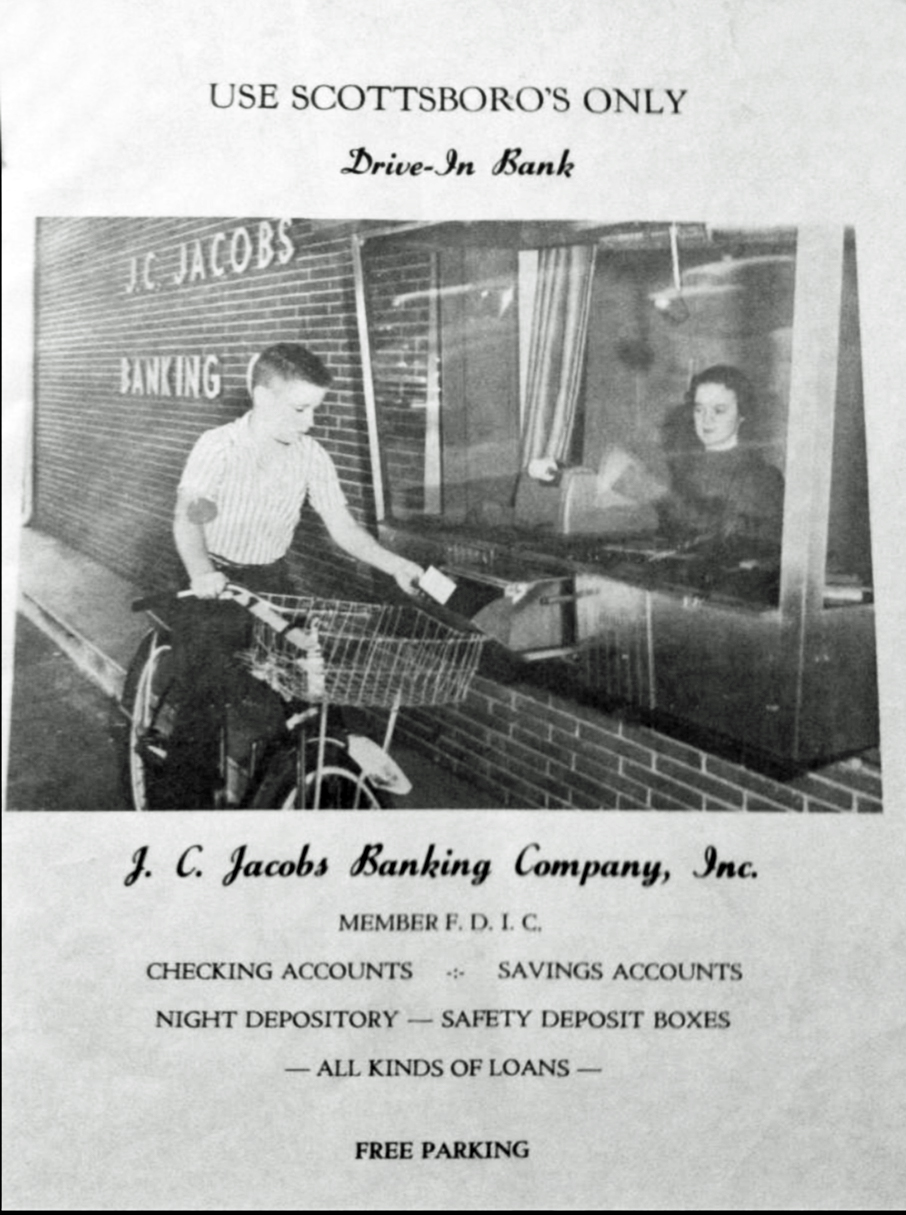 1961: Jacobs Bank ad in the phone book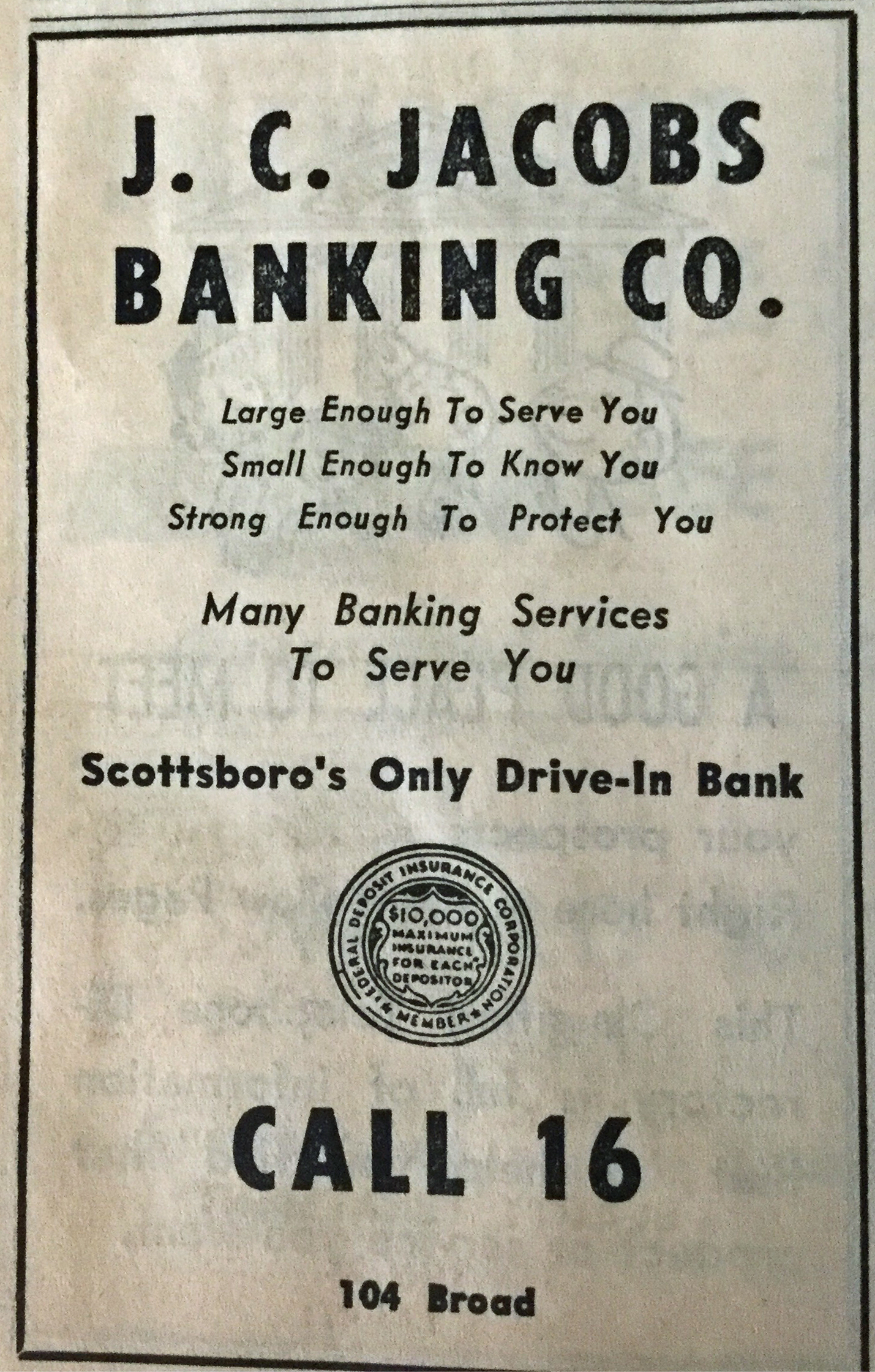 Jacobs Bank on Willow, location after the square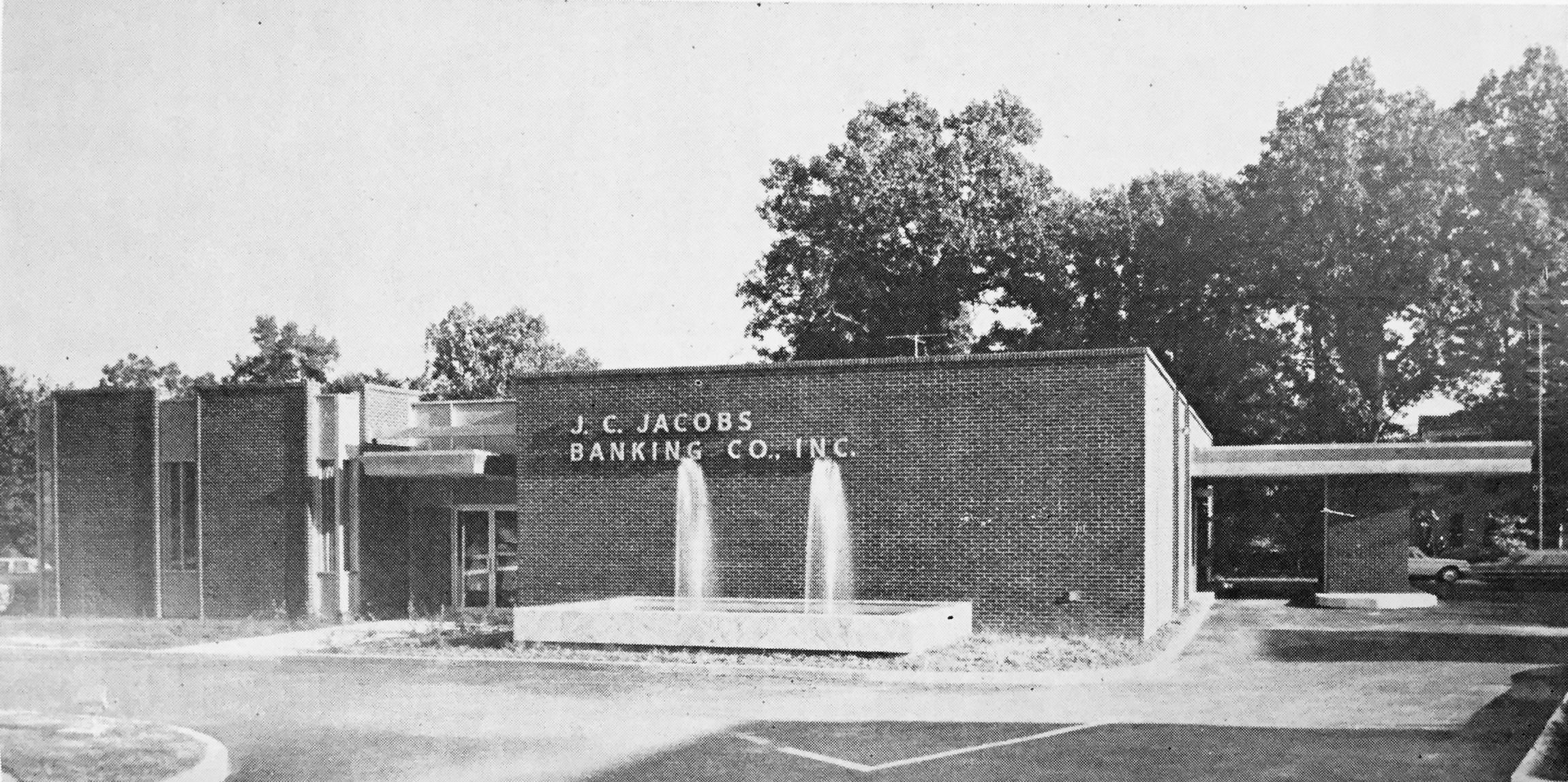 1967 Jacobs ad from the city directory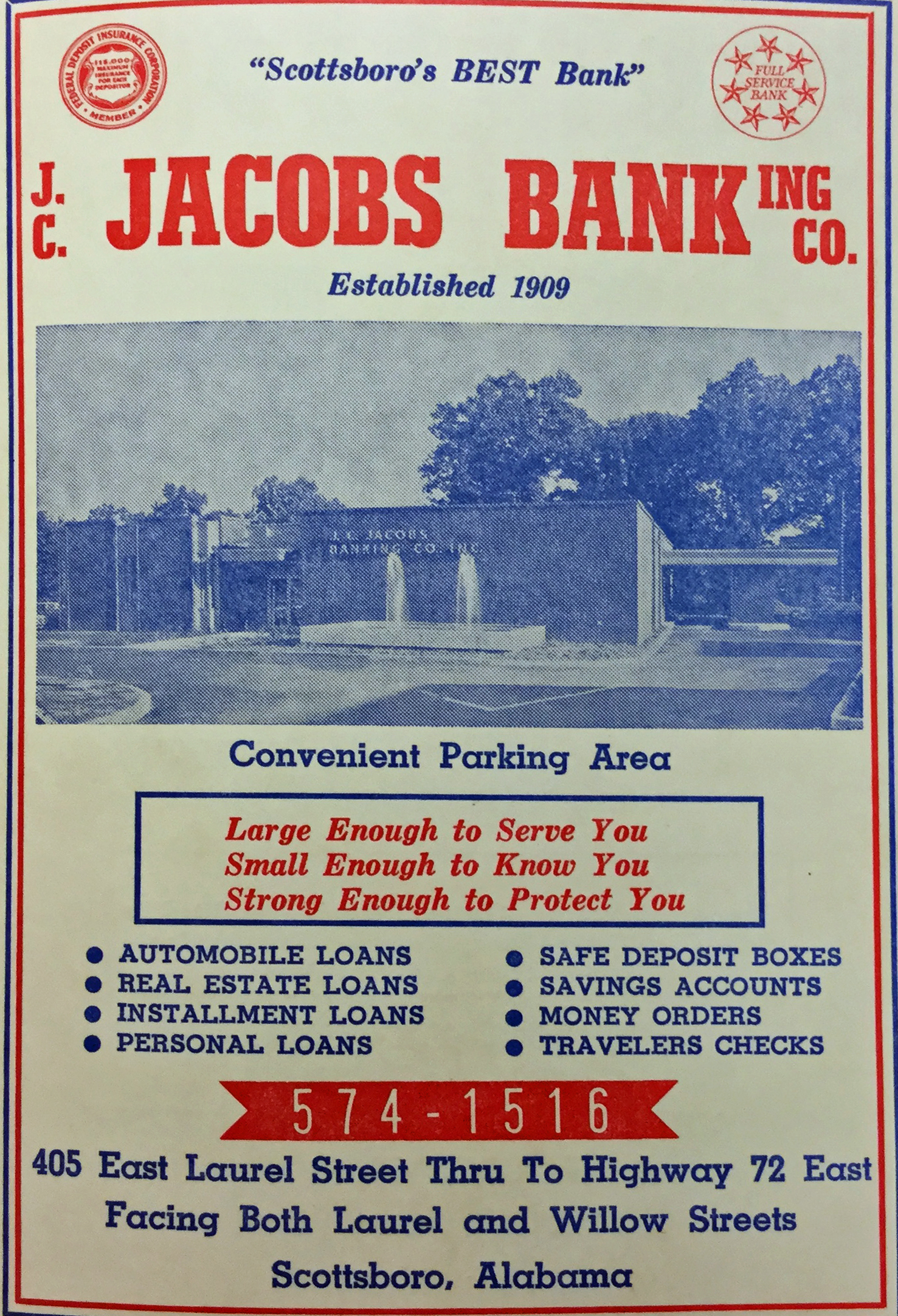 1980s: Jacobs Bank on Kyle and Laurel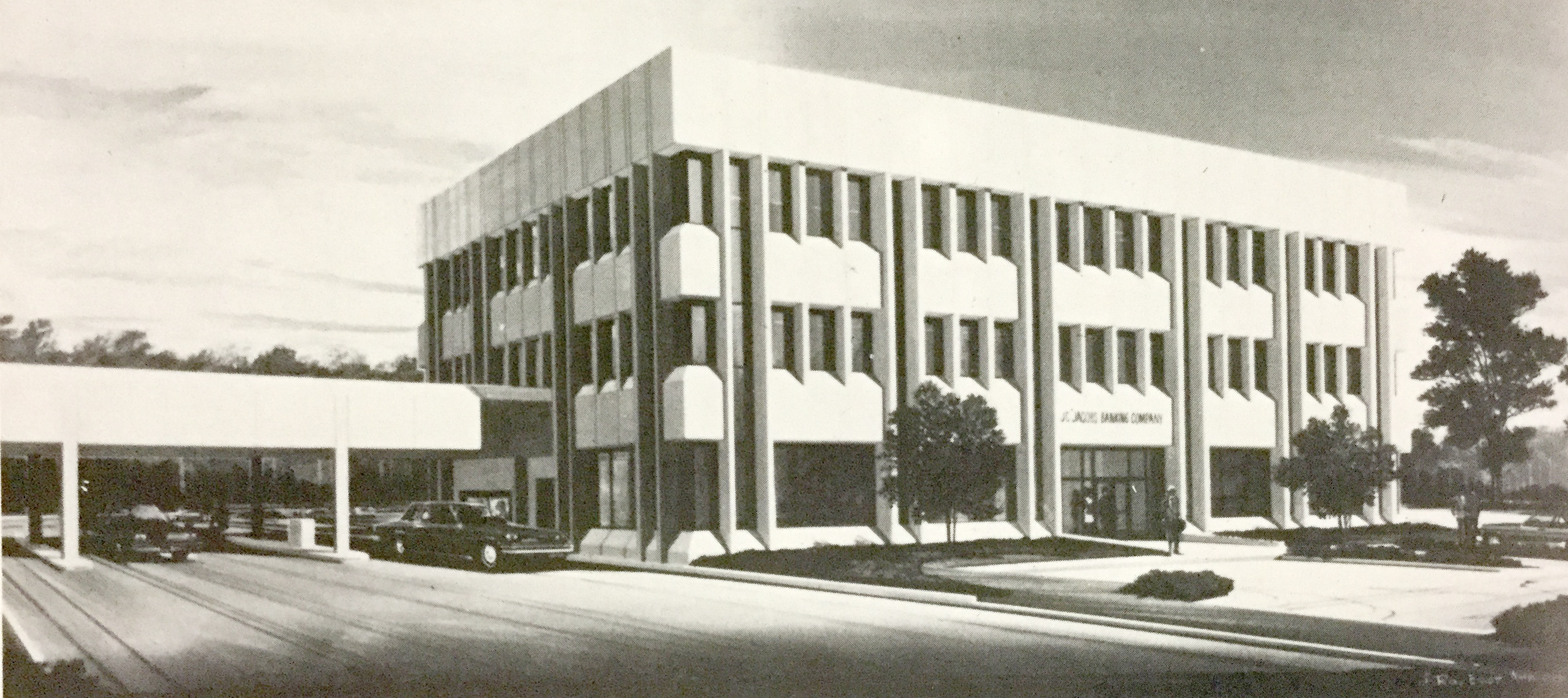 Checks from Jacobs Banks
These checks from Jacobs Banks are from 1912, 1916, and 1944.