Built in 1936, the Lipscomb Building is located at 113-115 South Market Street. It is a one-story, red brick building whose cornice features angled headers. The facade was altered to accommodate two businesses. It is currently the home of James D. Watson, optometrist and this business take both sides of the building.
Current view: James D. Watson, O.D.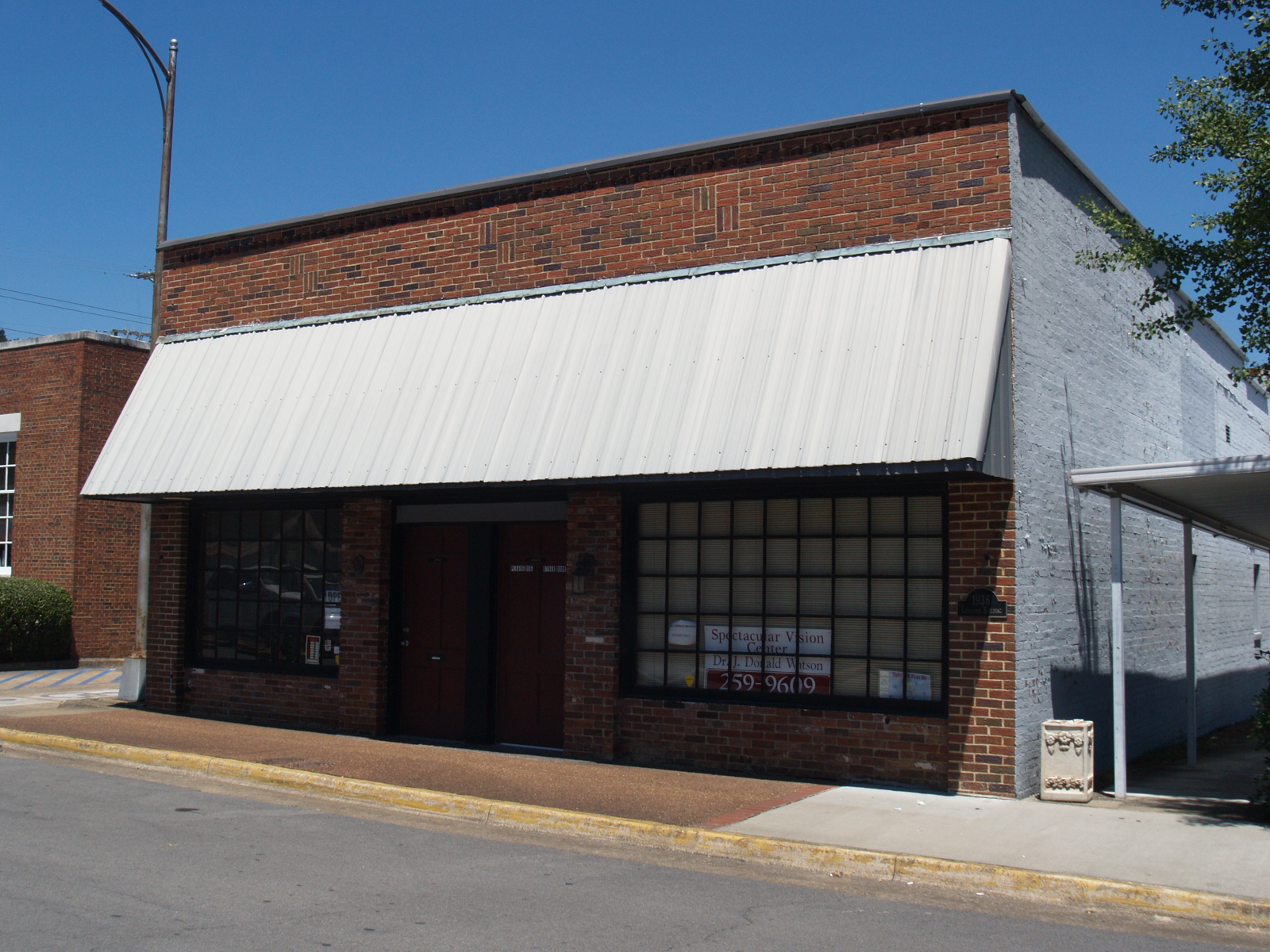 1930s: Lipscomb Seed and Feed
The building was built in 1936 to house Lipscomb Seed and Feed in the right side of this building. Here is an ad for this business from the 1939 Progressive Age showing this business..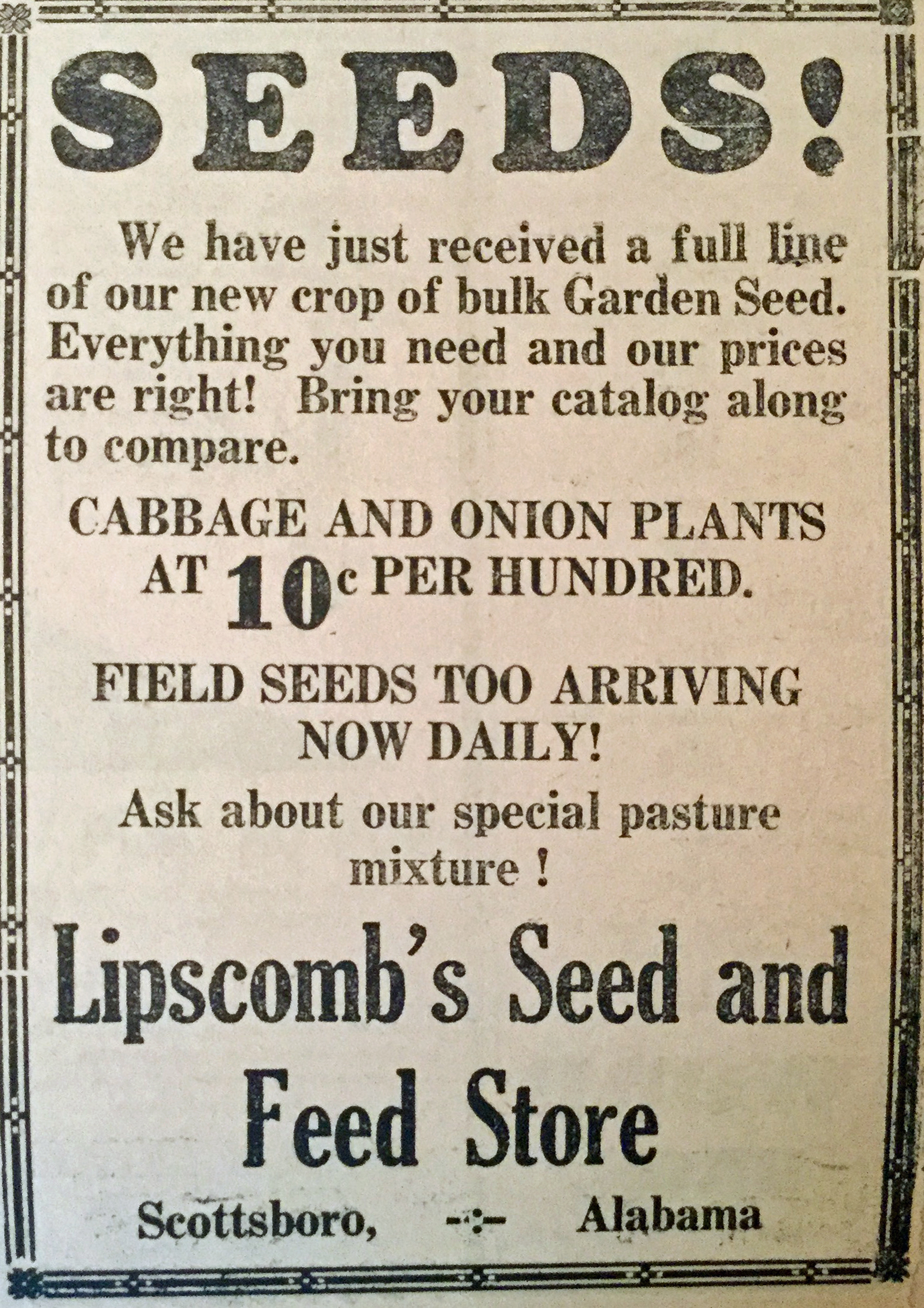 Apparently the original tenant of the left side of this building was Richie's Cafe and Meat Market. Walt Hammer found this photo of the Skyline Homesteaders with a steer team, their wagons loaded for the trip up Skyline Mountain. The photo was take in front of the post office, and the meat market in this photo is the location of the Lipscomb Building.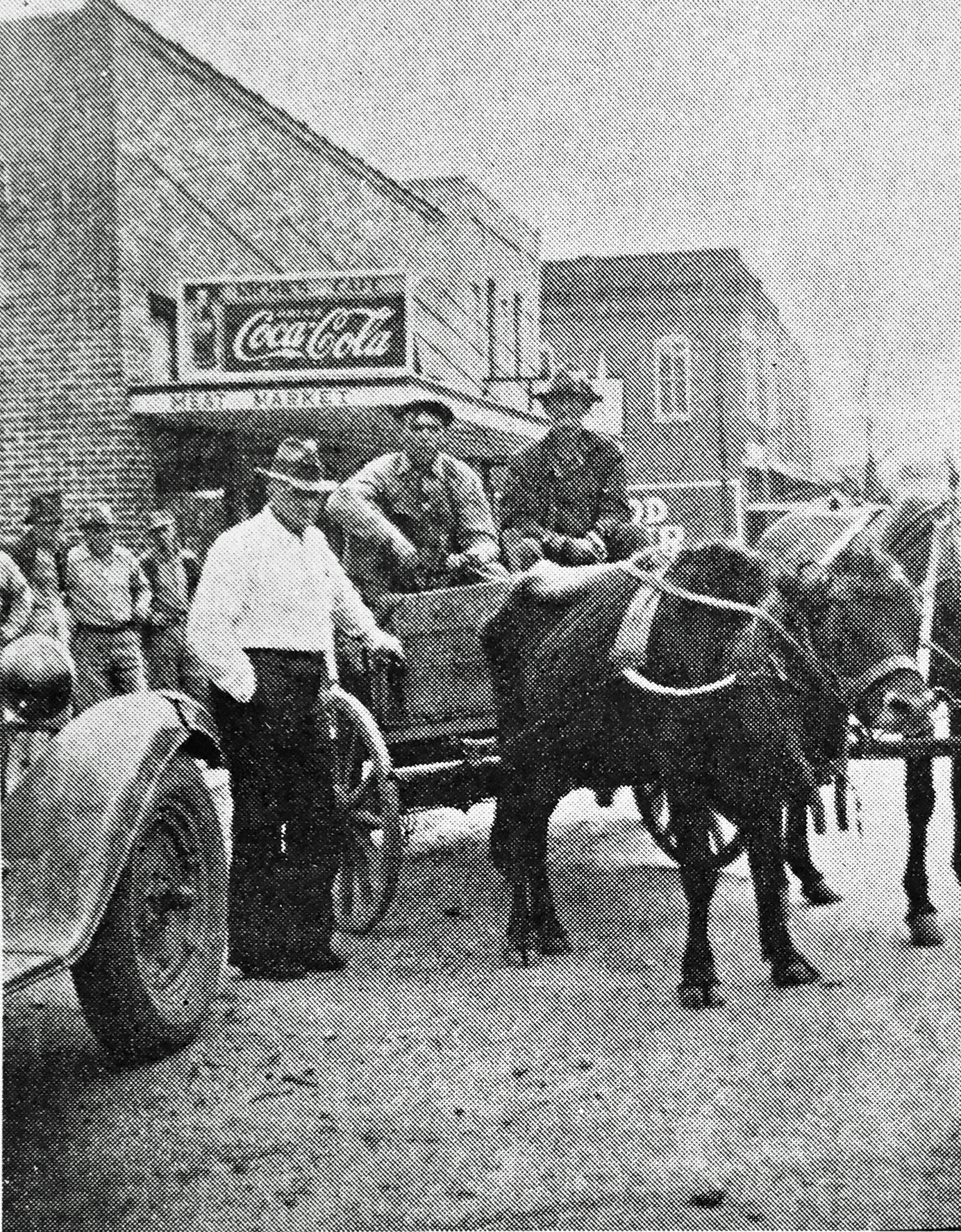 1950s: Ralph Shepard dental practice and Julian Hambrick gifts
Starting in the early 1950s, the Lipscomb building housed the dental practice of Dr. Ralph Shepard and the gift shop of Julian Hambrick. Dr. Shepard came to Scottsboro from Tennessee in 1951. For a time, his office was part of the practice of Dr. Paul Dawson and located over Scottsboro Hardware. About three years later, Dr. Shepard moved his practice to the left side of the Lipscomb Building. He can be documented in this location from 1956 to 1975.
Dr. Shepard also owned and published The Jackson County Advertiser whose offices prior to 1965 were located on the third floor of the Thomas/Trammell building in Five Points, sharing space with the FM radio station WCNA (We Cover North Alabama).
1952 JCHS yearbook ad for Julian Hambrick's Feed and Seed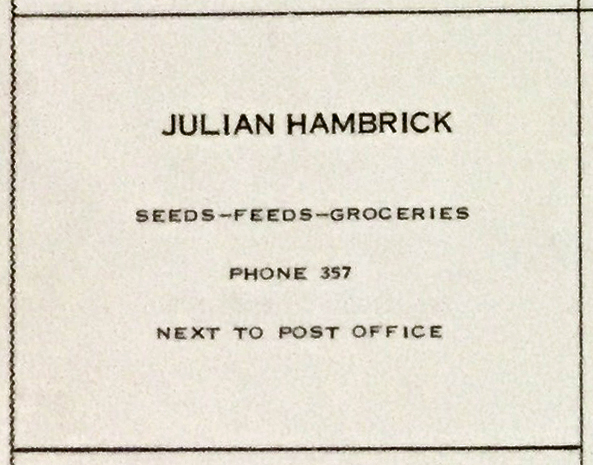 Julian Hambrick can be documented in this building from the 1952 yearbook (perhaps before..) through . For some part of that time, another Hambrick business, Hambrick Feed and Seed, was also in this location. It is likely that Mr. Hambrick bought the Lipscomb feed and seed business and conducted this business in the right side of this building and opened his gift shop in the left side. In 1965 to 1966, Hambrick shared this space with Model Exterminating. In 1970, the owner of this address was Mellow Sound Broadcasting, WCNA, and the Jackson County Advertiser. When space became tight, the Advertiser moved to 104 across the street in 1975.
When Julian Hambrick closed his gift shop, Julian's Gifts, located in the right side of the Lipscomb Building, Dr. Shepard moved the Advertiser and WCNA into his space. The radio and newspaper offices closed in the 1980s.
The Jackson County Advertiser was a weekly newspaper that was published for about 20 years and offered an alternative to the long-established The Sentinel-Age (later published as The Daily Sentinel). The Advertiser consisted purely of local news and features, never subscribing to a national wire service to flesh out its pages. Many of its employees did "double duty" also working the board at the radio station. As an FM station, WCNA did not require a great deal of talk, with the exception of hourly news and station identifications on the half hour, and many of the daytime employees were free to spend most of their time on newspaper work. The station signed off at 11:00 pm, and the evening shift was mostly dedicated exclusively to working the turntables and reading ads for local businesses. The station moved from an "easy listening" format to a country format in the 1970s.
Stories from the FM station's announcers abound, including one announcer's relating that on the local news that a Scottsboro citizen had been convicted of murder, only to receive a call from the alleged murderer within minutes of the broadcast to say he had been acquitted and was calling from home, and another announcer's playing a Louvin Brothers tribute and receiving a dollar bill in the mail from the Louvin's sister in Rainsville, telling him she appreciated the tribute and saying she wanted to buy him coffee.
Tom Underwood, who began working at WCNA and the Jackson County Advertiser around 1967, offers the following accounts of the place and time:
Recollections of working at WCNA-FM and the Jackson County Advertiser
It was the Spring of 1968 that I was first aware of a new radio station and newspaper operating in Scottsboro near 5 Points on the second floor above Thomas Apothecary. It was through my friends David Bradford, Van Gable and Jim Robertson (who were already working there) that I was encouraged to stop in and check it out. I would spend several nights per week visiting the night time announcers/ disc jockeys, including Doug Hodges, still today, one of the best natural radio voices I recall. While Doug later devoted full time pursuit of his family's profession of pharmacy he would also do occasional radio work such as play by play of Friday night Wildcat football. There was Nathan Black, who was as cool as his handle "Snake" and who was known for his occasional session work in Nashville with the Jordanaires, the vocal group who recorded dozens of songs with Elvis. Snake was therefore admired because everyone was sure that to Snake, Elvis was only a phone call away. Also, Richard Matthews. who would also spend time burning up the local race tracks driving a Petty-blue race car tuned out by brother Rowland.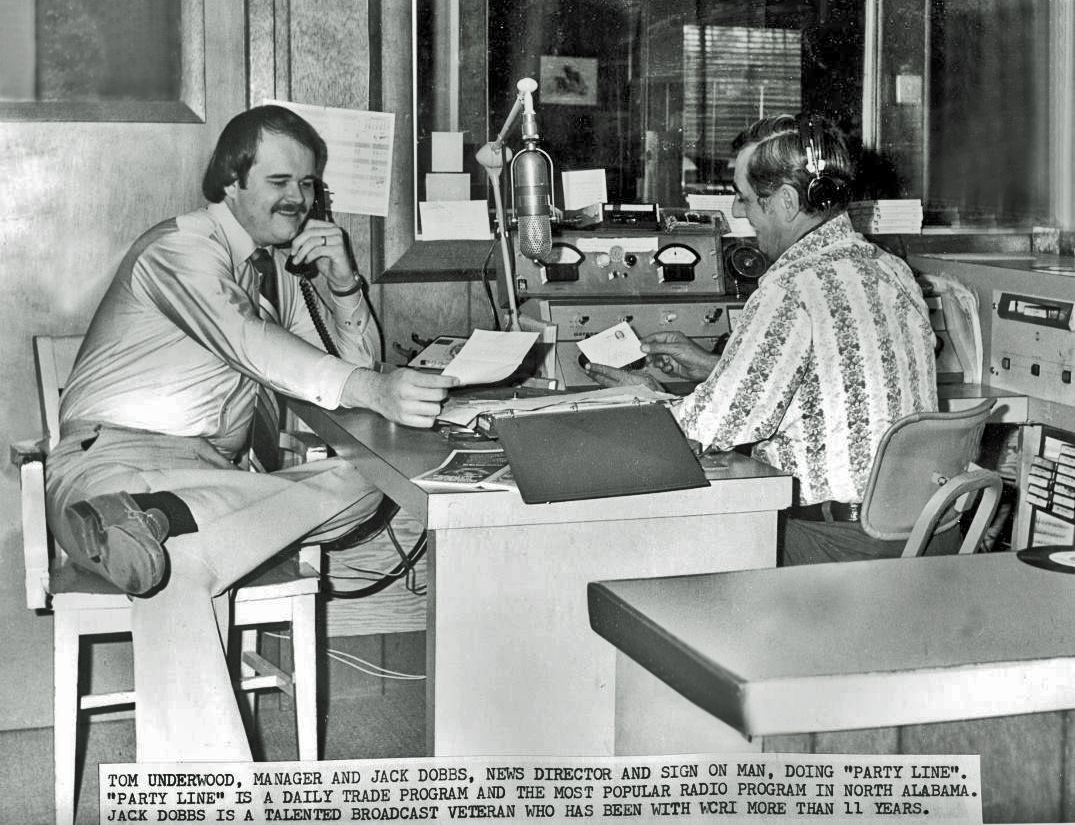 One night somebody offered me the opportunity to read the nine o'clock news on the air. I don't know how well I did but somebody- probably Norton Arnold- heard my attempt and offered me a weekend spot to learn the craft.
The radio and newspaper offices would soon relocate downtown to Market street in a space formerly occupied by Julian Hambrick near the post office. Now you may remember that in 1968, FM radio wasn't "cool". Most programmers of FM radio delivered elevator music. And WCNA-FM was broadcasting a good amount of this including classical, Broadway show tunes, jazz and a lot of what was referred to as "pop". Not exactly rock and roll, but a lot of covers by artists like Andre Previn, Mitch Miller, and such. There was also a country/folk hour. My takeaway from this period is that I was able to experience a wide spectrum of musical styles that are with me today (well, maybe not Mitch Miller so much).
I believe my starting wage was a dollar an hour. I would have done it for nothing. I became so obsessed with broadcasting that by my senior year of high school I had taken on both a morning shift (before school) and an evening shift. After graduation, I continued working at the FM station in the morning, attending Northeast State Junior College (now referred to as community college) and working at WVSM in Rainsville in the afternoon. After NESJC, I returned to WCNA fulltime at a salary of $125 per week. This would have been 1970-1972. By this time WCNA had settled on a country music format and so in addition to the radio job, I was asked to write a weekly column in the Advertiser about the news from Nashville. For some reason I titled the column "Big Country" and after all these years, some of my longtime friends in Scottsboro still refer to me by that name. Go figure. I once did a feature on the Louvin Brothers, Grand Ole Opry performers who were from Sand Mountain. A few days later I received a note from the Louvin's sister, Charlsey, thanking me for the article and "please find enclosed a dollar for coffee money". This was the closest I ever came to receiving "payola". By the way, their birth name was Loudermilk and at the time, you could buy a lot of coffee for a dollar.
Some people I remember working with included Ben Kitchens, Bob Carney, Jerry Gentle, Josh Varner, James Lambert, Chuck Nelson, Don Johnson, and part-timers including Randy Airheart, Ricky Boles, Jerry Williams, David Swain, and Donny Jones. Cactus Gay was the station's engineer. On the newspaper side were Billy Pendergrass, Anne Hamilton, Hollis Smith, Pam Coffey, Sandra Carter and (with apologies) many others. A few are gone now- I wish I could have one more visit with them.
As for the three friends who encouraged me to stop by WCNA/Advertiser in 1968, David became an accomplished writer/ photographer and would culminate with a 30yr+ career at IBM. Jim became a newspaper publisher, moving to Texas before returning and retiring back to Scottsboro. Van left the area for radio experience in Talladega and then locating in Illinois to a television station and an ad agency. As for me, I would gain further experience at the Daily Sentinel and WCRI-AM before leaving the area and relocating to North Carolina. I switched careers but never left my first love of music and how it should be presented on the radio. I am retired and living in the small town of Hillsborough, NC. In some ways the town reminds me of my early days in Scottsboro.
I can't recall those years at WCNA and the Advertiser without paying homage to Dr. Ralph Sheppard, founder and owner of WCNA-FM and The Advertiser, who gave so many of us "youths" an opportunity to test our skills and develop our confidence. Some of us rode the train for a few years and others made a career based on what was learned as young adults searching for a calling. All of us benefited from his willingness to provide the opportunity, even at a dollar per hour.