Built in this location in 1891, Payne Drug Store is located at 101 East Laurel Street on the north side of the square. It is classified as a late Victorian commercial style building. It is two-story, painted brick, with the ground floor altered. It features a brick cornice with dentils, three recessed window bays on second floor set off by brick pilasters with corbelled ends and decorative brick work in top of bays, and three windows with stone lintels topped by angled headers. This building is currently a soda fountain and sandwich shop, still under the Payne's name.

Current view: Payne's Soda Fountain and Sandwich Shop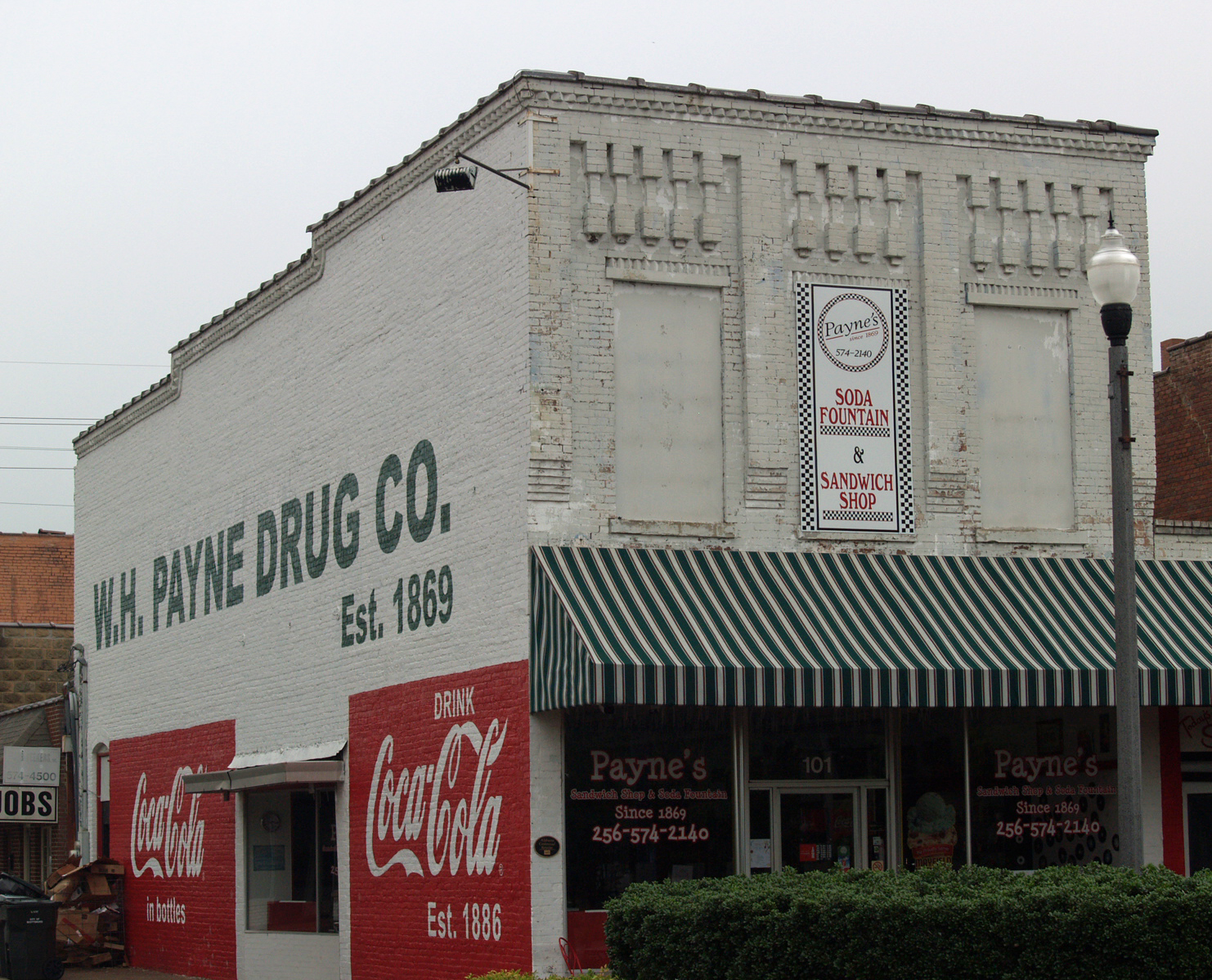 The W. H. Payne's Drug Store business had opened 22 years earlier, in 1868, at the corner of North Houston and Railroad Avenue (now Mary Hunter Street). After having the 101 East Laurel location built, he moved into the new store on February 19, 1891.
This overview of the business is from The History of Jackson County:
Paynes Drug Store, located on the corner of the Jackson County courthouse square. Paynes Drug closed its doors after 122 years of operation.
It was originally established in 1869 by Dr. W. H. Payne. The store was always a favorite meeting place. During the 40's and 50's, they provided curb side services, orders of hot dogs, ice cream and fountain drinks. They also made home deliveries, which boys made on bicycles. Sometimes as many as six "Soda Jerks" would be employed to serve the crowds.
Payne's, as it is called today, is a restaurant, where young and old alike come for lunch. It is the only place in town where you can get the famous Hot Dog with red slaw, which is the best you can find. Here you can also find homemade cakes bakes fresh and served by the slice.
A framed article from The Daily Sentinel on the wall of Payne's provides additional history. Dated January 28, 1991 it says that Payne's is closing following the death of owner Brooks Woodall. The article states that Payne's operated for 122 continuous years from the location on the square, making it the oldest continually operating business in Scottsboro and perhaps in the state. The article also states that the original store established in 1869 by Dr. W. H. Payne was near the present site of the Scottsboro railroad depot (we assume this is the passenger depot, not the still-in-place freight depot). "The store was relocated to its present location in 1882 after city founder Robert Scott donated land for the county courthouse and square….After Dr. Payne's death in 1899, the store passed to his two sons, Jim and Bill Payne, and was later sold to Mrs. Woodall's father, Dr. W. D. Stanley. Brooks Woodall came to work at the store in 1948 as a pharmacist and in 1954 purchased the store from his father-in-law, Dr. Stanley. Dean Stanley married Brooks Woodall. Her twin sister Jean married Herb Glass. Herb worked as a pharmicist at Payne's for many years before opening his own pharmacy.
During the 1940s and '50s, Payne's provided curb service for waiting customers parked along two sides of the store….The store also offered home delivery. The orders were delivered to homes by delivery boys on bicycles." Mrs. Woodall relates a number of stories about Payne's in this article, which is found below.
1878: ad for Payne's Drugs, from the Scottsboro Citizen
Remember that Payne's was located a the corner of North Houston and Mary Hunter at this time.
1900: a "clip this" coupon for Payne's Drugs

1906: newspaper photo of Payne's Drugs, with druggist Payne standing outside.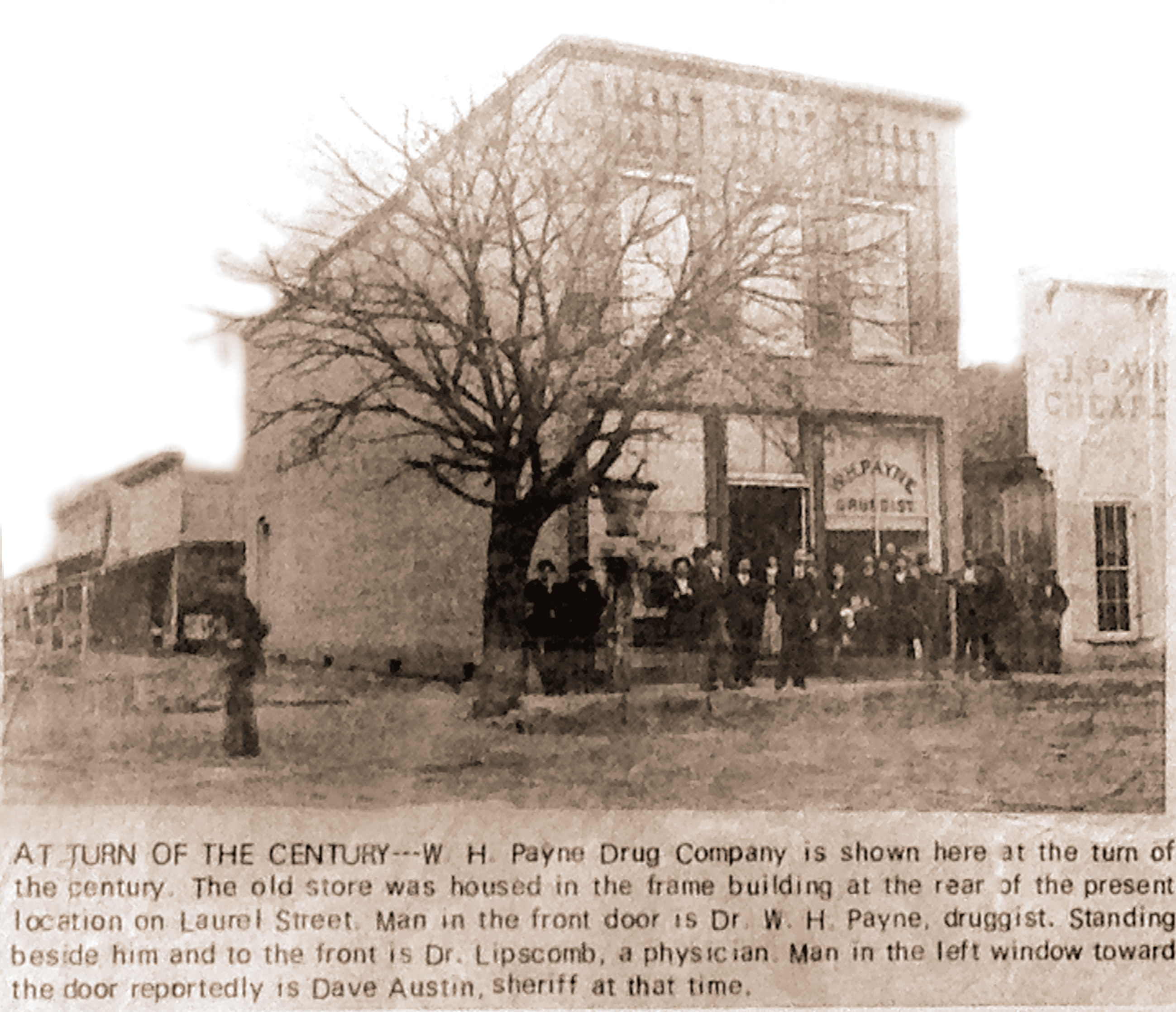 1900: an ad for Payne's Drugs from the Progressive Age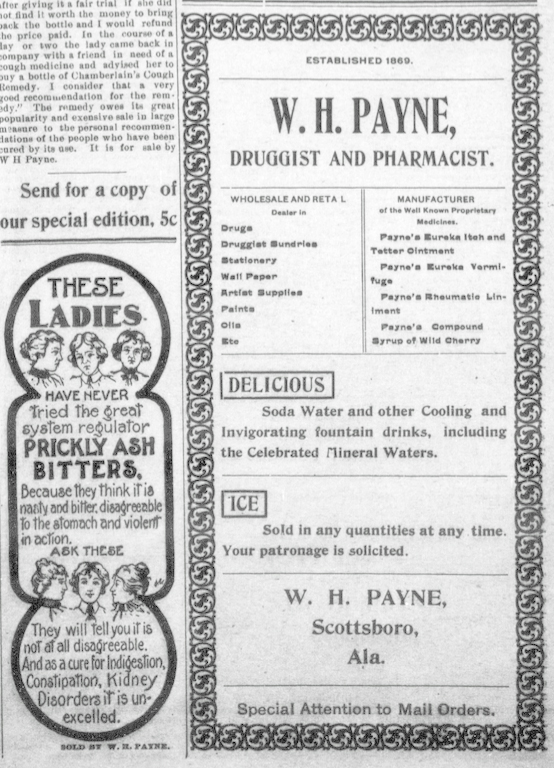 1910: a look inside Payne's
The Progressive Age in October 1910 created a supplement that celebrated the economic status of the major towns in Jackson County. This photo of the inside of Payne's was included in this supplement.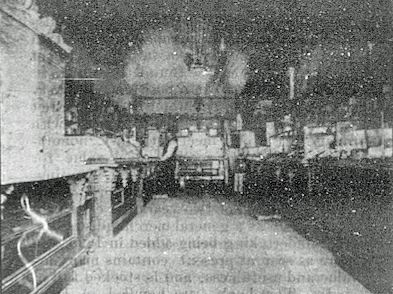 1939: Payne's installs its signature soda fountain
In 1939, James Payne "completed splendid improvements on this oldest business in the county" in a major remodeling that reworked the facade, creating a door and display window on the side, and addition of "the largest soda fountain ever in this county," some 20 feet long. Even before 1939, soda fountains were becoming a real draw for drug stores. In 1907, when George Bigelow Rogers designed the Mobile, Alabama skyscraper the Van Antwerp Building (a whopping 11 stories) for Mobile druggist Garet Van Antwerp, one of the main features of its first story super drug store was a 53-foot marble soda fountain, a feature unfortunately lost to time.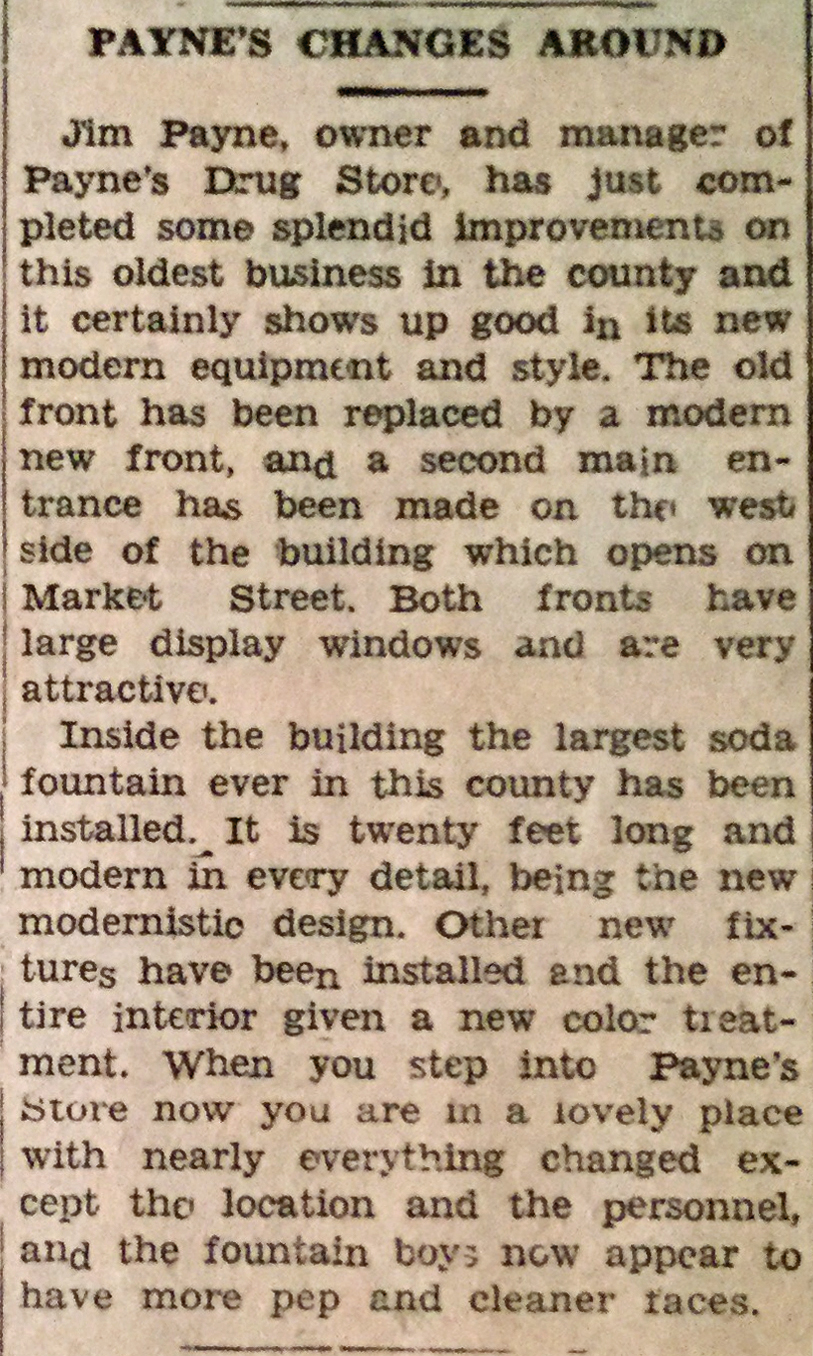 And here is a 1939 ad shortly after the renovation was completed touting the new additions.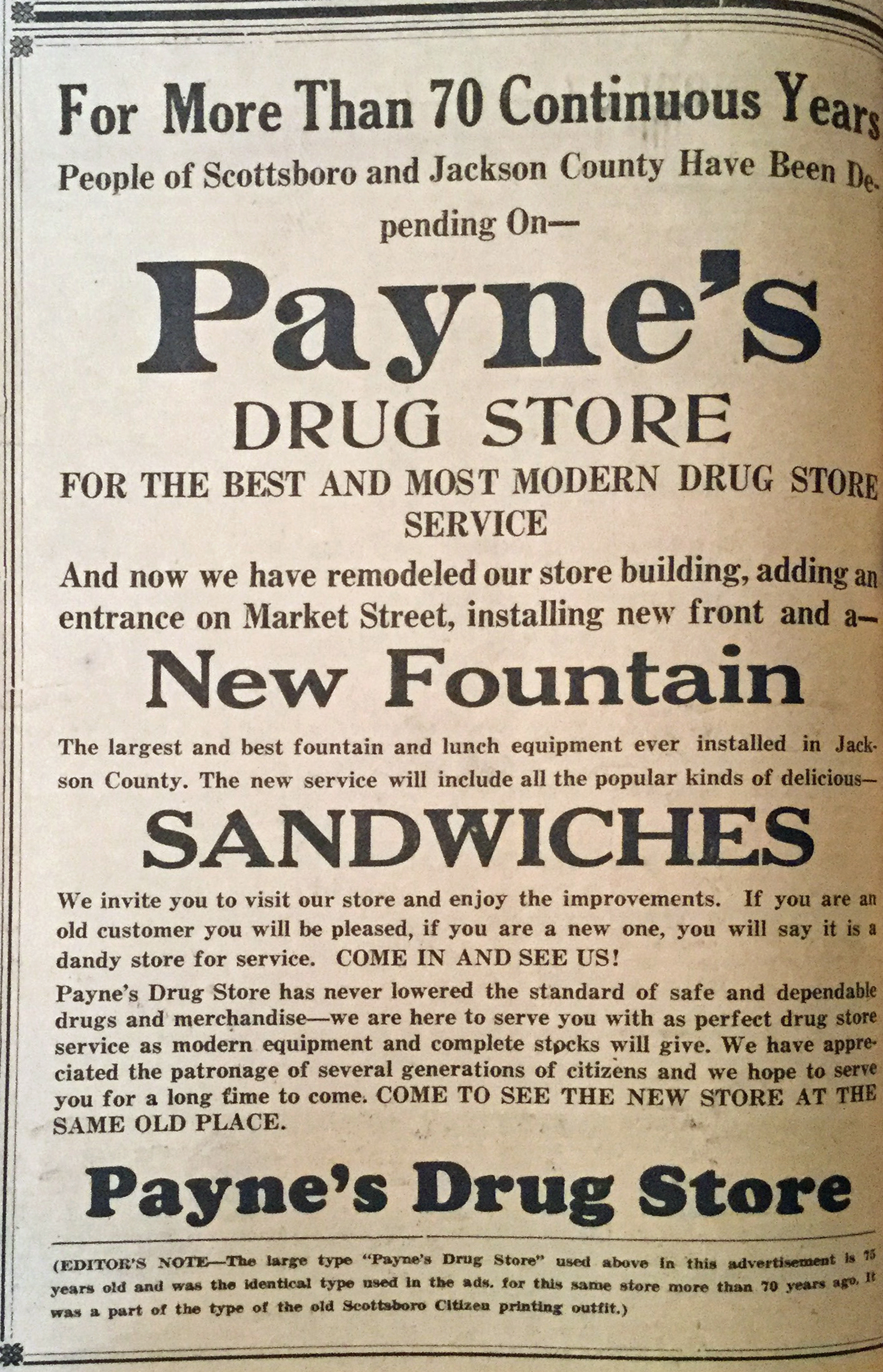 1964: Payne's Drugs from the yearbook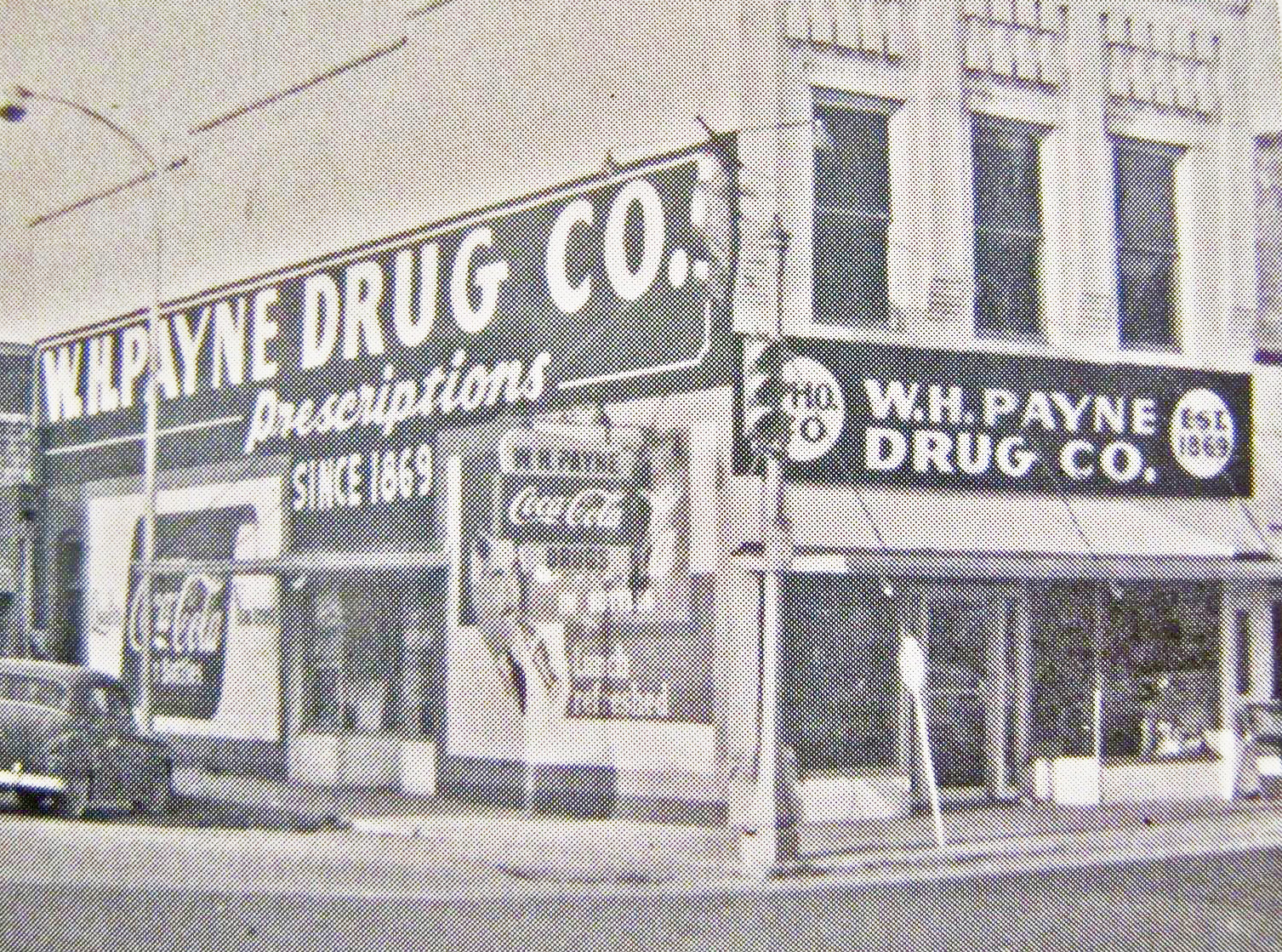 1975: Payne's Drugs TVA photo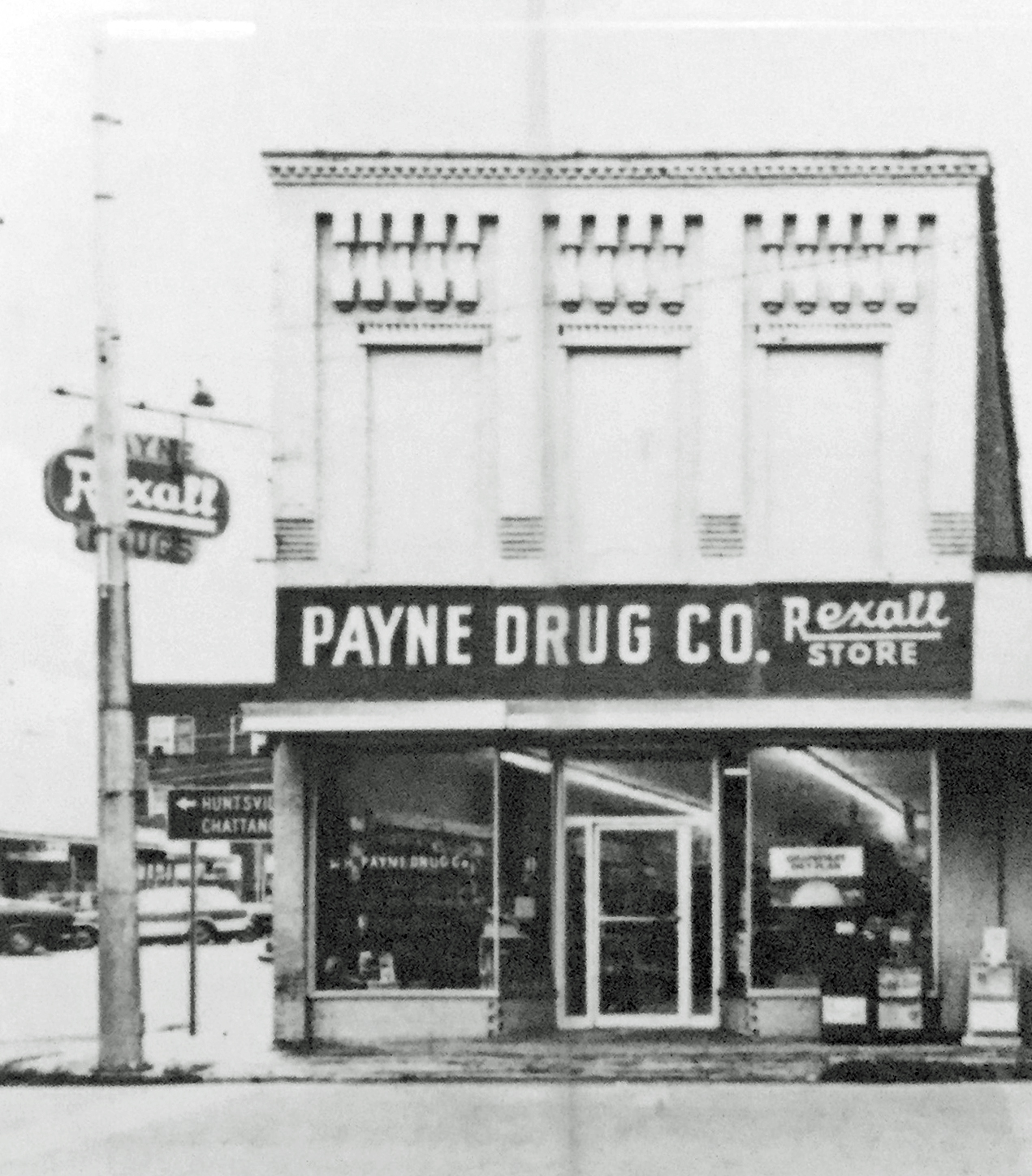 1990: Payne's Drugs during a parade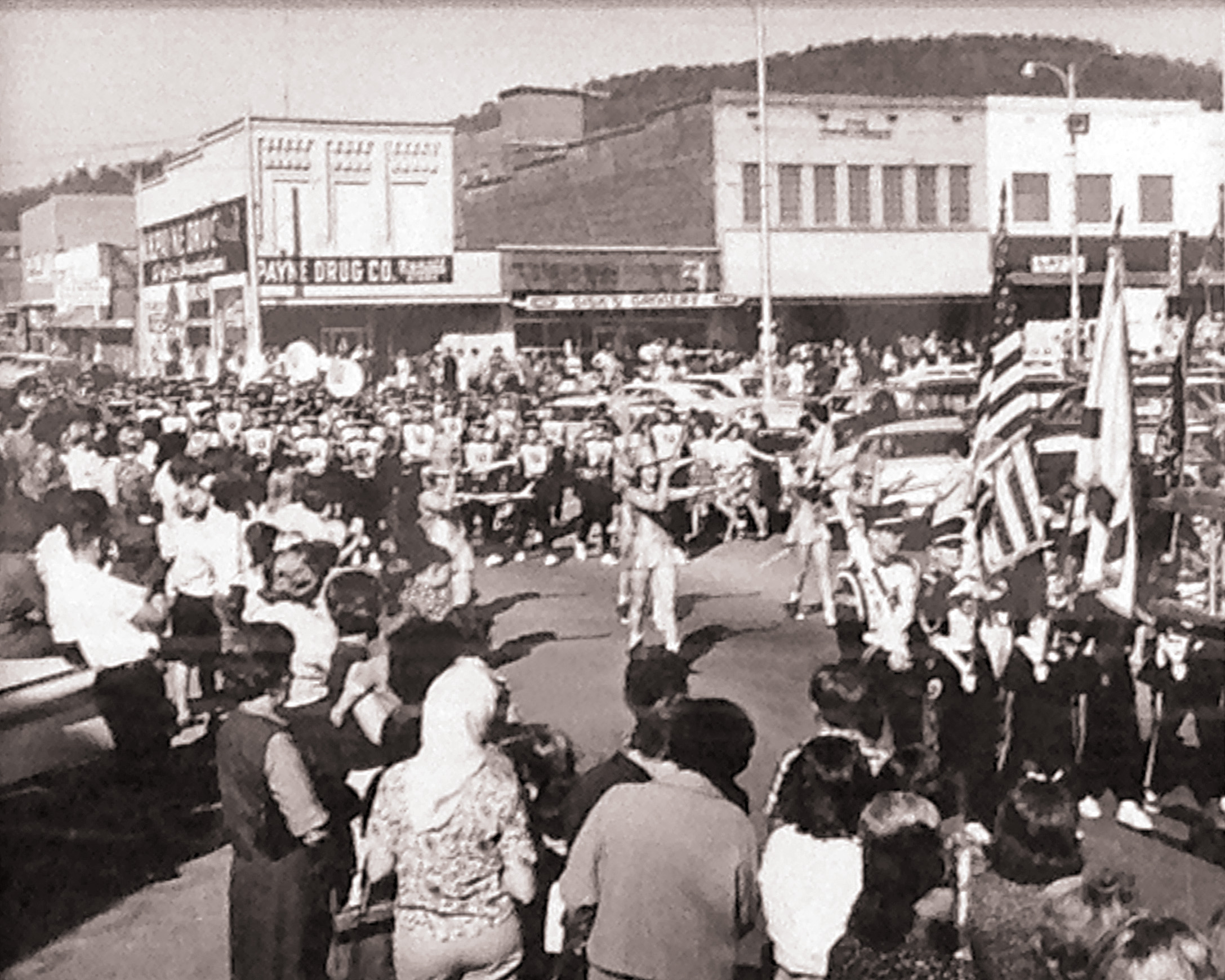 1991: article from The Daily Sentinel about the closing of Payne's as a drug store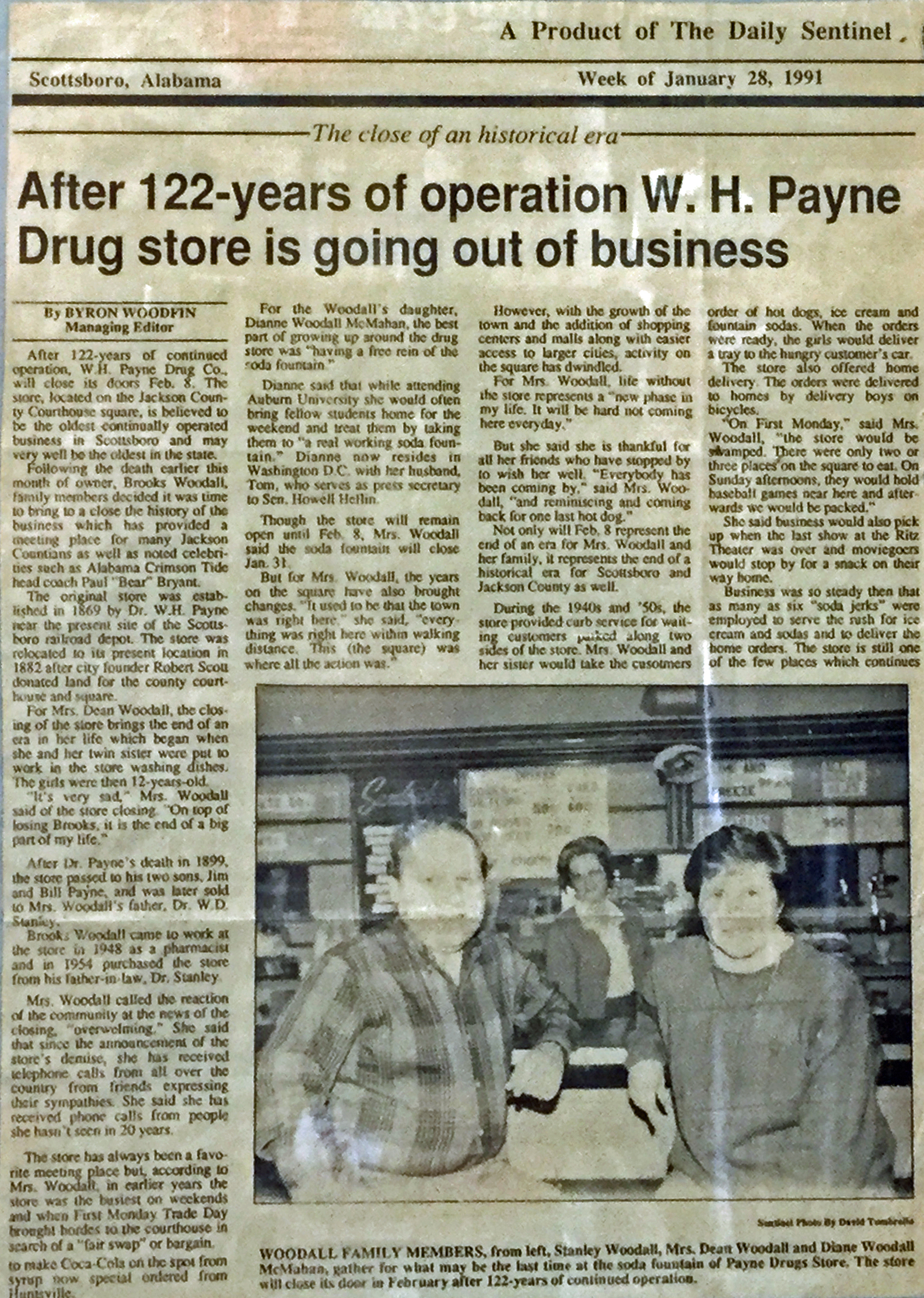 1989: Brooks Woodall, last druggist at Payne's, November 1989
From The Daily Sentinel, November 12, 1989. Brooks Woodall Photo by Johnnie Hale.
"Brook Woodall, who purchased the store in 1954, has been affiliated with the company since 1948 when he began working there as a pharmacist. Woodall says things at the store have changed very little since he came there with exception of the removal of a pot-bellied stove that occupied a space in the right rear of the building and the addition of a heating system and indoor plumbing in 1959."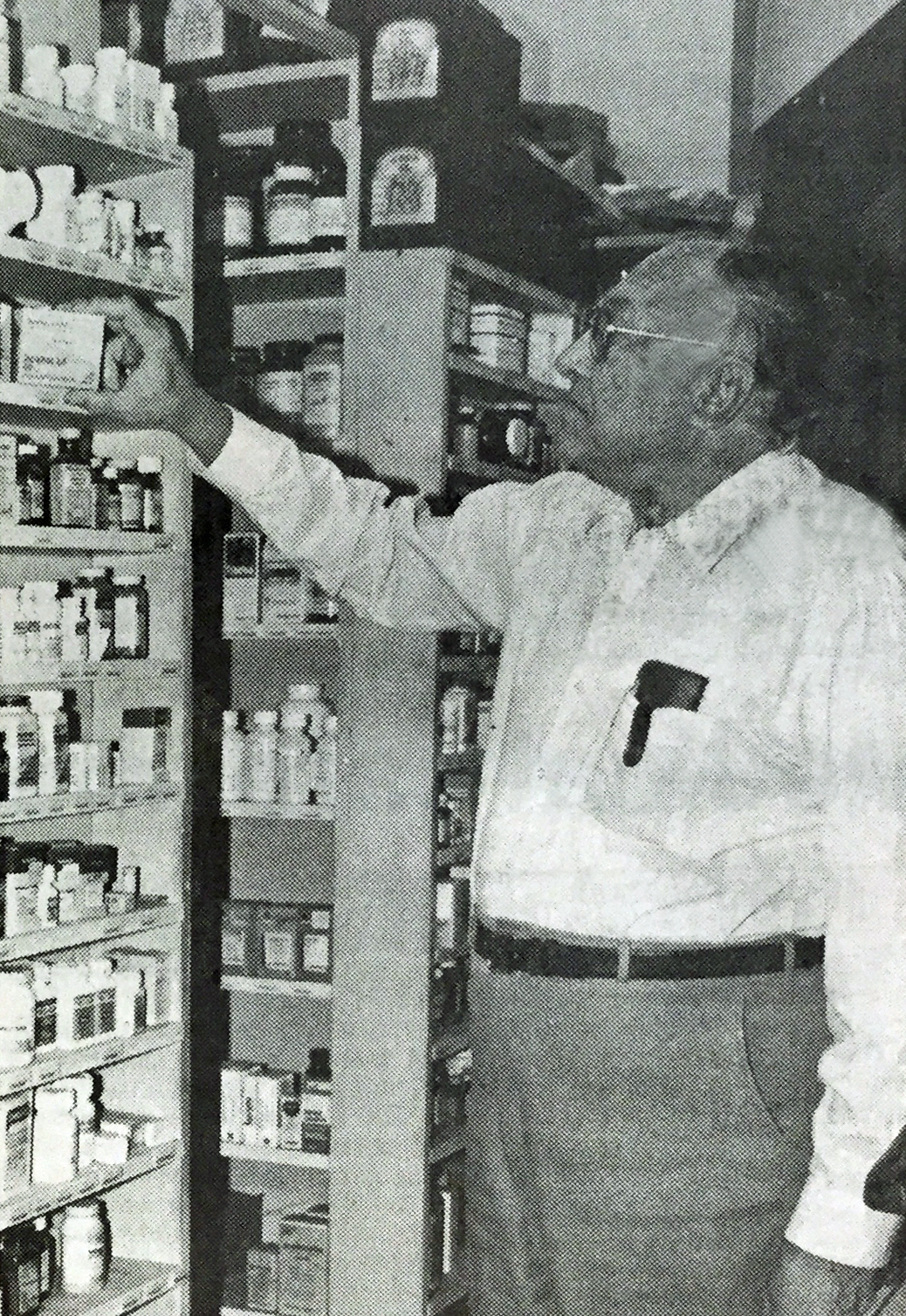 Payne's soda jerk Hall of Fame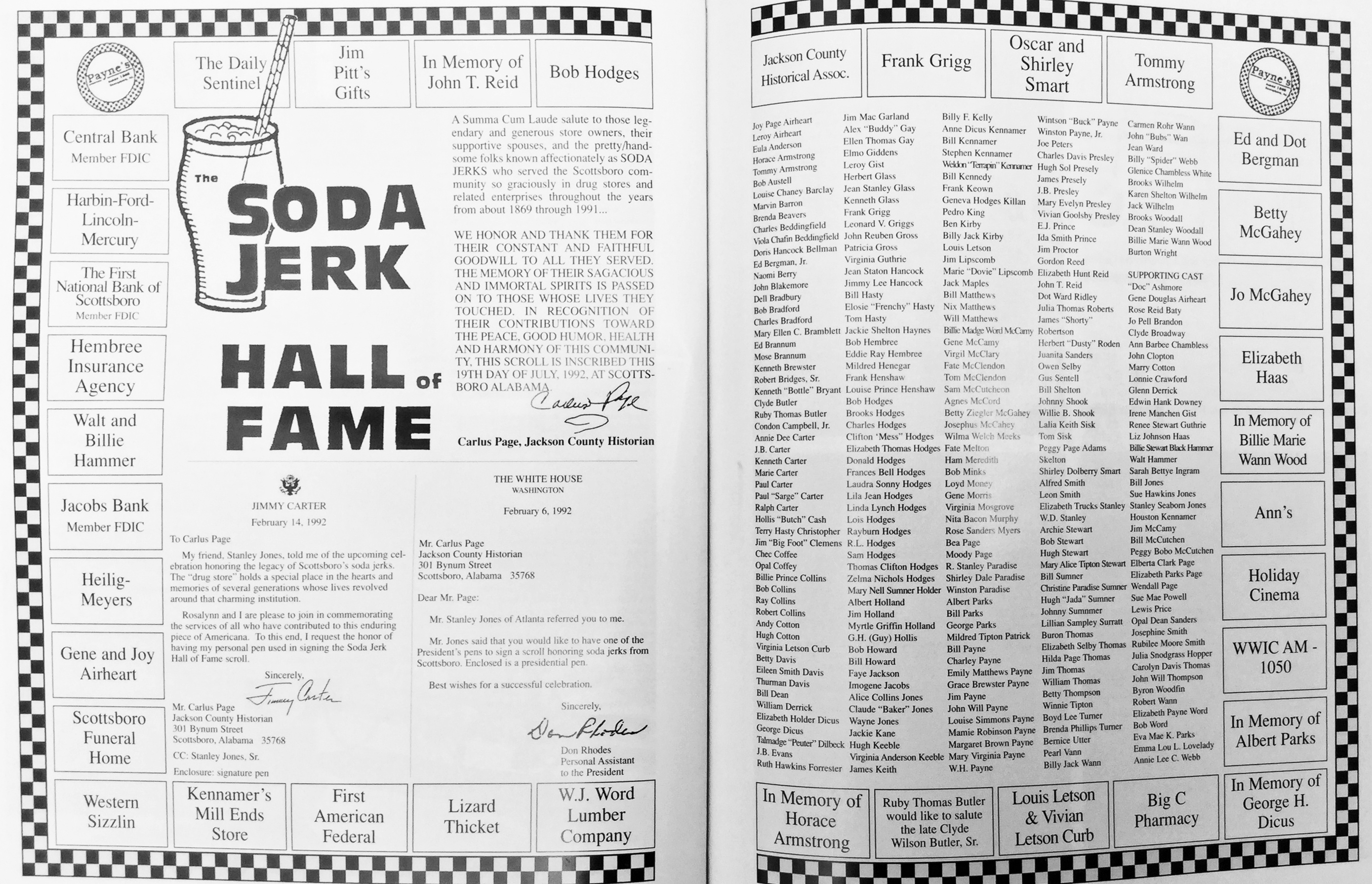 Tales of Paynes
Bill Parks recalls that his father Albert worked at Payne's in the 1930s. He recalls that the location was so popular that customers lined the block waiting on curb service. Young Albert Parks was a soda jerk and delivery boy. Ladies like Mrs. Sid Telbert would call in and tell Albert, "bring me a cold dope." Albert would mix this nickel concoction in a glass, get on his bicycle, and deliver it around town to the requesting patron.
Sitting around the Bake Shop one morning, Joe and Irene Starnes who recently celebrated their 71st wedding anniversary, told the story of how they met in 1944 in Payne's. Joe and his friend Oliver Williamson walked into Payne's and saw Inez Law and her brother John's girlfriend, Betty Kelly, sitting at a table.

Joe: I told Oliver "I'm going to marry that little girl." And he said, "well I'm going to marry that one," pointing to Inez's friend.

Inez: You know they had booths like this, side by side. And she and I sat down over here and they came in and sat across. Well they thought they were very cute, you know. They didn't impress me a bit that day because I had somebody else.

Joe: Well I don't know who it was.

Inez: That was pretty serious that.

Joann: Was she dating John when they met?

Inez:Yes they were almost engaged but he had to go to the army and she decided she'd meet somebody else. It was all mixed up.


So Joe did marry Inez, and Oliver did marry Betty. And all this happiness started with a chance meeting in Payne's.