Built between 1908 and 1917, the Parks Law Office (referred to as the J & S Pizza Building in the registry document) is located at 107 East Laurel Street. It is a one-story, brick building with glass display windows. Here are details of the building and a current view.

This building is currently the law practice of Will Parks III, Matthew C. Mitchell, Jacob E. Bergman, and Albert C. Parks III.

Current view: Will Parks P.C., Attorney at Law.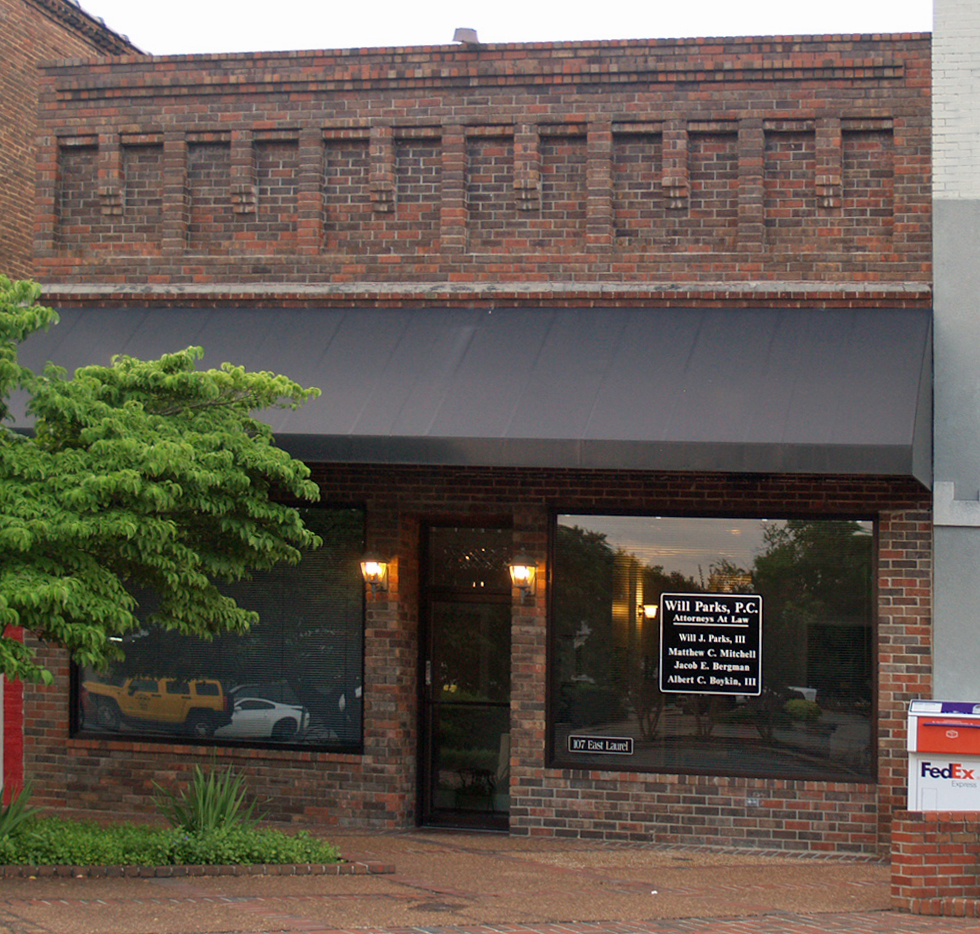 1901: Mrs. M. W. Ellis Milliner
Before the current building on this site, hat maker Mrs. M. W. Ellis advertised her business location as "next to Payne's Drug Store." This was after Payne's had moved to the northwest corner of the square.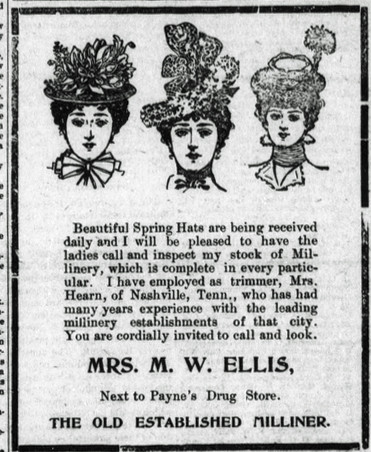 1903: Sublett and Padgett
Mrs. Ellis' business was short-lived. In 1903, Sublett & Padgett's Family Grocery Store opens at the same location.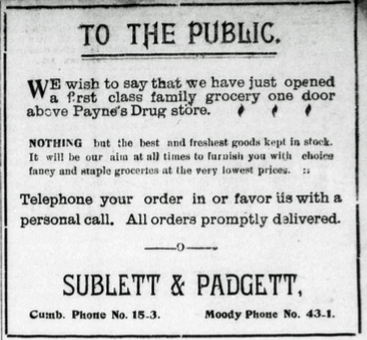 1908: Restaurants and grocery stores
One of the first businesses at this location was Young's Cafe. It opened at this location in 1908, and was still in business in 1930, when this ad appeared in the back of the JCHS yearbook, the Reminder.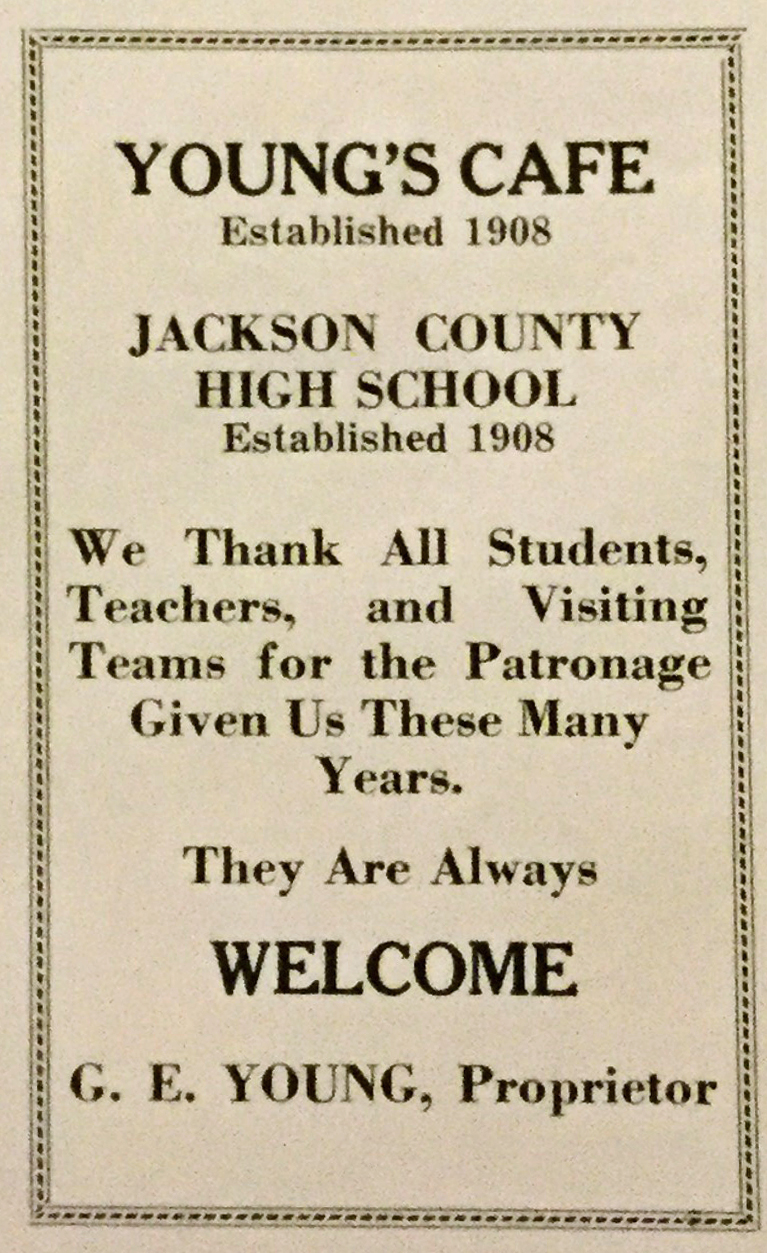 This memory comes from Ann Chambless: "Gordon Young's Cafe was located next to Payne's Drug Store….Gordon and Eva Young lived in a house on Market Street (probably where the Young Building is today that is owned by their grandson, Gerald Paulk.) Gerald's mother was nee Lucille Young who was the youngest of Gordon and Eva Young's 3 daughters. Lucille Young Paulk graduated with Lucille Benson and my mother."
After Young's Cafe closed, the Majestic Cafe was in this space for a time. Ann Chambless describes it as "the forerunner of Tom's Cafe." The Tom Thumb Restaurant, also part of the ad below, was on West Willow street. This ad appeared in the 1957 yearbook.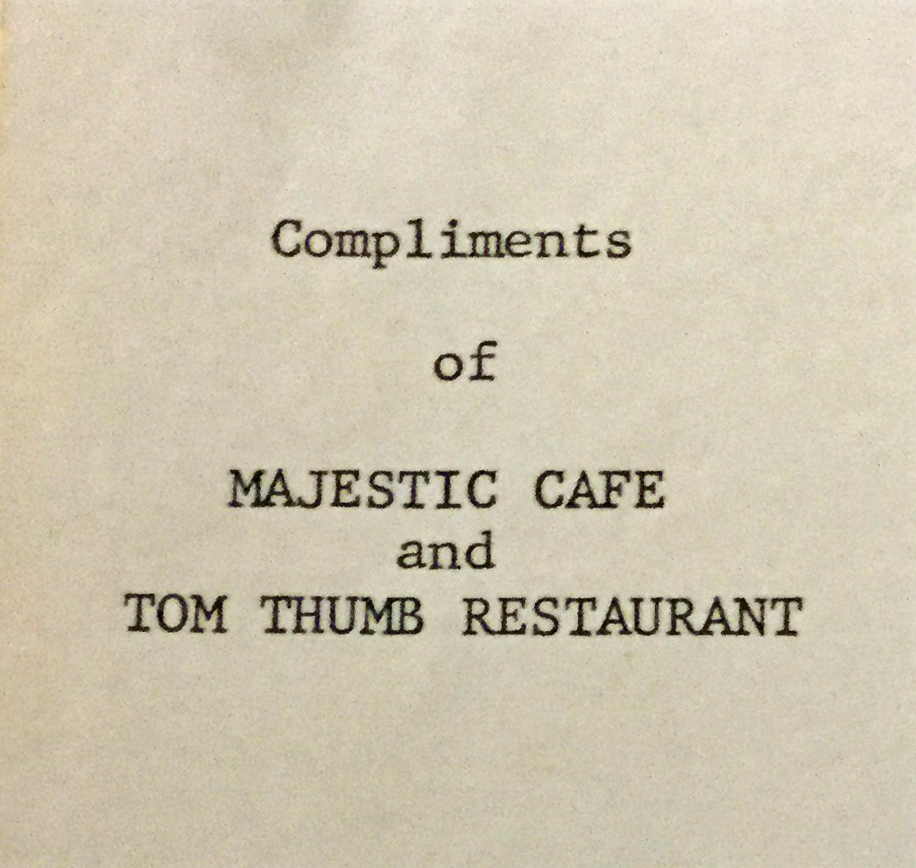 Bill Parks remembers that this space was occupied by grocery stores. The building at 109 South Broad was not built at this time. Farmers would back their wagons into that alley space to load their groceries. In the 1956 phone book, this location is home to Brewer's Grocery Store. In the 1961 phone book, this location was home to L. D. Cobb's Grocery Store.
By the 1966 phone book, this space was Tom Sisk's Restaurant, which continued in this location at least until 1972. According to an ad in the 1968 yearbook, this cafe was also a grocery store. Bill Parks remembers that this space was originally half the width of the final version of this restaurant. At first, Tom's was a luncheon counter and a short order grill on the left side of the building (the 1940s postcard photo below shows this narrow shop). On the right, Alvis or Bill Wales had a watch repair business, which was in this location in 1932.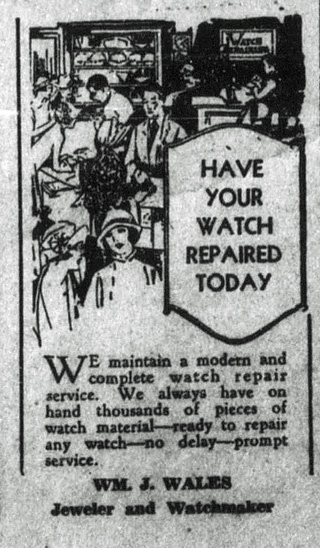 Notice the small shop to the immediate right of Payne's. This is believed to be the Wales watch repair shop.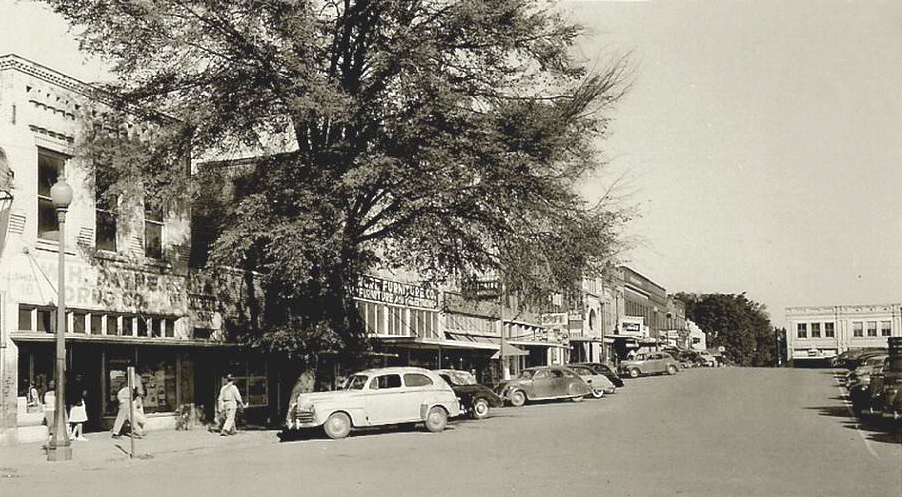 Bill Wales' repair desk was near the front of the building to take advantage of the natural light. When the watch repair business evolved into Wales Jewelry.
After the watch repair business moved, Tom Sisk renovated the building and took the entire space as his restaurant and grocery. The restaurant was open through the early 50s until the mid 70s. A marker under the tree in front of Payne's recognizes Tom's Sisk's long tenure at this location.
1968: Tom's Cafe and Sisk Grocery from yearbook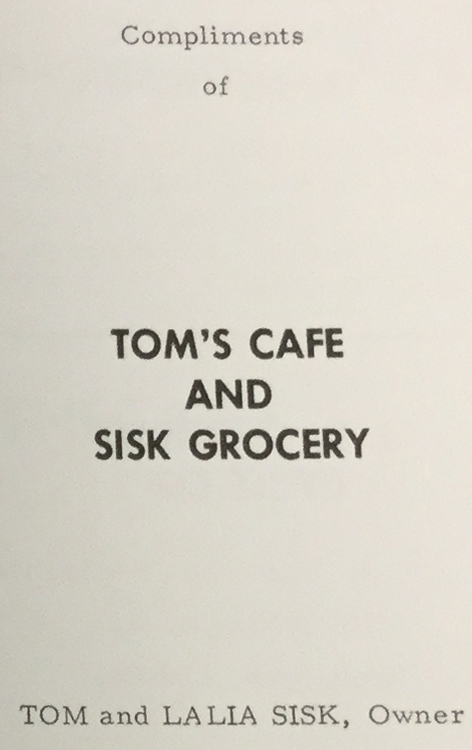 1975: Tom's Restaurant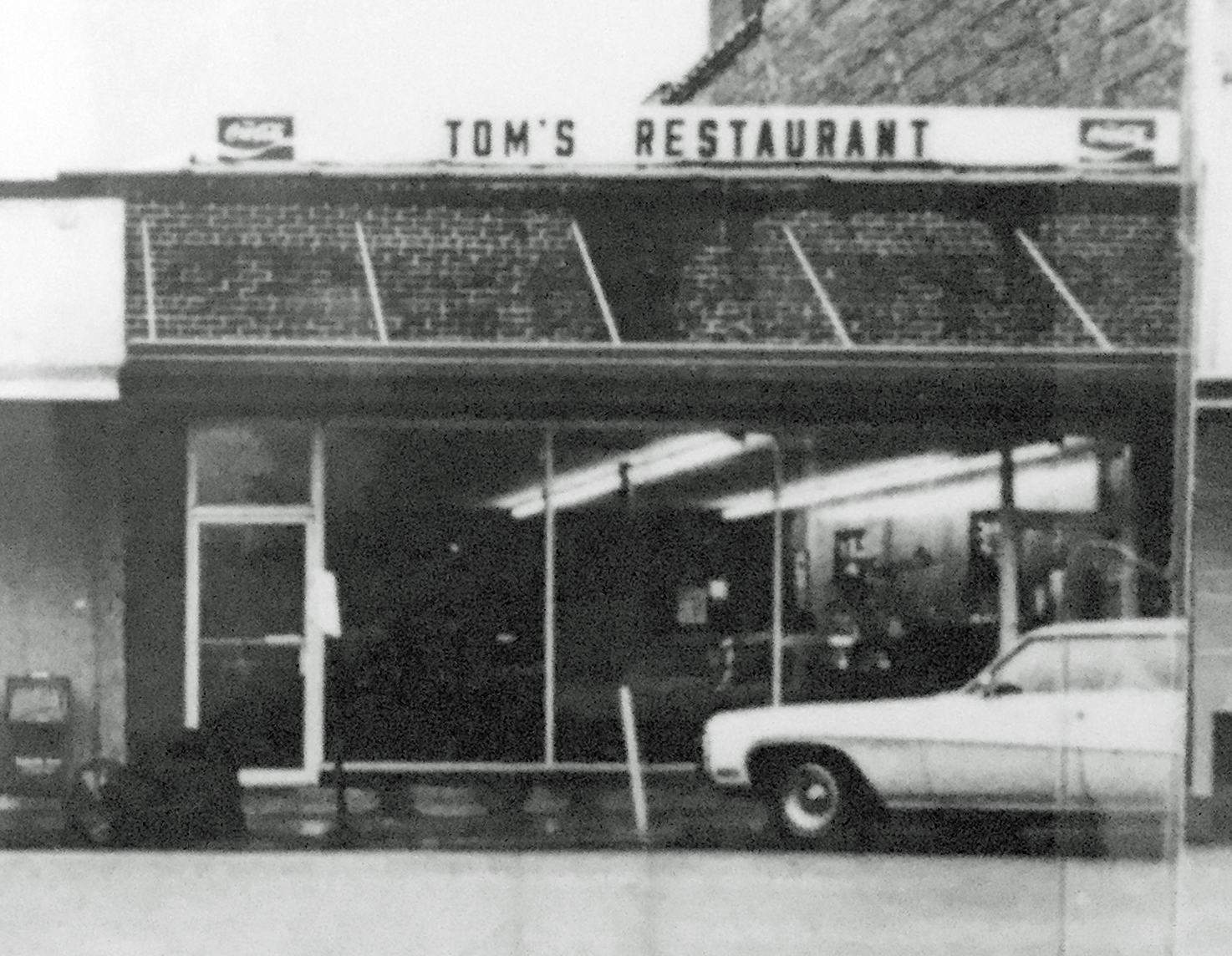 This marker is found under the trees in front of this building, commemorating Tom Sisk's long tenure in this location.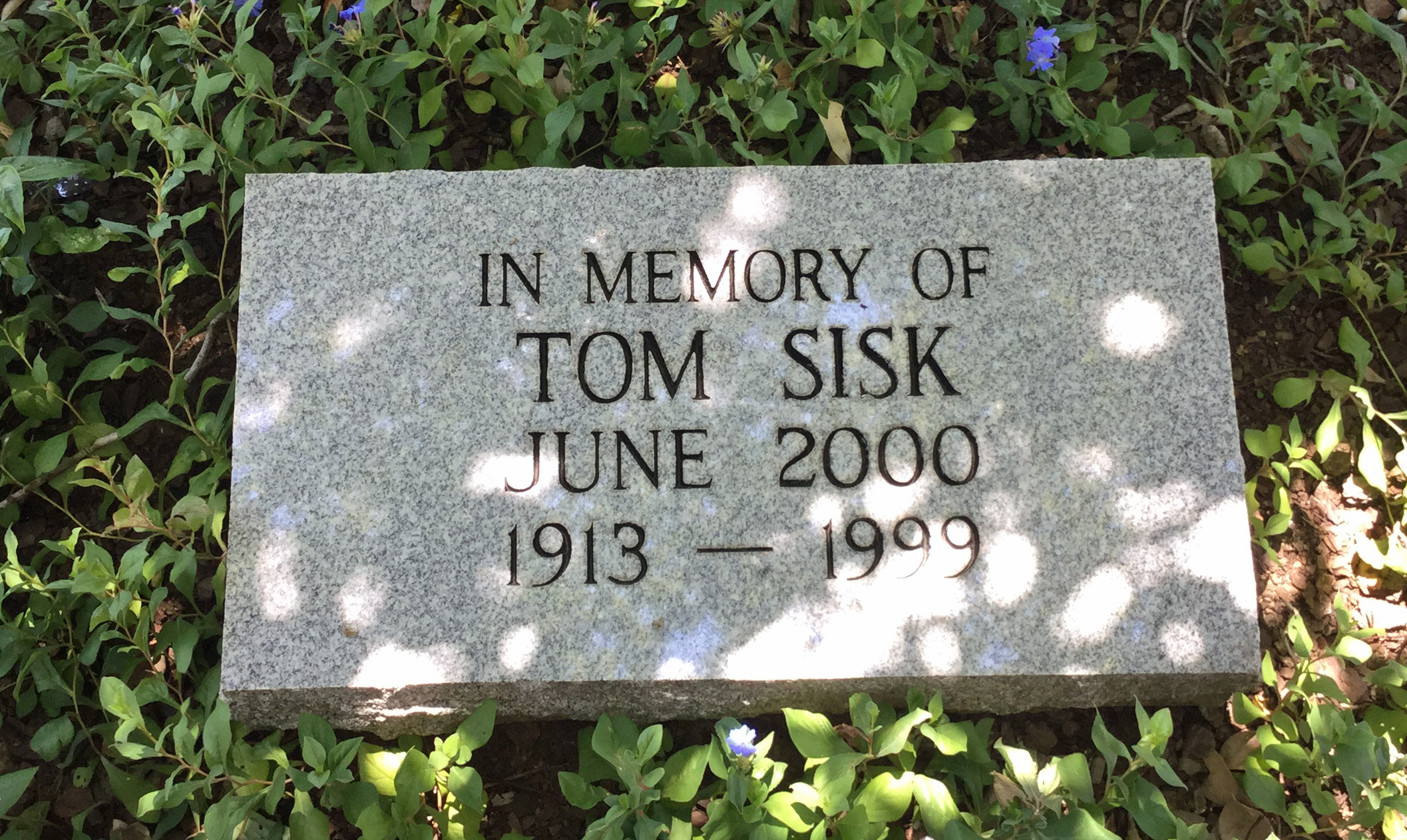 Finally, this location was home to J. & S. Pizza in 1982 when the historic registry research was done. As noted earlier, it was home to a video game and ice cream shop by 1985 called the Good Old Dip.
From food to clothing to law
In 1985, Bill Parks wanted to expand his clothing store to encompass his initial location at the corner of Willow and Broad and his expansion location at 111 South Broad that had opened as his men's store location. He expanded the Tom's building back four feet through what had once been a drinking alley for derelicts to join the three buildings It was home to Parks Clothing Store after this, when the Parks store, located on the corner of Broad and Willow, expanded and was joined to the location at 107 East Laurel to create an L-shaped building.
Bill Parks bought this building from Bill McCutcheon. He renovated the building to be the retail presence on the square for his growing store. He extended the building upward to include a decorative facade that picked up ornamental brick patterns similar to other buildings around the square, and added a brick face to the building, transforming the old restaurant location to the building we see today. When Bill Parks closed his clothing store in 2000, he and his son Will remodeled this building for use as a law office.