Built in 1931-32 as part of the Word Block, the Reid Sundries and Western Union Telegraph Building was located at 200 South Broad. It is one story brick building. At the time the square was entered in the historical registry, some of the storefronts in the Word Block were painted, one was covered by aluminum and plastic paneling, and all were altered to include glass display windows.
Reid Sundries began as Sundries Drug Company in the Proctor Building on the east side of the square. The Reid family bought the business from Jim Holland in 1932. The long-time manager of the Reid Sundries was John T. Reid, who would serve multiple terms as mayor of Scottsboro.
Two doors down from The Ritz theater, Reid's Sundries was a popular hangout for three decades of teen movie goers as attested to by layers of chewing gum stuck underneath the tables and the initials carved on the table tops. Each booth had a remote juke box with flip metal menus. The venue was noted for having hit 45-rpm records available immediately after their release.
This location was home to Reid Sundries until 1965 when Hugh and Virginia Keeble bought this business and the Western Union office included with it and it became Keeble Sundries. In the 1972 city directory, the Blue Moon Cafe is in this location and can be seen in the 1970s First Monday photo below. It is believed to have closed about 1975. This was the last location of the Blue Moon. It was previously the left side of the building that became the 2nd Hammers' annex until the late 1960s.
This building is currently the location of Heritage Title Search.
Current view: Heritage Title Search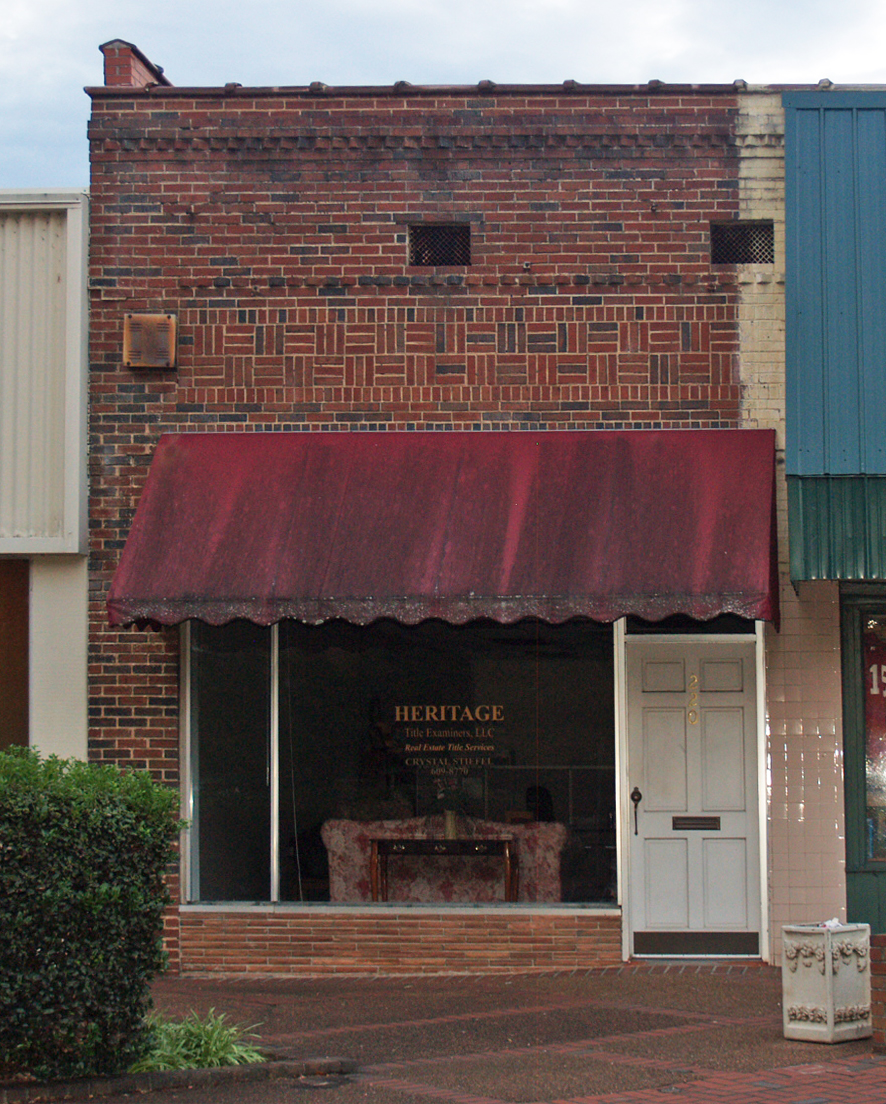 1949: Reid Sundries from the JCHS yearbook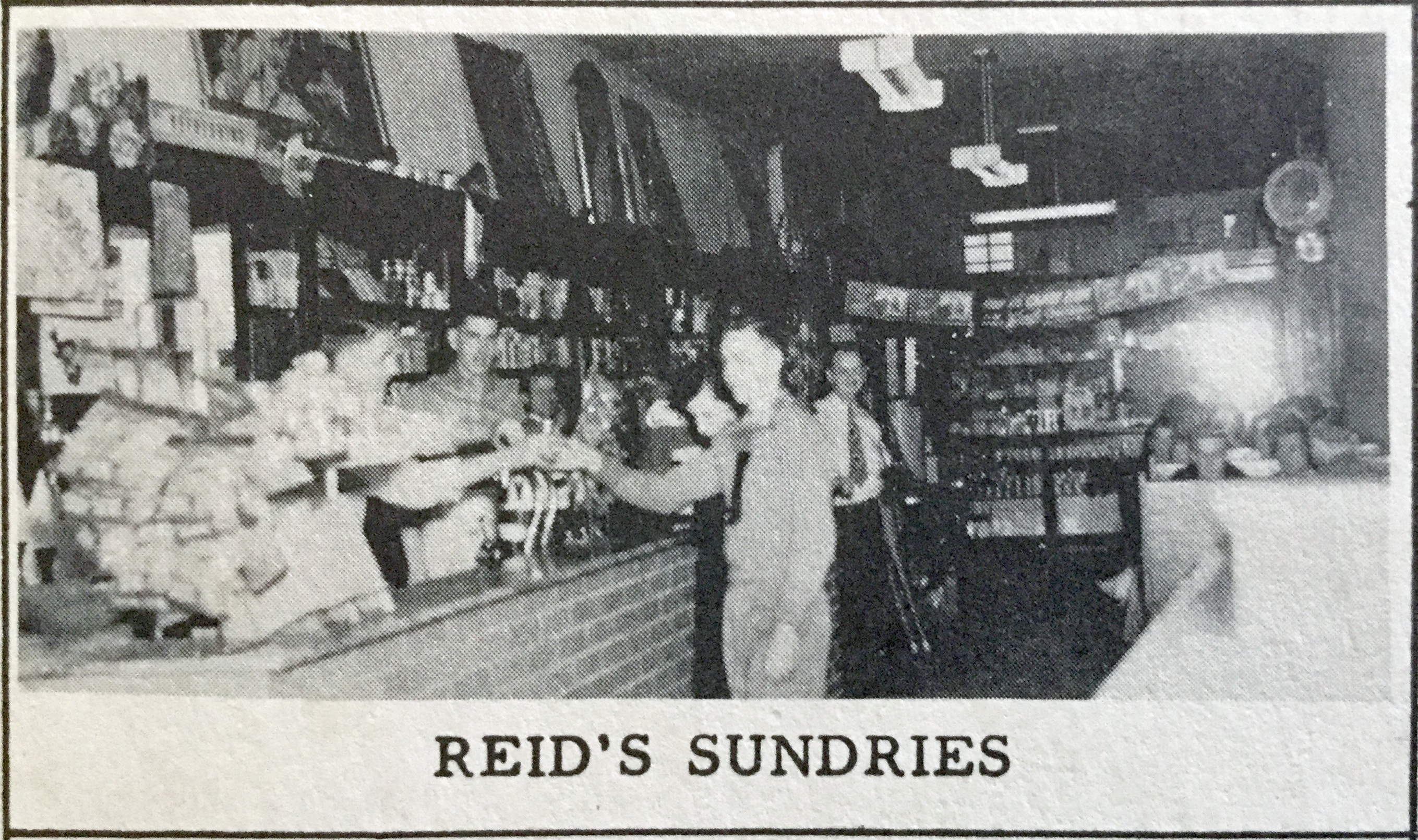 1950: Reid Sundries in the JCHS yearbook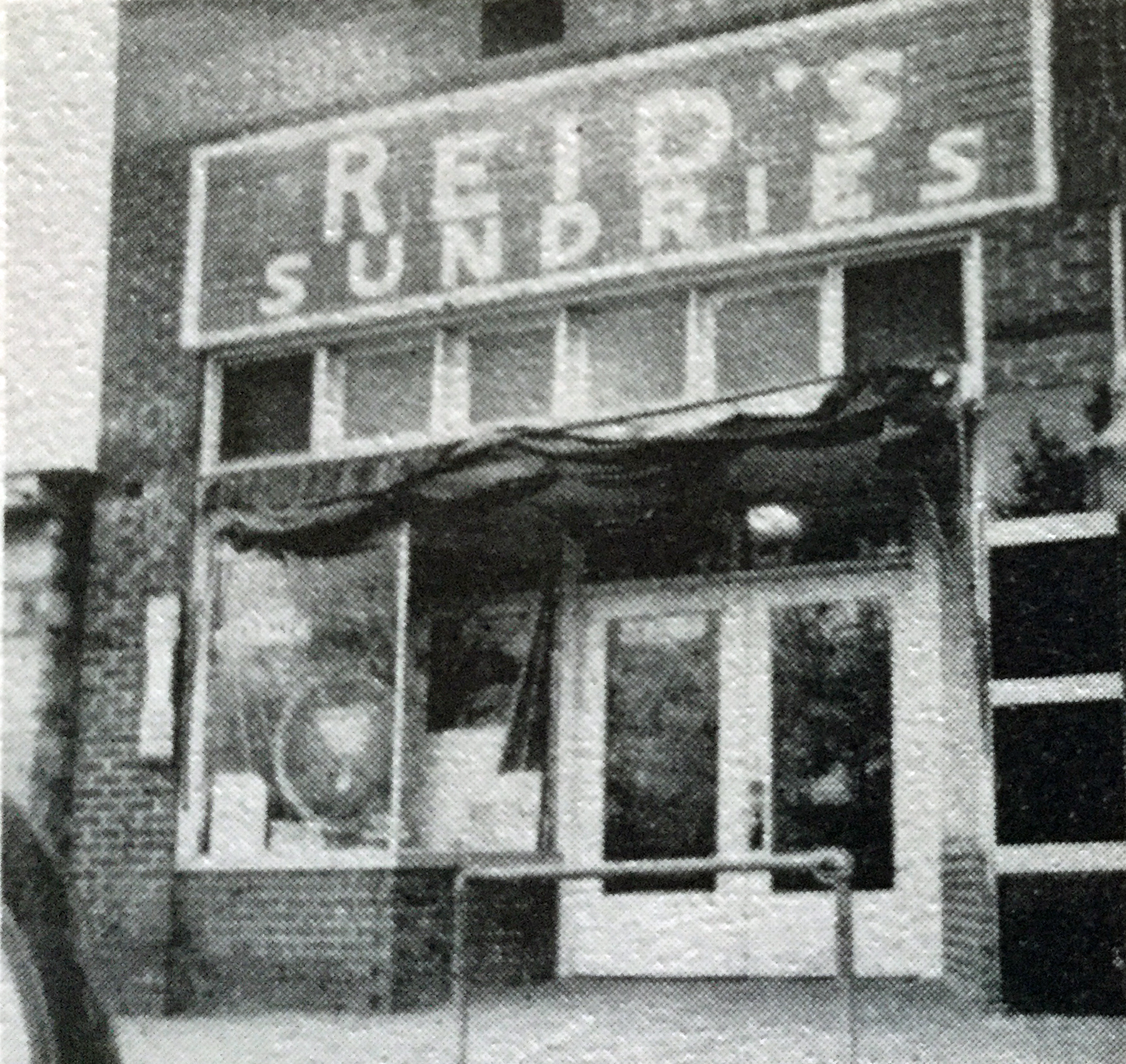 Young John T. Reid in front of Reid Sundries about DATE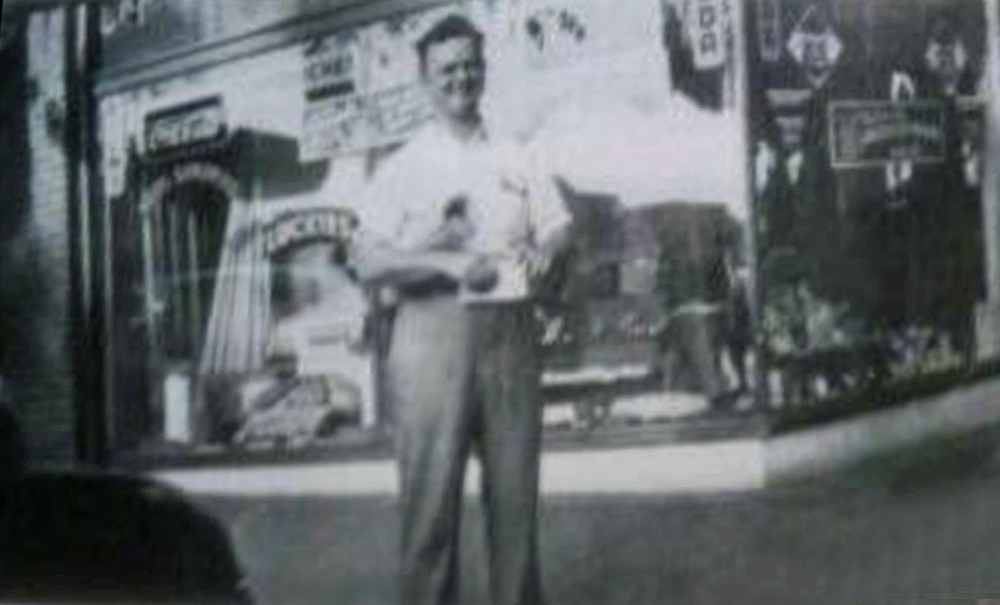 1972: John T. Reid as mayor, city directory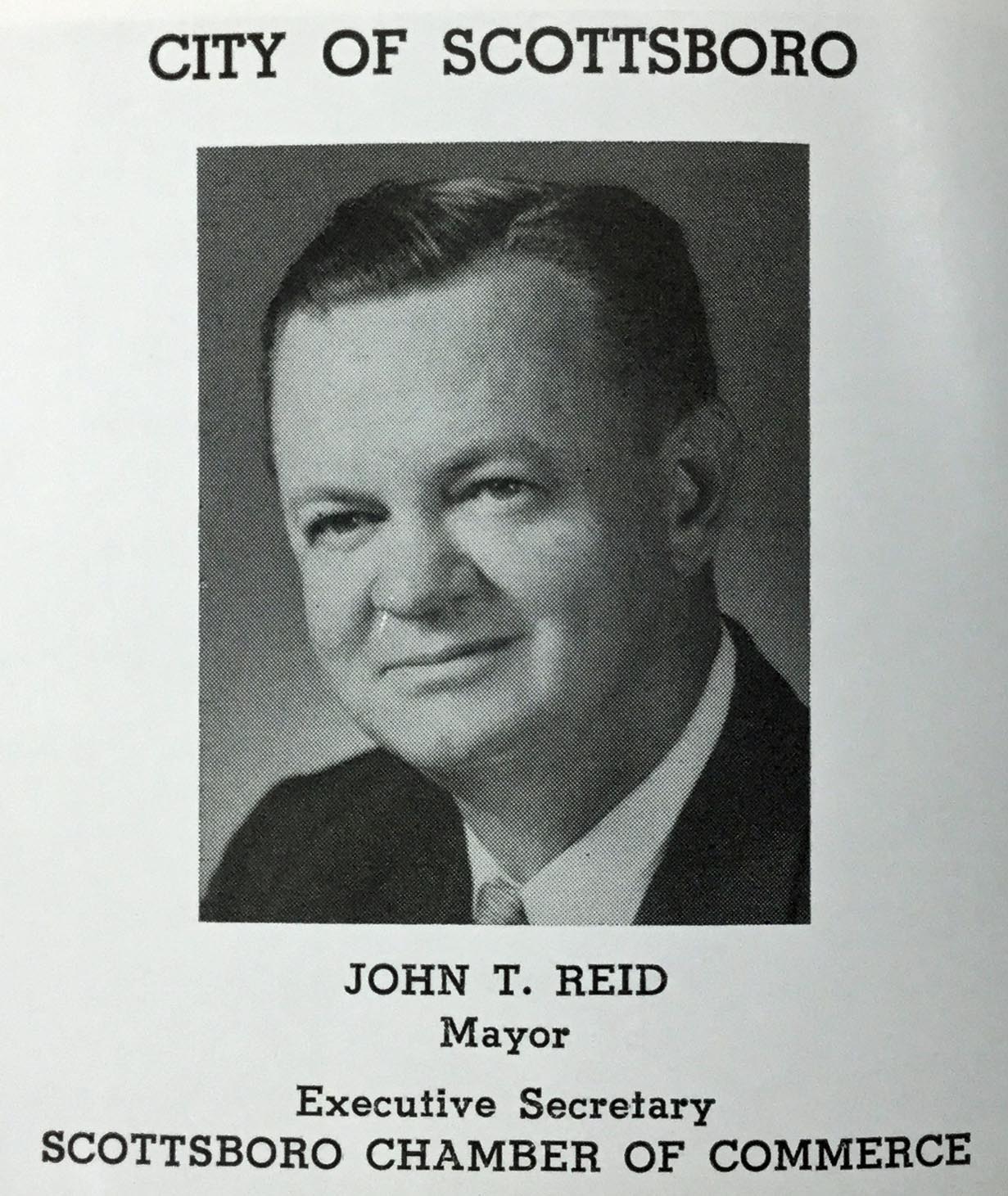 Blue Moon Cafe in 1970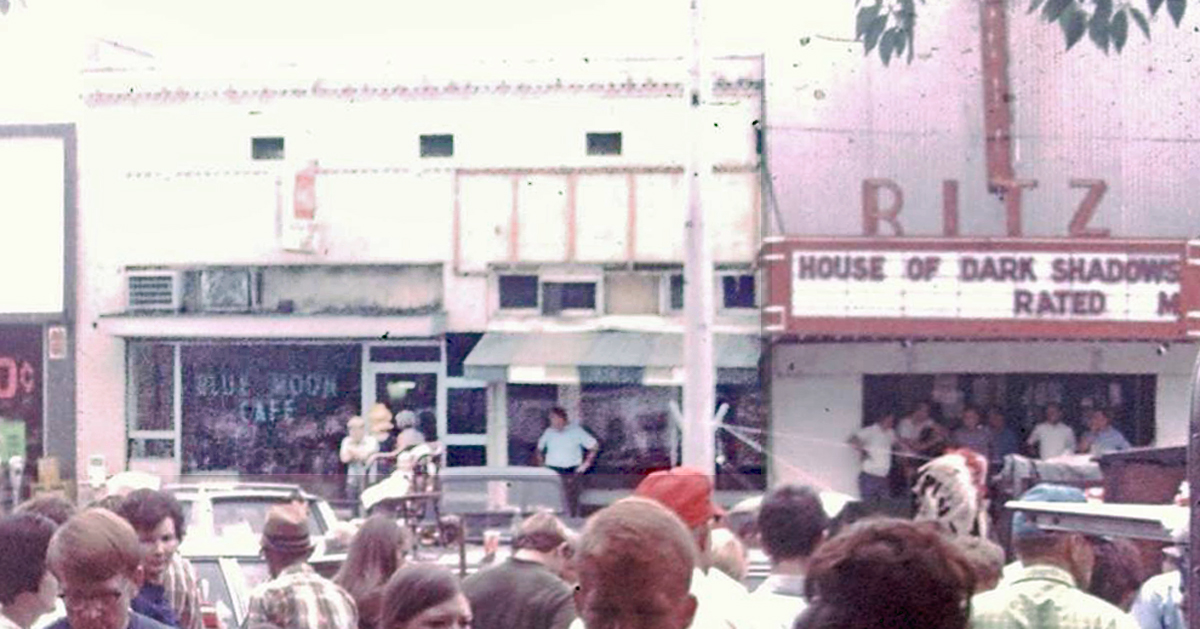 Tales of Reid Sundries
In the July 1992 Jackson County Chronicles, Ann Chambless included this story titled "Drug Stores and Soda Jerks":
If anyone who grew up in Jackson County before 1960 pauses long enough in the presence of a soda fountain, he will immediately be inundated with memories of his faVorite drug store. Remembering is easy. Choosing your favorite soda jerk is more difficult.
In small southern towns, drug stores were so much of a pattern that one suspected the owners passed around a common set of plans they enlarged or shifted around to give the delusion of individuality. Most had large glass fronts, a long wall with floor-to-ceiling shelves filled with sundries, a few tables and chairs, one or two ceiling fans, and a long counter which housed the soda fountain.
At the turn of the century, Paint Rock, Scottsboro, Stevenson, and Bridgeport fit the pattern. Proof positive is an interior view of Steele & McCulley's Drug Store in Paint Rock and Alstons' Drug Store in Stevenson. Presley's in the Proctor Building in Scottsboro became Reid's Sundries; and although Reid's moved from the east to the west side of the Square, the pattern remained the same. Hodges Drug Store on the northeast and Payne's Drug Store on the northwest corner of the Square are 20th century legends.
For almost 125 years, the drug store has been the social hub in both Stevenson and Scottsboro. Granted folks did make certain necessary purchases from the well stocked shelves, but the drug store became THE place to exchange news when it was available and friendly conversation when it wasn't.
Emotional ties to the drug Store are, directly related to the owner and his soda jerks who also supplied "drug store color." Reid's Sundries is no exception. John T. Reid is best remembered for excellent customer service AND his jovial, good humor. The drug store fun was seldom carefully planned. It just erupted and produced carefree laughter - usually a better medicine than all the bottles on the side-wall shelves.
Reid's Sundries is gone, but John T.'s soda jerks are not forgotten. All of these color our memories. Each made his own special contribution as he pulled sodas, flipped ice cream, and served young and old from a l l walks of life. The soda jerk stories are legion, and many have been told and retold.
Bill Hasty, a retired. CPA living in Huntsville, remembers his years as a teen soda jerk at Reid's Sundries:

Having a parttime job as a soda jerk at Reid's Sundries in the late forties and early fifties was unlike most other part-time jobs. Youtill had to work but didn't miss out on much since all the youth gathered in the drug store after school and on weekends. Usually I could predict who would order a cherry coke, instead of a plain coke, or who wanted a flavor of milkshake other than chocolate. The football players always wanted a coke with l o t s of ice, and everybody wanted a thick milkshake " which very few got unless they were special to the soda jerk.
The one day which broke the routine was First Monday. The day was associated with hard work, dipping hard ice cream and washing lots of glasses. By mid afternoon, the water in the fountain was tepid, which prompted a request for a glass of ice water, which meant washing more glasses.
The most interesting exchange between the once-a-month customer and the soda jerk involved "a cone of cream." The soda jerk was obligated to ask what flavor, with some faint hope the customer would shortcut his decision by blurting out something like "lemon" or "lime sherbert" (especially since lime sherbert was much easier to dip.) Instead, you just braced yourself for the expected, "What kind you got?" As a soda jerk, I prided myself in being able to rattle off the 8 to 10different flavors without looking at the same flavors posted on the menu board. Occasionally and without missing a beat, I would throw in some exotic, but nonexistent, flavor suchas watermelon and cantaloupe, knowing I would n o t be challenged to produce. While the customer was supposedly making this profound decision, I had already lifted the lid and had my scoop in - you guessed it - the Vanilla!
Jo Pell Brandon Holbrook's memories of Reid's Sundries are from the younger customer's view:

Recalling the days when visiting Reids was the ultimate experience of the day, I remember being too young to join the older youth who packed the booths to overflowing after school. But on Friday nights when Rosalie Maples and I ate our hot dogs faithfully at Reids before going next door to the (Ritz) movie, we carefully search for names we knew, written or carved, on the tables or benches. We were never disappointed by what we found! How disconcerting it was when Reids closed its doors before I was the right age to help pack a booth after school and brave enough to add my name to the roll call of other names already etched there! What I wouldn't give for Mrs. John T. Reid's hot dog slaw recipe!
One of Rosa Reid Baty's memories of her Dad's drug store is taking the broom to the Trammell brothers when they got into a fight and thoroughly thrashing the young Don and Pat Trammell with her broom.
So many other drug store stories exist...beautiful stories. Four couples whose drug store courting led to the altar are Betty Downey and Bill Webb, Carrie Nell Selby and Albert Holland, Dean Stanley and Brooks Woodall, and Juanita Kirkpatrick and Brooks Wilhelm.
Brooks Wilhelm relates:

In 1944, I was working at Payne's Drug Store when a beautiful high school girl came in and ordered a Coke. Right away I wanted to marry that young lady. In our conversation, I learned she had been elected queen of Paint Rock Valley High School and was in town to ride on a float hi a parade. Her name was Juanita Kirkpatrick. I told her I was going into the military soon and asked her to wait for me. I told her we would get married as soon as I returned which I did in November, 1946. We had two dates, Friday and Saturday nights, and got married on Monday, November 11, 1946" Payne's is a vital part of our history, and that of Scottsboro.
Clyde Broadway shared a "back door" drug store story. Charles and Frances Hodges' son, Sonny, took his and Clyde's Sunday School Class from the Presbyterian Church (then on Willow Street) through the back door of Hodges Drug Store between Sun" day School and church services ! and none of the parents, including Charles and Frances Hodges, were ever the wiser.
Rubilee Smith recalls watching "daredevil", smiling Mess Hodges deliver four five cent Cokes - on his bicycle - to a local "hen party." After hearing Mrs. Moore's story, you can easily envision Mess Hodges not holding onto his handle barswaving and shouting to all he met…and not spilling a drop!
Dorothy Heath Trethewy remembers her playmate Rosa Reid, John T. Reid's daughter, and their time in her father's store: "John T's store was two doors down from the theater and a hotbed of teenage activity. We were elementary age observers of all the fun. I remember watching Shiles McCord getting the front of his hair bleached white in one of the booths. Somebody poured the bleach on his head from one of the cone paper cups from the soda fountain. Mrs. Reid made a slaw for the hot dogs they sold that was as good as any I can recall. They also served "old fashioned" sodas and milk shakes in the tall glasses."