Built in 1932, the Hotel Scottsboro was located at 105 North Broad. It was a four-story brick building, a project of Judge James Money. It included 33 rooms on the second and third floors, and several businesses. The bottom floor included a dining room, a hotel office, and retail space. Some retail businesses were accessible from inside the hotel; other storefronts faced Willow Street and included dentists offices and clothing stores.
These businesses can be documented as associated with the Hotel Scottsboro. There may be others:
1960
Katie's Coffee Shop (103)
Sharp Studio (107)
W. H. Cobb(112)
1961
Scottsboro Dental Lab (Suite B1)
Mary's Beauty Salon
Katie's Coffee Shop. By the 1968 JCHS yearbook, ads can be found Katie's Liberty Restaurant, at 907 East Willow, in the same location is has today, though Katie Dunham has long ago passed.
1966
Lee Gamble Dental lab
Fred Sanders, Dentist
By 1972, no tenants are listed for Hotel Scottsboro but the hotel was still open at this time. The building burned in 1998 and was torn down in 1999.
The list above reflects just the tenants who can be verified using public records. There are most certainly others.
The Hotel Scottsboro was also a venue for temporary businesses who came to Scottsboro and needed an office, such as photographers or the insulation business shown in the 1949 ad from the Jackson County Sentinel below.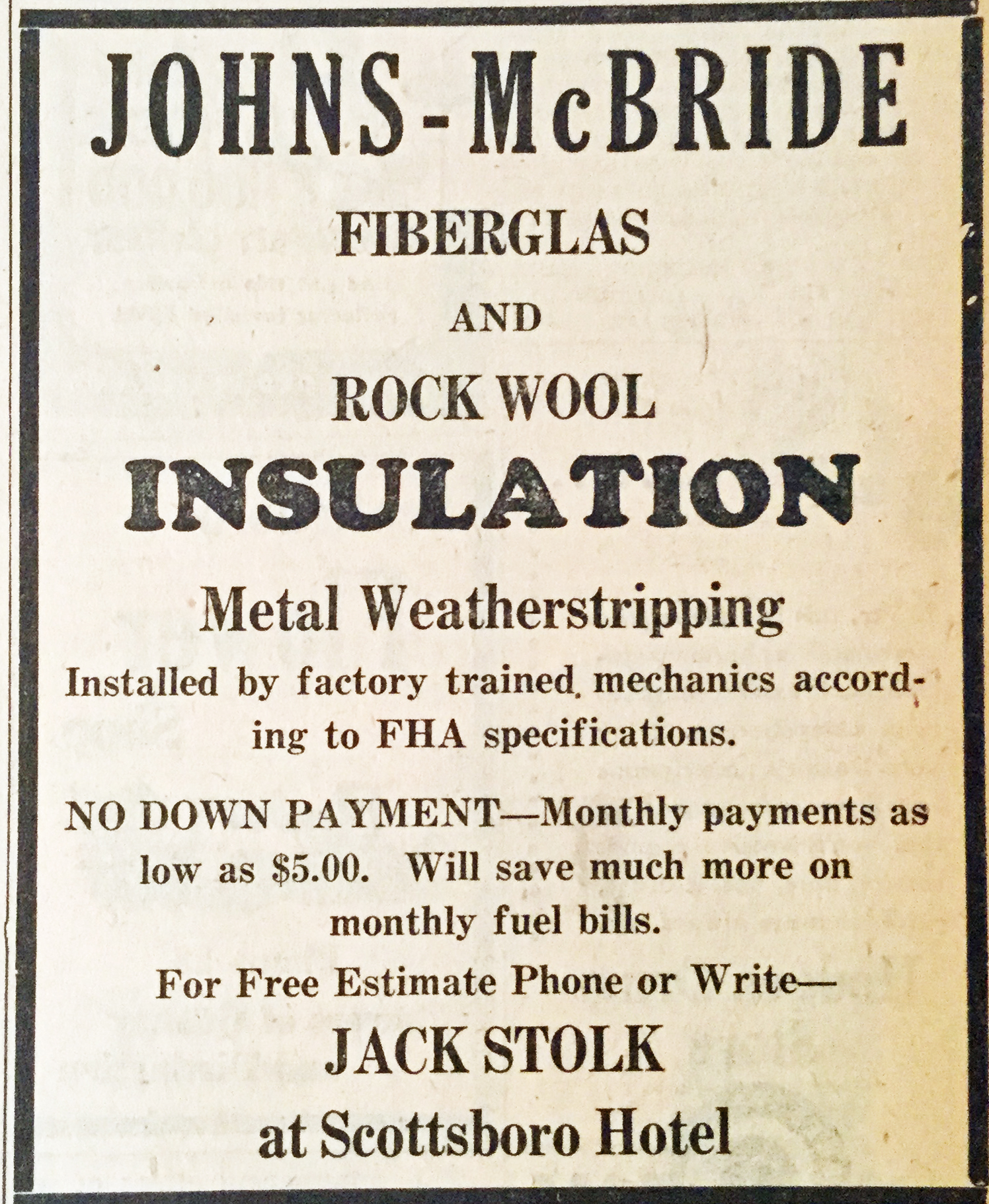 1936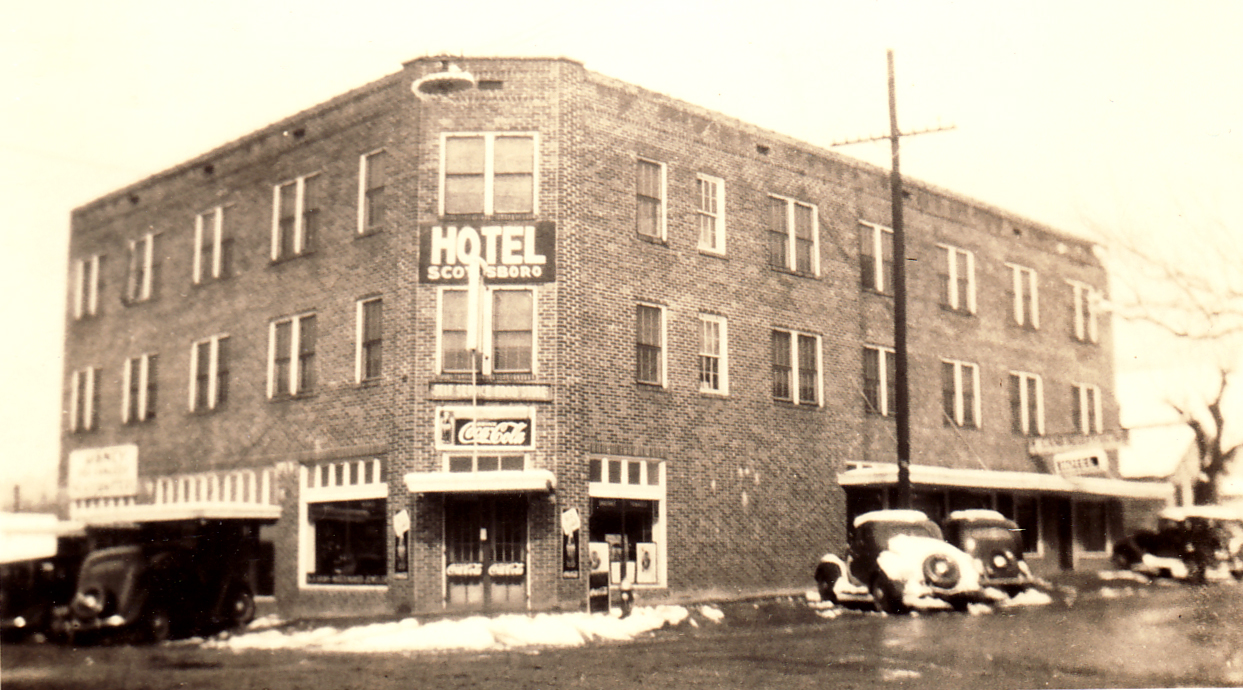 1939 ad for D. S. Clemons Groceries in the hotel
This seller is offering only "fancy groceries," which today we might think of as luxury items or things sold in a deli. But in 1939, it obviously meant something more basic, since Mr. Clemons was willing to buy or trade for corn and eggs.
1940 ad for Veda's Hat and Beauty Shop
The 1940 Reminder listed Veda's Hat and Beauty Shop as one of the businesses found in the Hotel Scottsboro.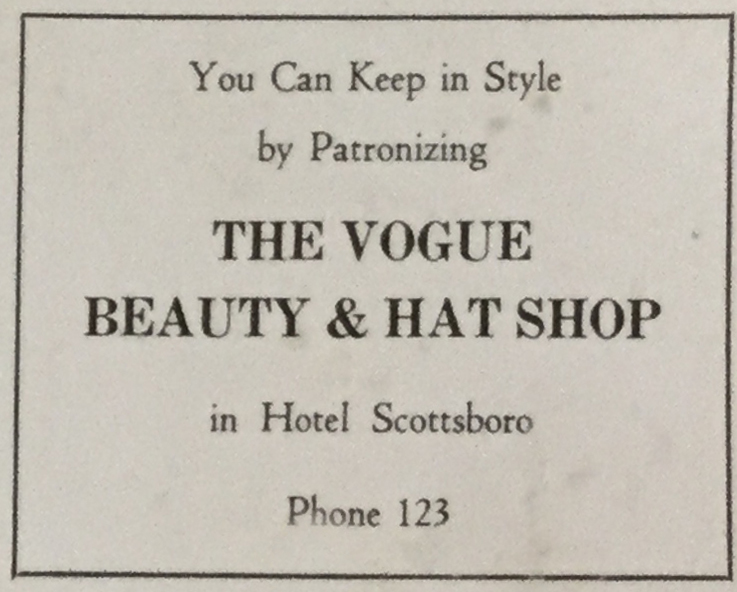 1950s postcard photo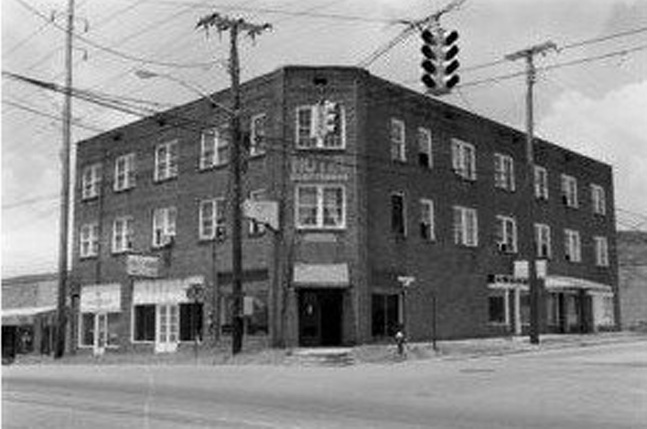 1950s newspaper photo driving east on Willow
Hotel Scottsboro is on the left.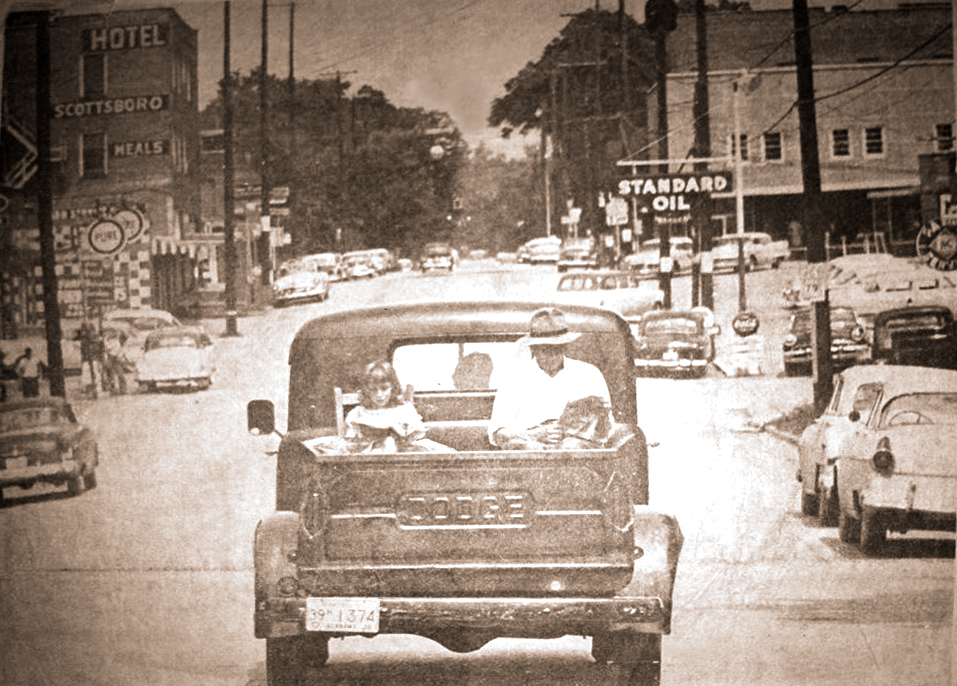 1998 after the fire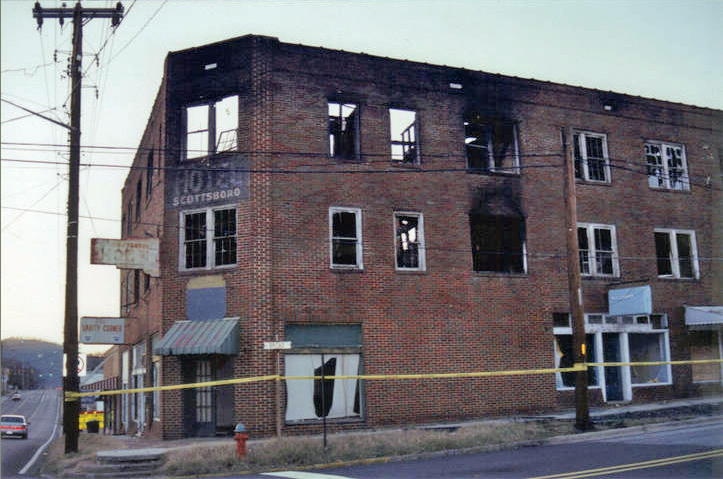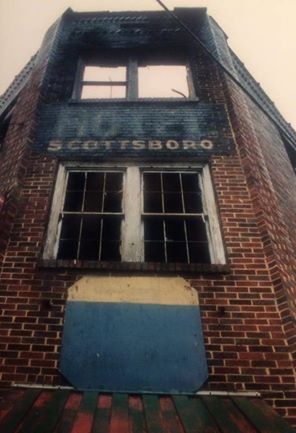 This photo is from the Sentinel's book Reflections II.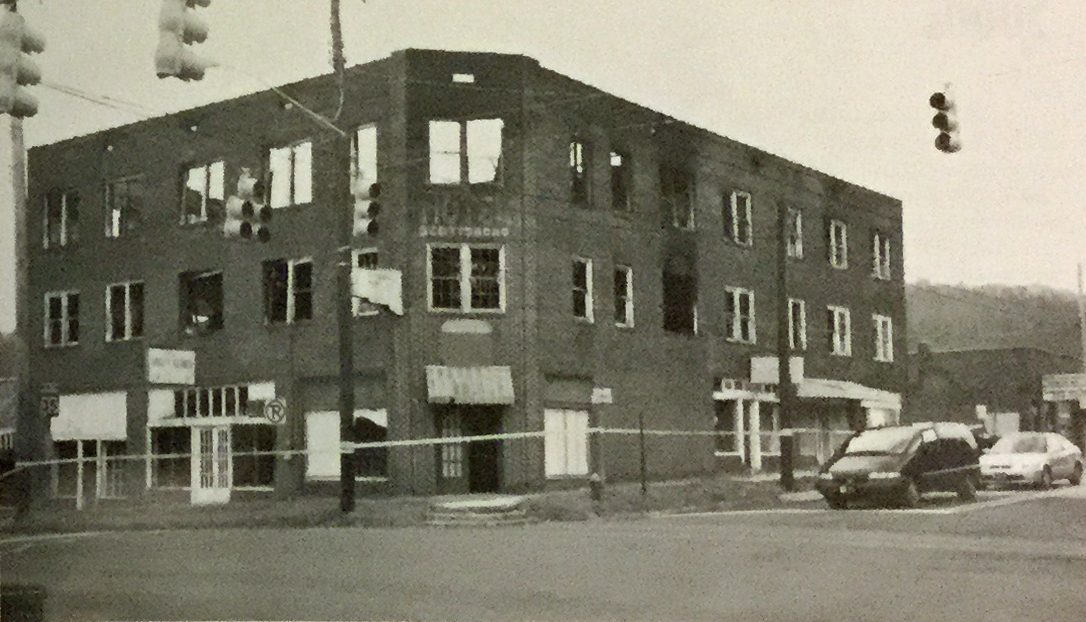 Scottsboro Hotel overview
The information is found in The History of Jackson County and was written by Mary Jane Keeton Gross.
In 1934, John Keroy Kelly and his wife, Melville Larcenia, moved to Scottsboro to becomes the operators of the new Hotel Scottsboro.
Mr. and Mrs. Kelly were both natives of Ripley, Mississippi in Tippah County. They had six daughters. Mr. Kelly was born January 16, 187 in Ripley, Mississippi. Mrs. Kelly was also born in Ripley on Dec. 14, 1883. Their move to Scottsboro was from a hotel in Red Bay, Alabama. They had also operated a hotel in Boaz, Alabama for a short time.
Mr. Kelly was a successful hotel man for he was of a disposition that instantly made friends. He was cultured and sympathetic and considerate of all people and his list of friends consisted of people from all over the country for they never forgot him.
Mrs. Kelly was also a kind, gentle woman who made everyone feel welcome. She oversaw the dining room in the hotel.
At this time Highway 72 was the only route between Memphis and Chattanooga. The hotels sits right on the highway and was a good location for travelers to stay overnight and have a good meal. Nearly every night all rooms were full.
On April 26, 1936 at the age of 52, Mrs. Kelly died. Her daughter, Bessie Leocia (Mrs. Lowery Smith), came to assist operating the hotel. While here, her only child, 7 yr. old Kelly, became ill with appendicitis and died in Chattanooga after an operation failed to save him. After Kelly's death, his mother became ill and laid for weeks in a Memphis hospital. She recovered and returned to Scottsboro to help her father.
On Nov. 4, 1936, at the age of 57, Mr. Kelly died from a hear attack. At this time, Mr. Lowery Smith came to help his wife run the hotel.
The Smiths remained at the Hotel Scottsboro until the year of 1956, when they returned to Mississippi where they built a house.
The hotel had several operators after the Smiths. But it was never the same. Motels and new highways took travelers in other directions.
At the present, 1997, the hotel is still standing but it is empty. It is truly a landmark of Scottsboro.