Word Arcade, located at 213 South Market Street, was built in 1923-33. It is a two-story brick construction. The second story is faced with Perma-Stone. The six fixed windows on second floor have small frosted panes. The ground floor is completely altered and includes plate glass display windows. This building was originally constructed by Hal Word, who build it as the location of Word Motors.
The Word Arcade Building was home to Word Motor Company until at least 1960. The company moved its business to the more roomy location where it operated for many years at 205 S. Andrews Street directly behind the Word Arcade Building, before selling the business to the Harbin family in 2008. This business is now located on John T. Reid Parkway.
When Word Motor Company moved off the square, this left a building behind that was remodeled into the office building that is Word Arcade. There is no business listed for this location in the 1961 phone book (it is assumed that remodeling is underway) but by the 1966 phone book, this retail location seems to be fully populated.
Current view: Word Arcade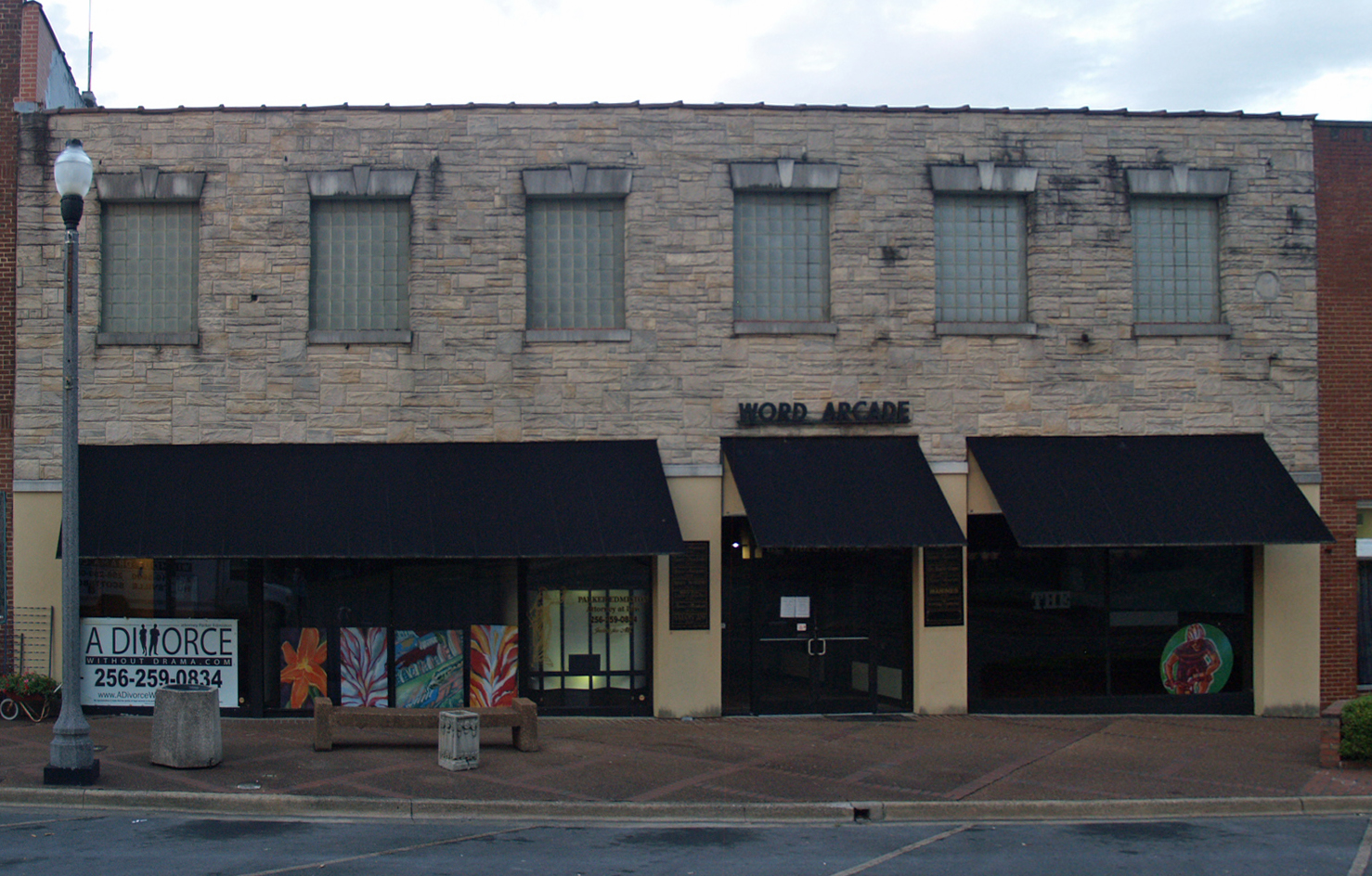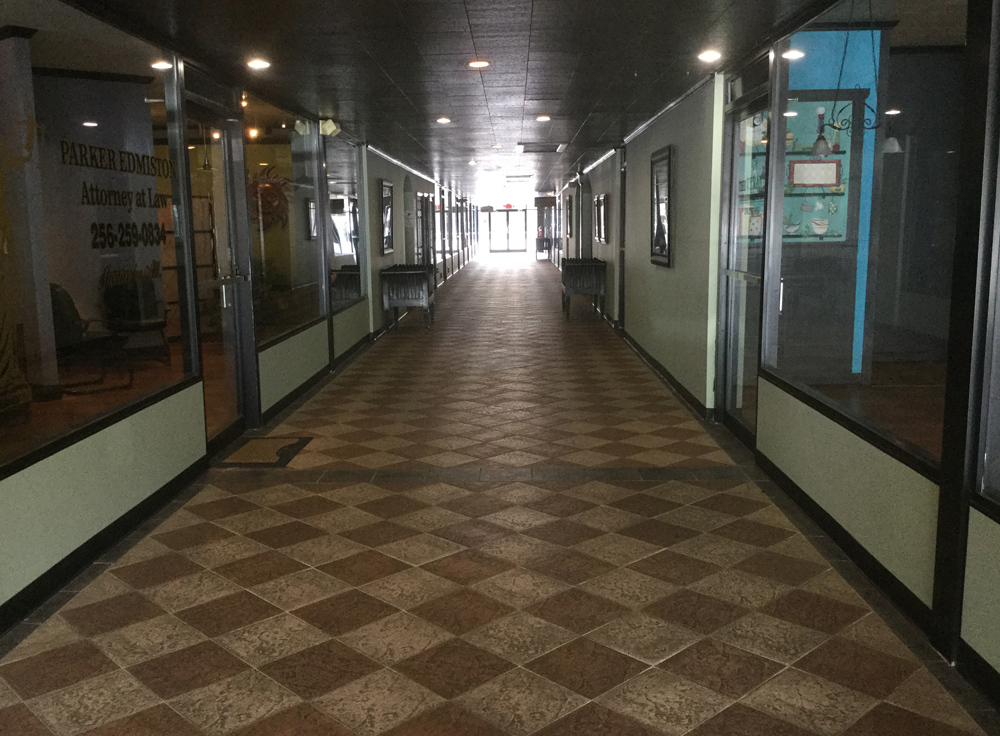 These are the current tenants of Word Arcade:
Melanie Varner Dance Studio
Salon 209
Parker Edminson, Attorney at Law
Dr. Kevin Gross
Marine recruiting office
The Roofing Company
1928:Proctor Building, Post Office, Word Motor
Walt Hammer found his 1928 photo of the Proctor Building and Word Motor Company when it was on the square. Notice that the post office is in the Proctor Building on the left and the stairs, which are now blocked, are open for free access to offices on the second floor.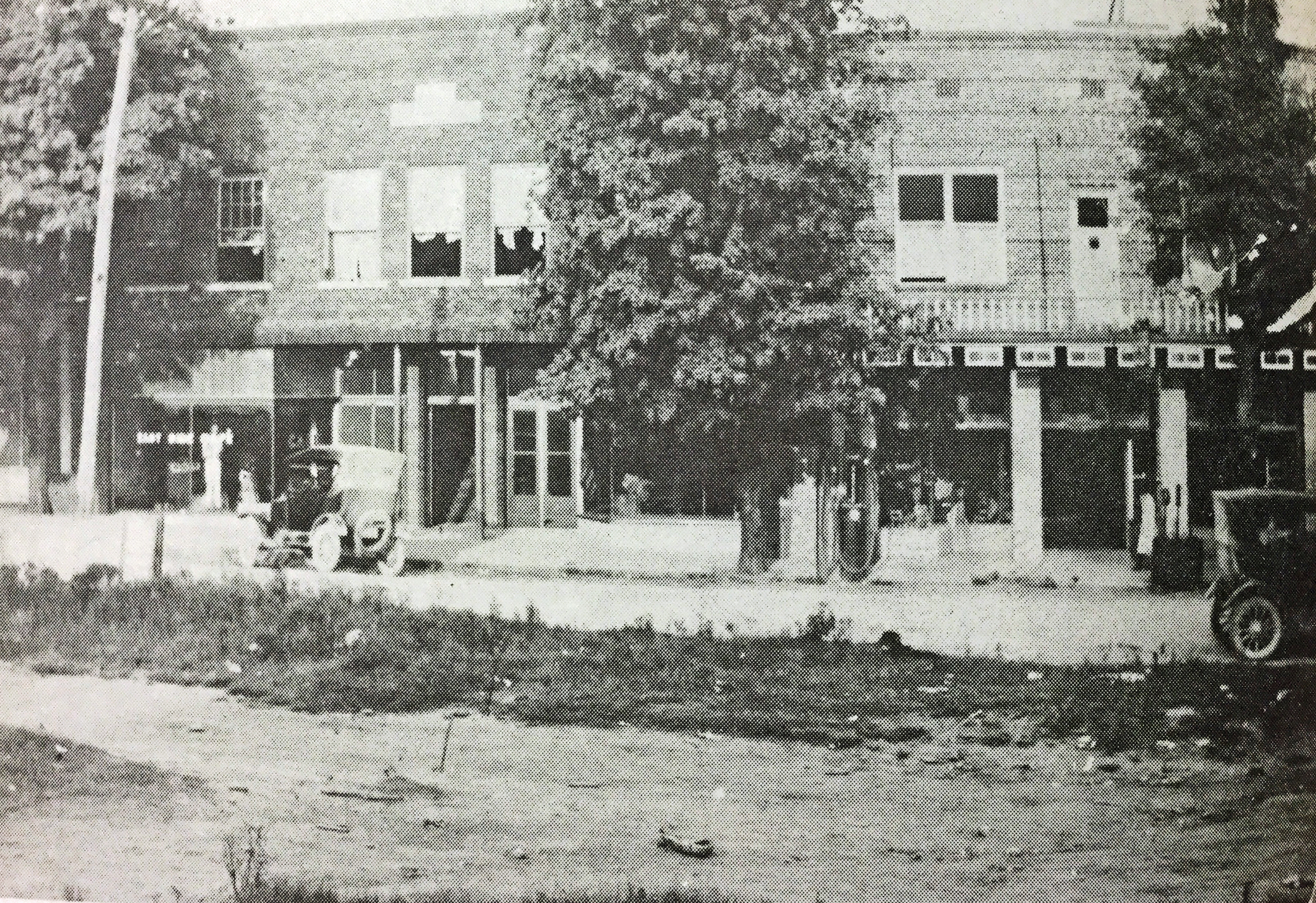 1931: during the Scottsboro Boys trial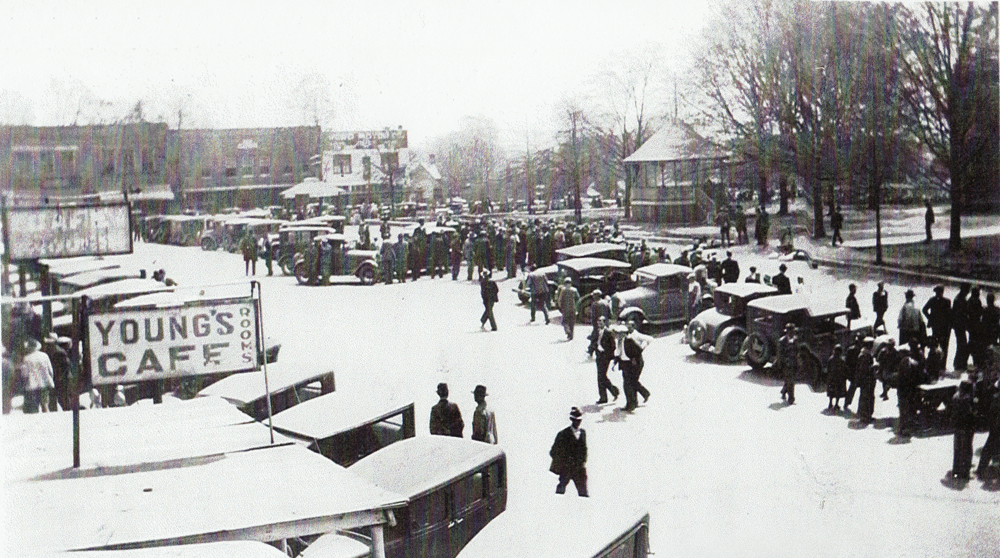 1940s: Word Motor on the square
This photo of Word Motors during the 1940s is from the Daily Sentinel's Reflections II book.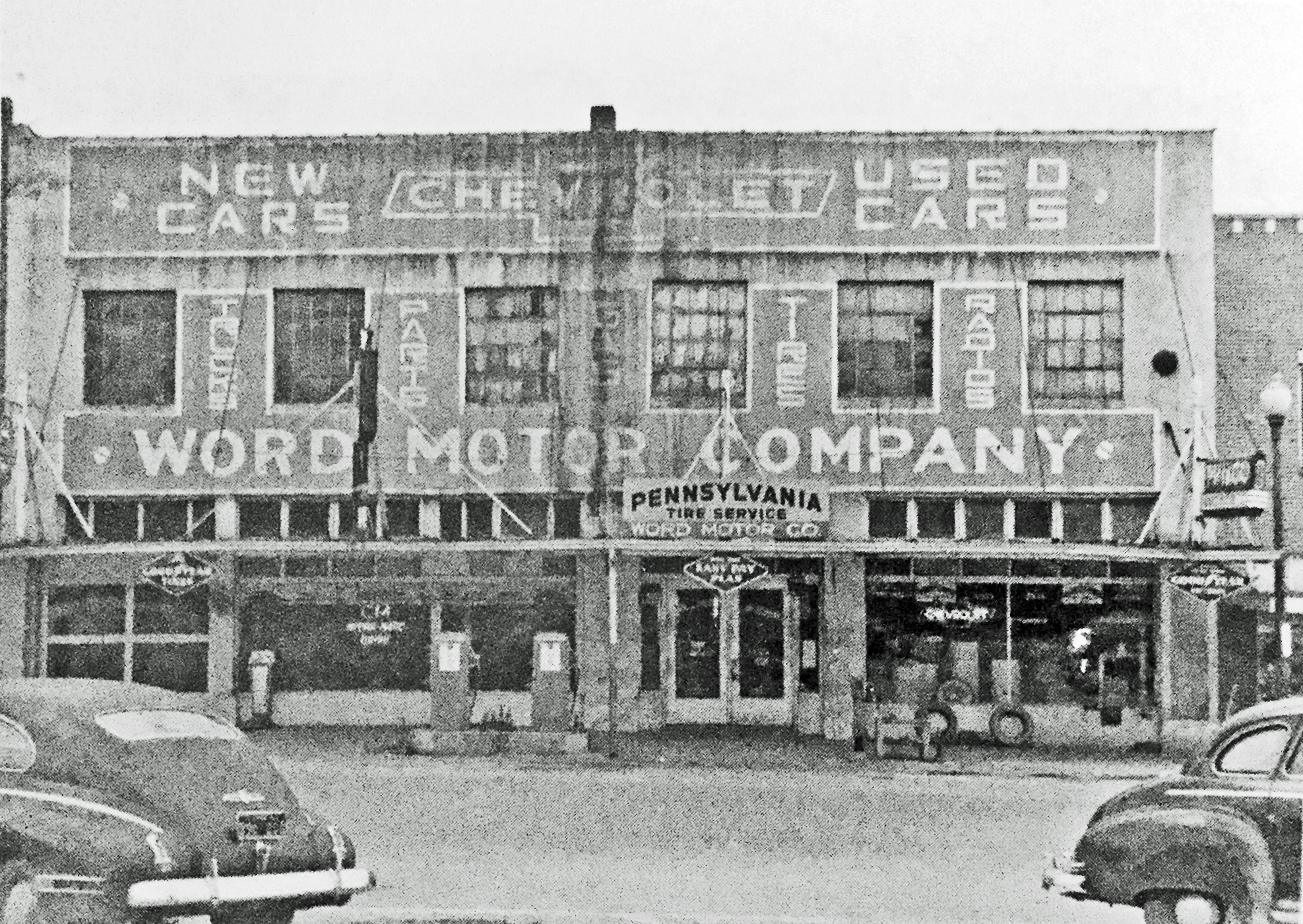 1958: Oldsmobile and Chevrolet signs outside Word Motor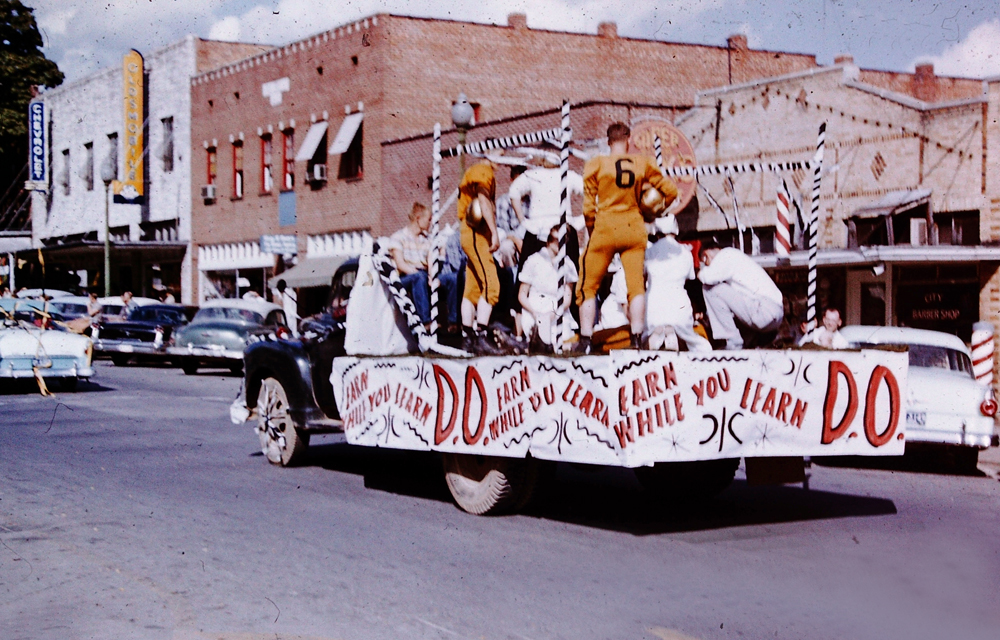 Word Motor becomes Word Arcade
In the early 1960s, Word Motors moved to Andrews Street and the building was redesigned to accommodate offices. This was THE place to be in the early 1960s, and many businesses that had offices elsewhere on the square moved to Word Arcade. Here are some snapshots of the tenants of Word Arcade by year.
1965
Elizabeth's Shoe Box (street front)
Ladies and Children's Shoppe (street front)
Wilkinson TV (the location of his Philco sign)
Mary B. Brewer Agency
J. A. Lee, City Attorney
K. H. Butler Company
Alabama Farm Bureau Insurance Company
Dr. Sarah E. Atchley, Optometrist
Dr. H. T. Foster, Dentist
1966
Elizabeth's Shoe Box (street front)
Ladies and Children's (street front)
H. T. Foster, Dentist
Mary B. Brewer Insurance
Kenneth Butler, Real Estate
State Farm Claim Office
Joseph A. Lee
Thomas Wilkerson, Accountant
Lois's Salon of Beauty (Lois Winninger, Opal Dobbins, Carol Martin, Joe Talley)
1967
Ladies and Children's Shoppe (street front)
Elizabeth's Shoe Box (street front)
County Board of Education Remedial Reading Office
Brewer Insurance Agency
Dr. H. T. Foster Jr., Dentist
Mrs. Sarah E. Atchley, Optometrist
J. A. Lee, City Attorney
Alabama Farm Bureau Insurance Company
K. H. Butler Company
Owens Coffee Shop
Scottsboro Sewing Center
Lois Salon of Beauty
City Neighborhood Youth Corps
State Farm Mutual Auto Insurance Claim Office
Wilkinson TV
1970
Ladies and Children's Shoppe (street front)
Elizabeth's Shoe Box (street front)
Dr. H. T. Foster Jr., Dentist
Dr. Sarah E. Atchley, Optometrist
Alabama Farm Bureau Insurance Company
Federal Land Bank Association
Brewer Insurance Agency
Mutual Savings Insurance Company
Kenneth H. Butler Company
Scottsboro Sewing Center
A. G. Warr, CPA
Jo's Salon of Beauty
Jackson County Mental Health Center
Photo Shop
Wilkinson TV
1972-1975
Elizabeth's Shoe Box (street front)
Ladies and Children's Shoppe (street front)
Brewer Insurance Agency
R. F. Clayton, Real Estate
Clements Jewelers
Jo's Salon of Beauty
Alabama Farm Bureau Insurance Company
Jackson County Mental Health Center
Dr. H. T. Foster Jr., Dentist
Huntsville Production Credit Association
State Vocational Rehabilitation
Scottsboro Sewing Center
Dr. Sarah E. Atchley, Optometrist (in 1975, son Ron joined her practice)
Neyman Dental Lab
Public National Life Insurance
North Alabama Security Agency <1975 only)
Independent Life and Accident Insurance Company
1965: Word Motors on Andrews Street from the city directory