Built in 1919, the First National Bank Building is located at 206 South Broad Street. It was designed by architect Richard H. Hunt and is a Modified Federal style building. The two-story, red-brick building features a low, pedimented cornice and five windows on second floor, topped by continuous stone lintels. The entry is framed by pilasters supporting a full-bracketed entablature. Vertical windows frame the entrance with stone panels below. There are matching openings at the ends of building on ground floor (one a blind niche, one a stairway door) topped by a low stone pediment. The building is currently the home of the McGinty Law Practice.
Current view: McGinty Law Practice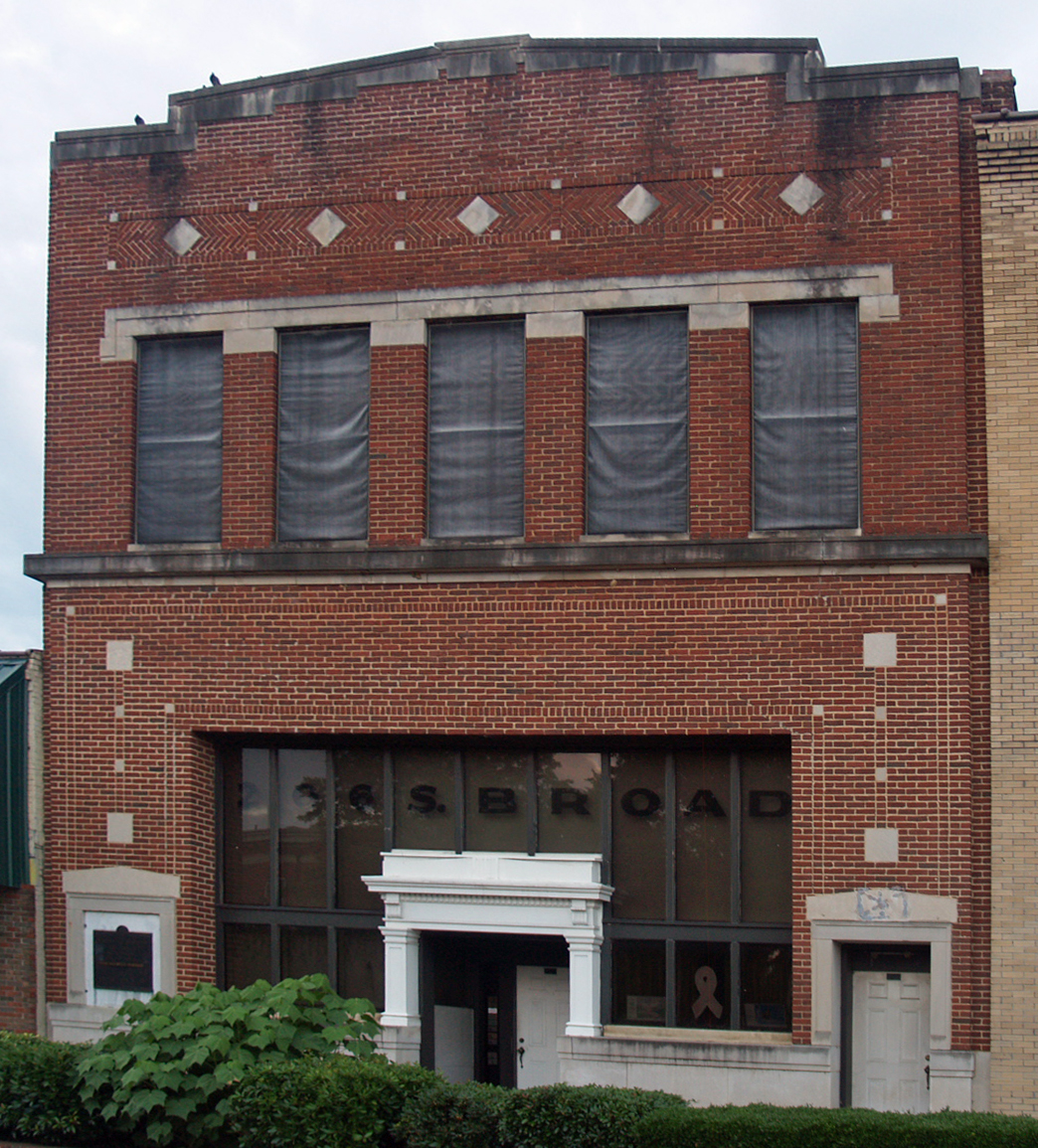 First National Bank was incorporated in 1907 under the name National Bank. Its first location was on the square in the Garland Building next to the Tennessee Valley Bank in the Bank Building. First National is underneath the prominent awning to the right of the bank building (the location of Wales Jewelry).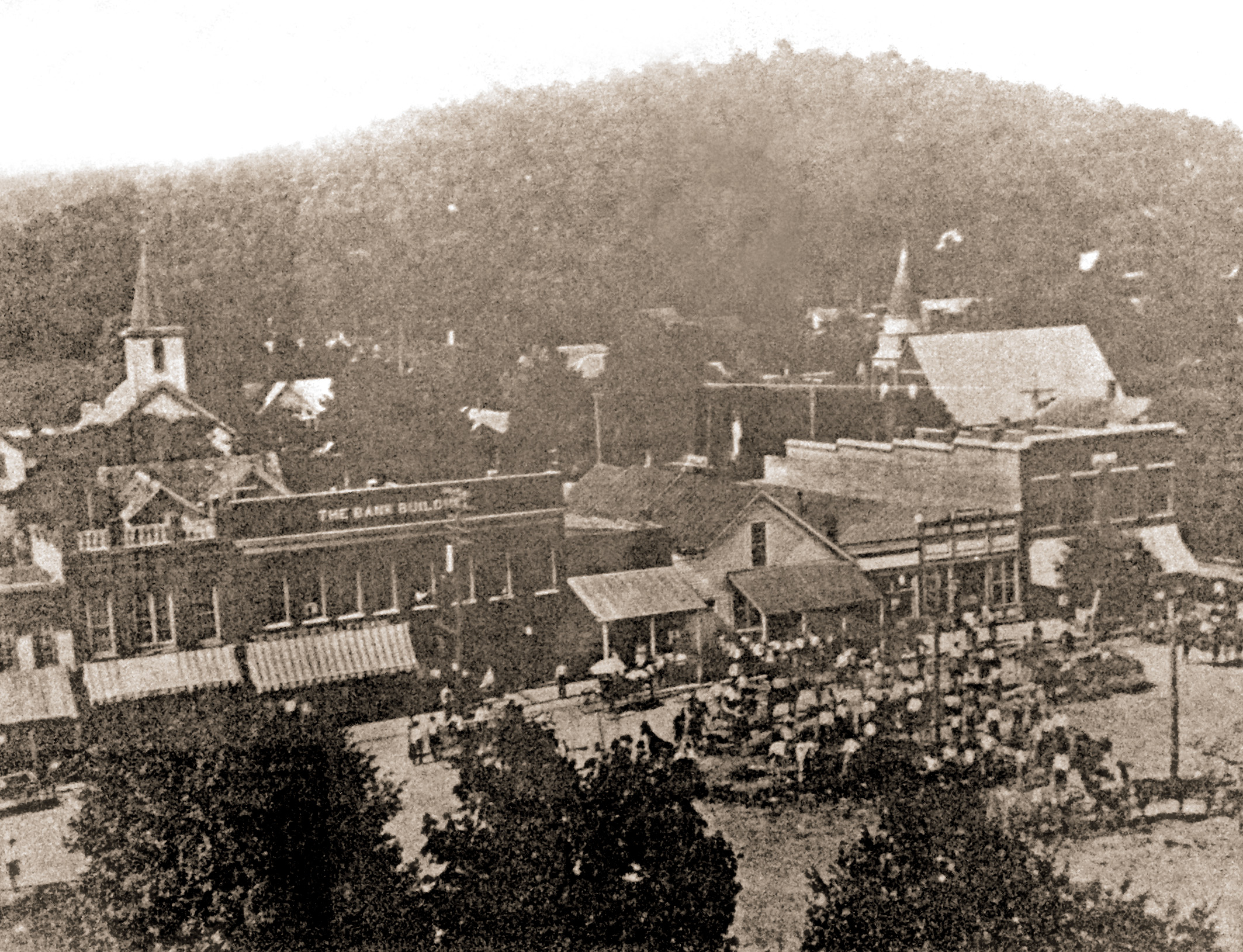 When the new First National Bank building was completed in 1919, the bank moved to the 206 South Broad Street location, where it remained for nearly 50 years. The downstairs was vacant from at least 1967 to 1972. By 1975, the Dawson, McGinty, and Livingston law practice, which had been upstairs in this building, moved to the first floor, where they are still in practice, with Pam McGinty and Chip Jenkins, attorneys.
Upstairs tenants
All the time that First National was active at the street level, the second floor had a succession of tenants and offices.
1956
Joe Dawson Law Office (see overview below)


H. O. Weeks Law Office.

In the 1961 phone book, H. O. Weeks' practice is upstairs in the Bank Building.

Dawson and Browder, Dentists

It is likely that these two men were practicing at this location much earlier than 1956. Lallie Paula Dawson Leighton remembers that her father came to Scottsboro to practice dentistry after he was discharged from the army in 1945, and that for a time, his practice was located in the building with his uncle, Joe Dawson. Dr. Browder graduated in 1952 and joined the practice after his service in Korea. Dr. Dawson moved his practice to 412 East Willow in late 1957, and Dr. Browder opened a dental practice in Stevenson.
1960
Dawson and McGinty, Attorneys
1961
Gay and Wimberly Insurance Agency
Dawson and McGinty, Attorneys
1965
Gay and Wimberly Insurance Agency
Dawson and McGinty, Attorneys
1966
Dawson, McGinty, and Livingston, Attorneys
Billy M. Ballard, Surveyor
An overview of the Brown, Dawson, and McGinty law practice
The tenants of this building with the longest history in this location is the law practice that began with Lawrence Edward Brown (1876-1952). Lawrence Brown was son of Jesse Edward Brown and Virginia Wood Brown. According to Kennamer, when father Jesse Brown bought The Progressive Age from W. T. Boyle in 1895, Lawrence at age 18 managed the paper until 1909 when his father sold it. Lawrence then attended law school and practiced in Scottsboro. In the 1920s, he built the Brownwood mansion for his mother, and he and his siblings lived in this house with her and after her death in 1932. They are found, for example, in the 1940 census: Lawrence, his sister Virginia, his sister Zaida Brown Kirby and her husband, Atticus Dickson Kirby. Brownwood was torn down in the early 1970s. Lallie Paula Dawson Leighton, who sent details about this law practice, noted that "My uncle was attorney for the Brown family's estate and fulfilled Miss Virginia Brown's request that the Brownwood mansion be razed after her death."
Lawyer Joseph Mathes Scott "Joe" Dawson (1908-1992) practiced law with Lawrence Brown from 1936 through 1992. According to his niece Lallie, Joe completed his law degree in 1934, and began practicing with his uncle, Charles Johnson Scott, in Fort Payne. He moved to Scottsboro about 1936 and shared a practice with Lawrence E. Brown, who died in 1952 but continued to be listed on the letterhead as a partner. After Mr. Brown's death, James S. "Jim" McGinty joined the practice in the 1950s. He had been an FBI agent before entering law practice and moving to Scottsboro. Jack Livingston joined Dawson and McGinty in the 1960s before his circuit judgeship and his move to offices on the north side of the square in the Gay Building where he is still in practice. Charles Cook Dawson, Sr. joined Dawson and McGinty in 1969. Charles formed his own law firm around 1990, and his office was first situated upstairs in the Proctor Building on the east side of the square, then later relocating to his current address in the building owned by the Lynch family that previously housed Dr. M.H. Lynch's medical practice prior to his Dr. Lynch's death in 1975.
By
1972
, Dawson, McGinty, and Livingston had moved downstairs in the First National Bank Building and no tenants are found upstairs.
Early 1930s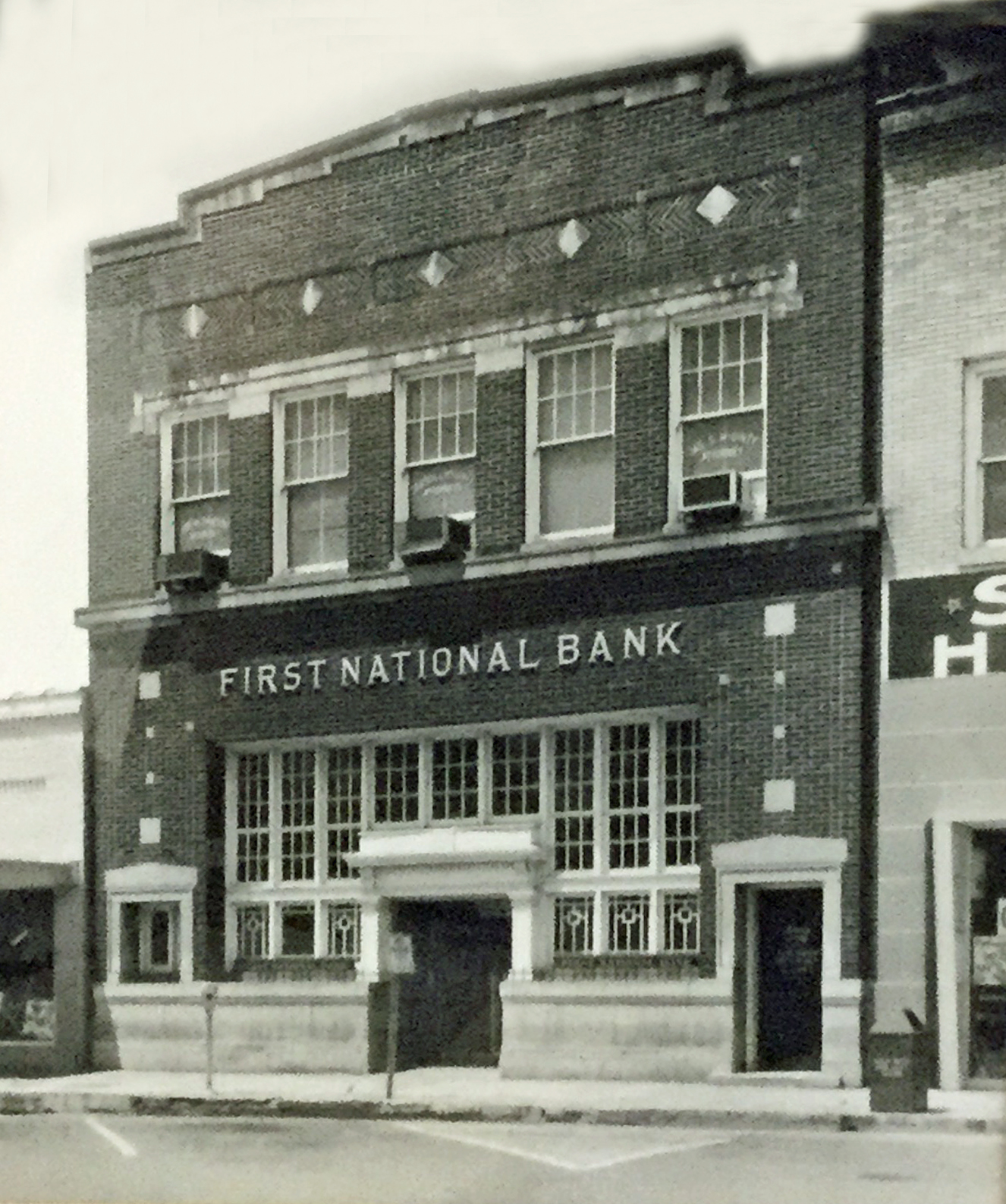 1930s photo of First National Bank
Walt Hammer found this photo of First National Bank in the 1930s.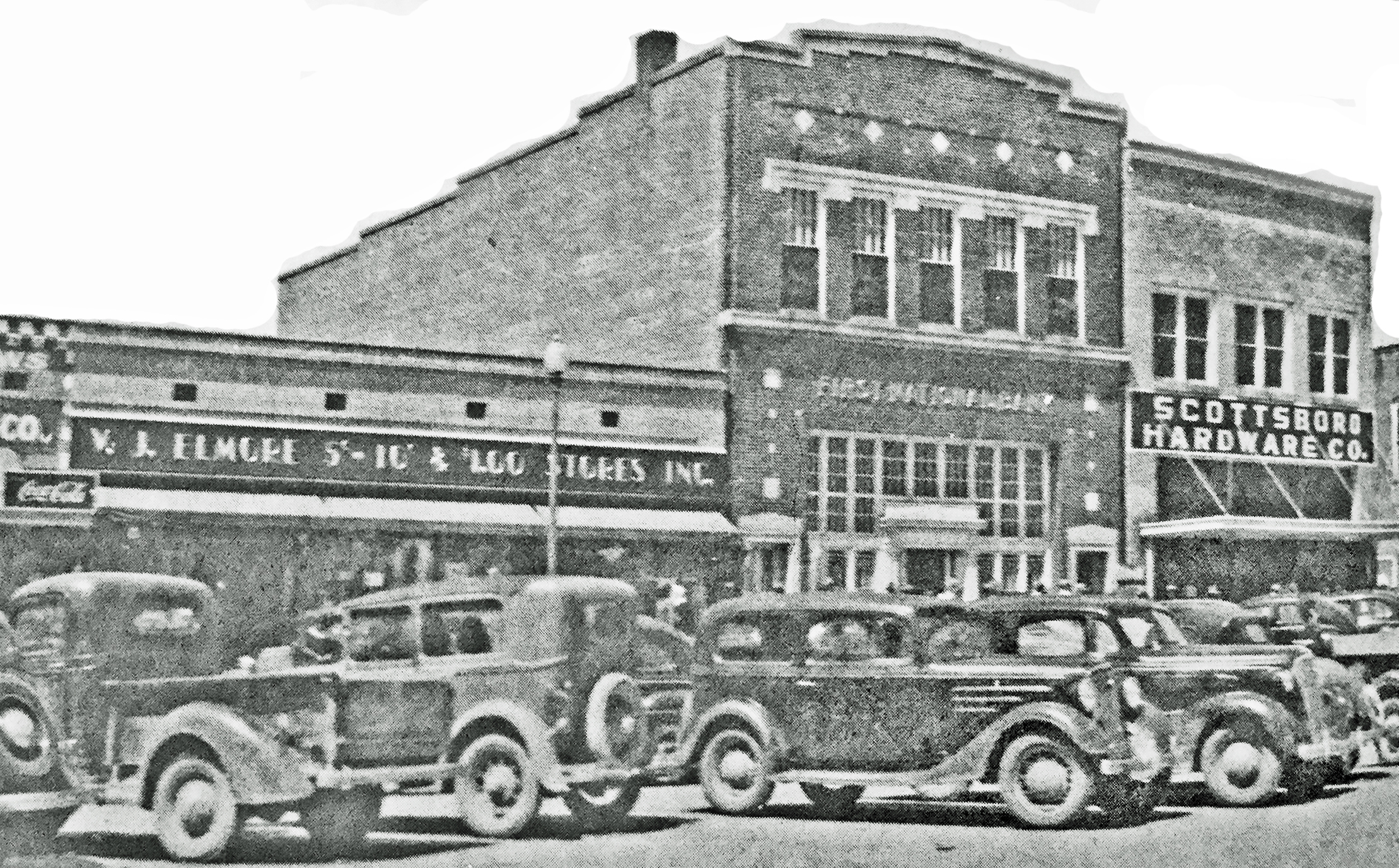 1956 ad for First National from the phone book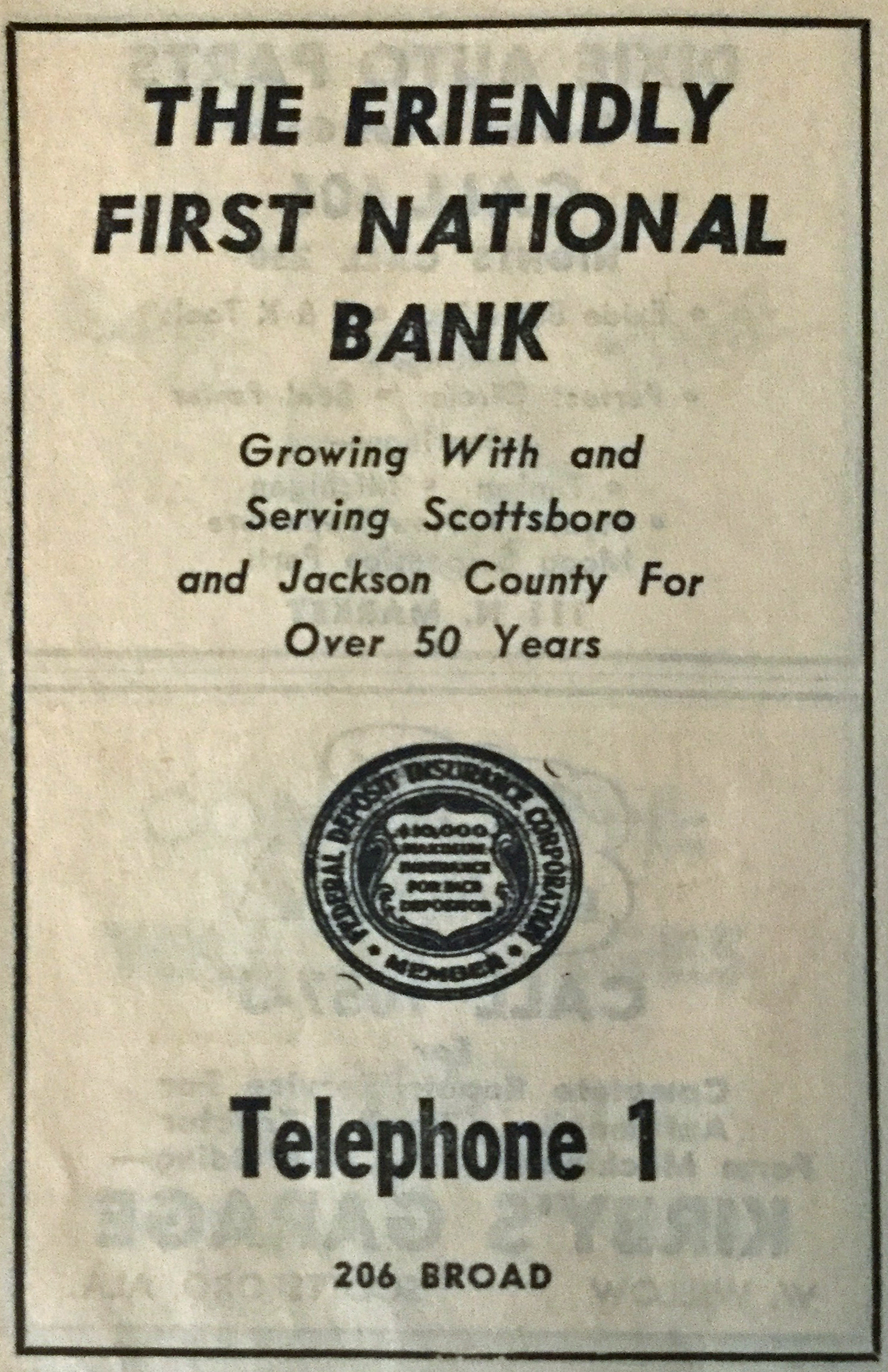 1962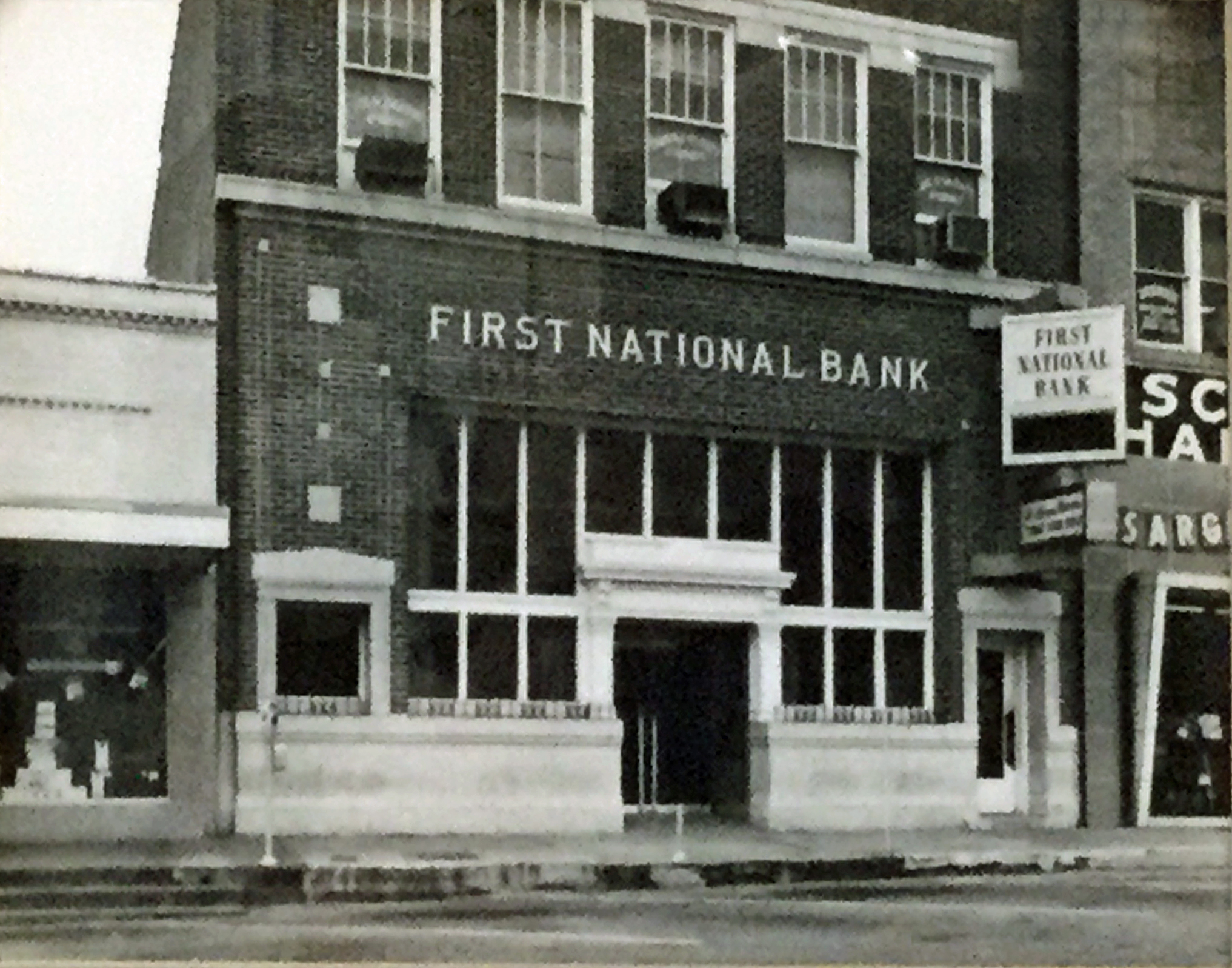 1962: inside the Bank building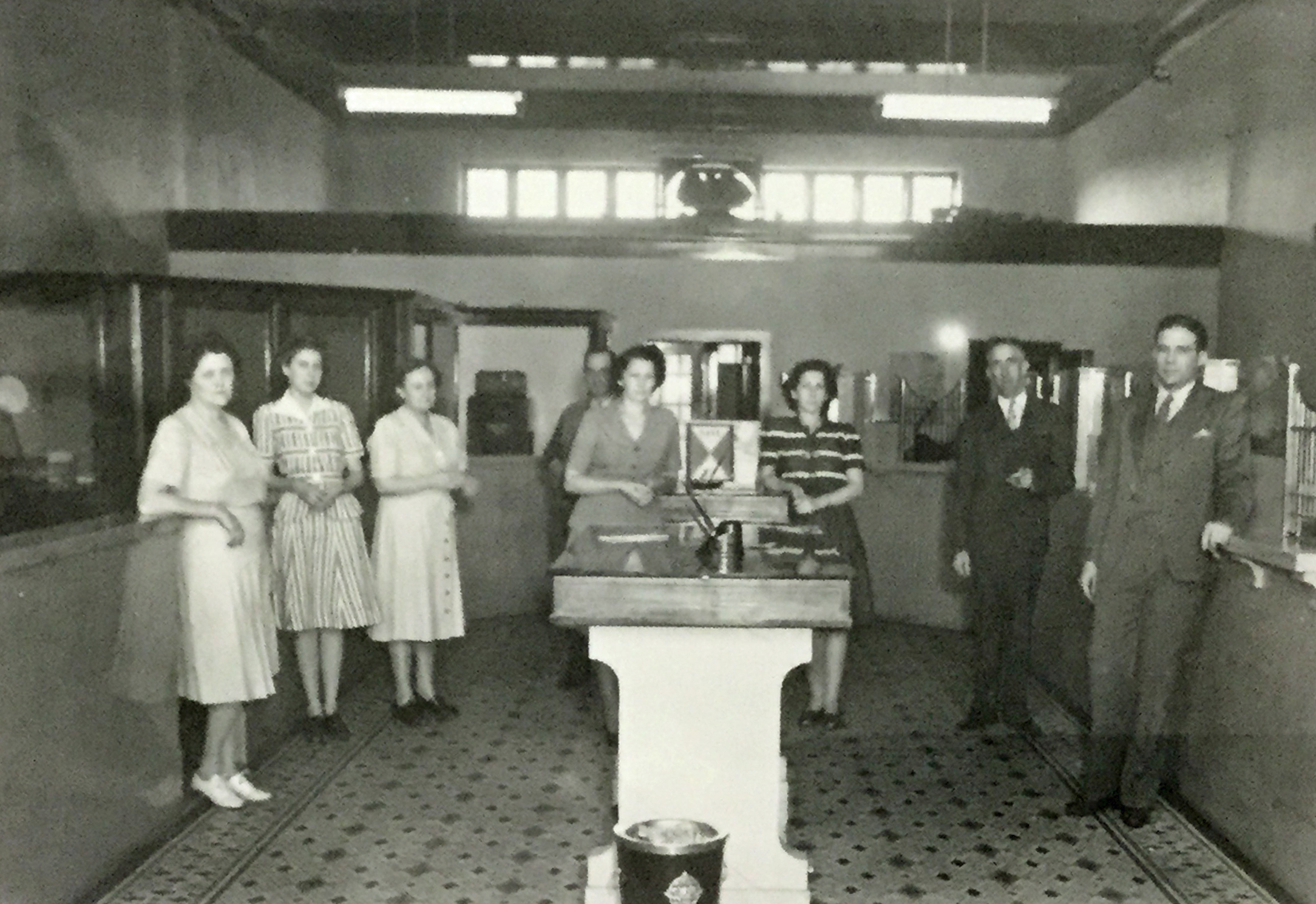 1965 city directory photos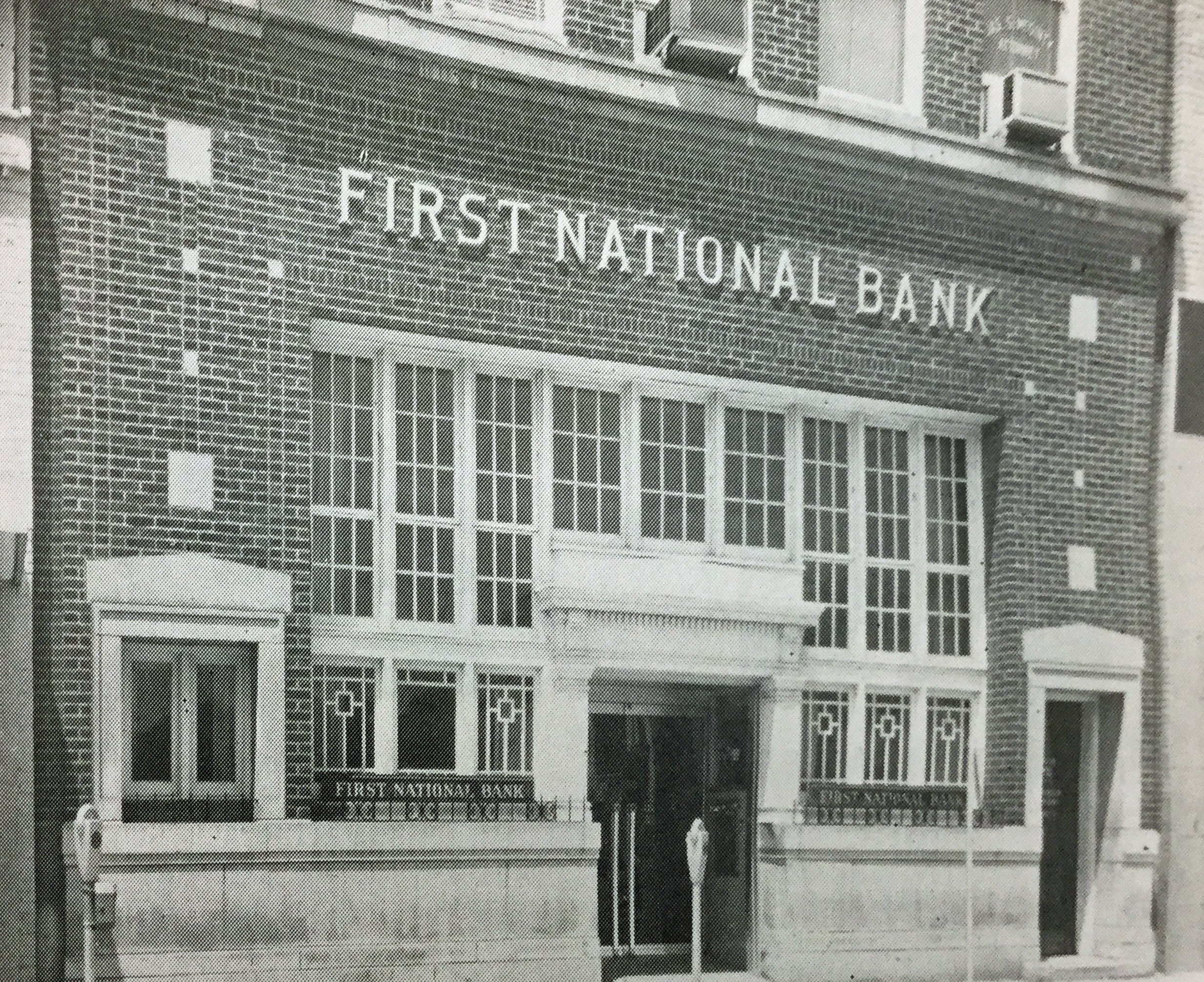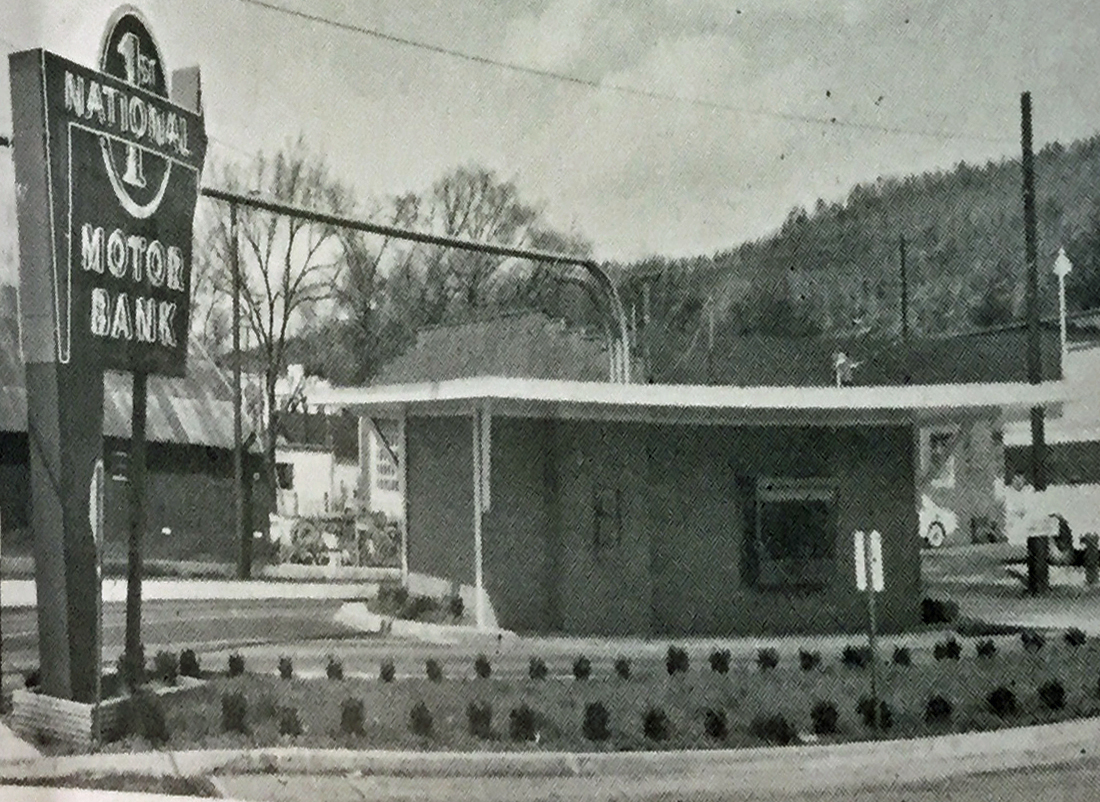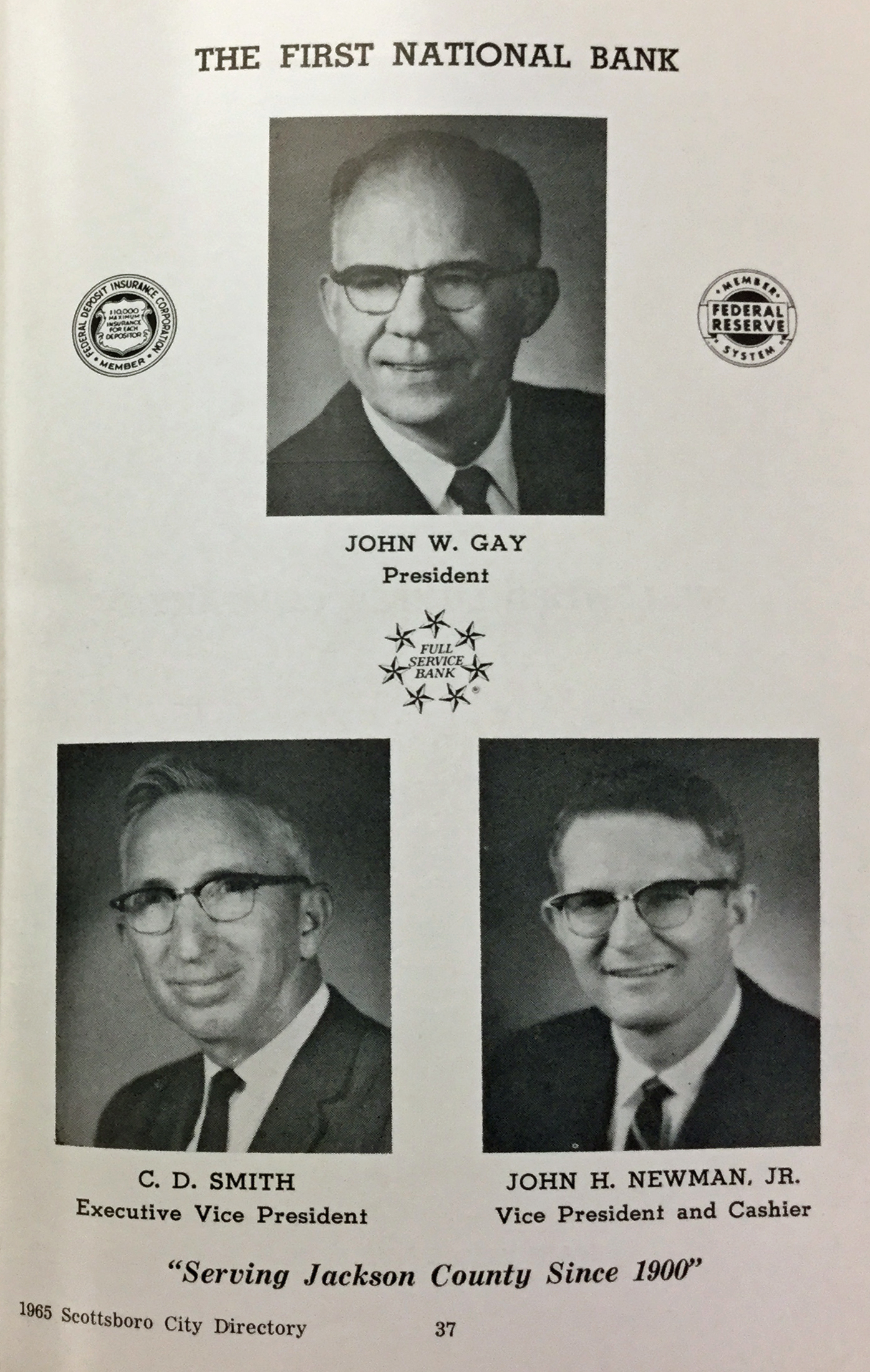 1967: new bank location on South Broad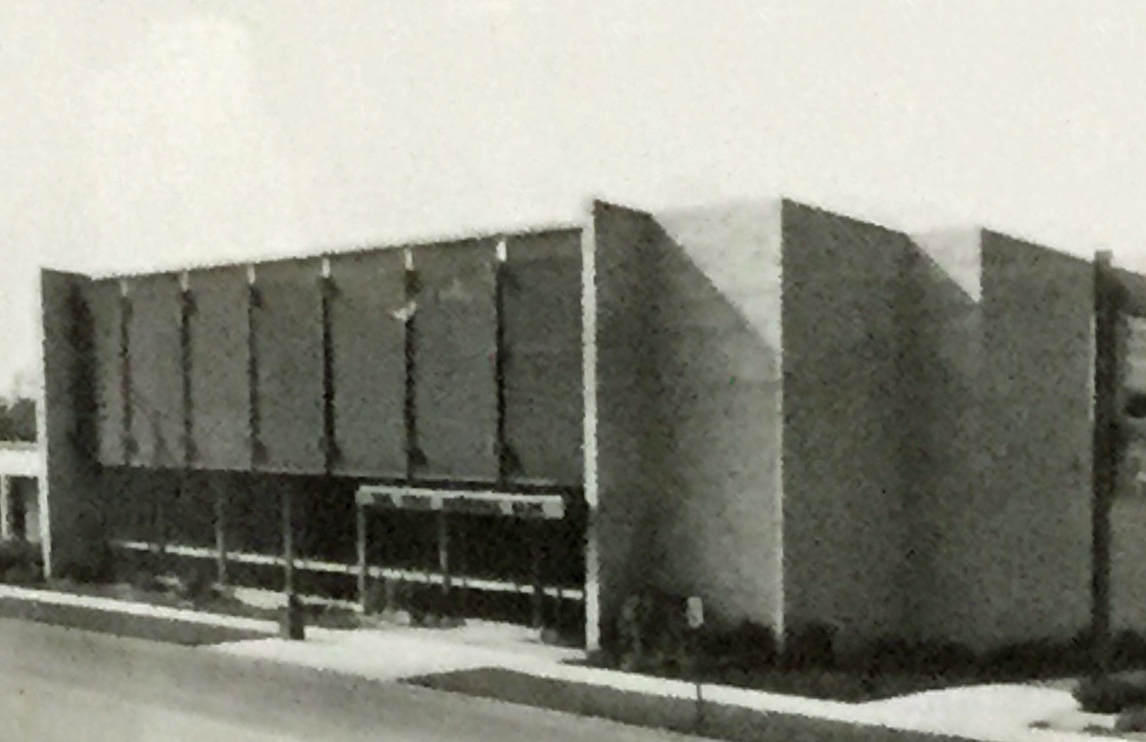 1991 bank remodeled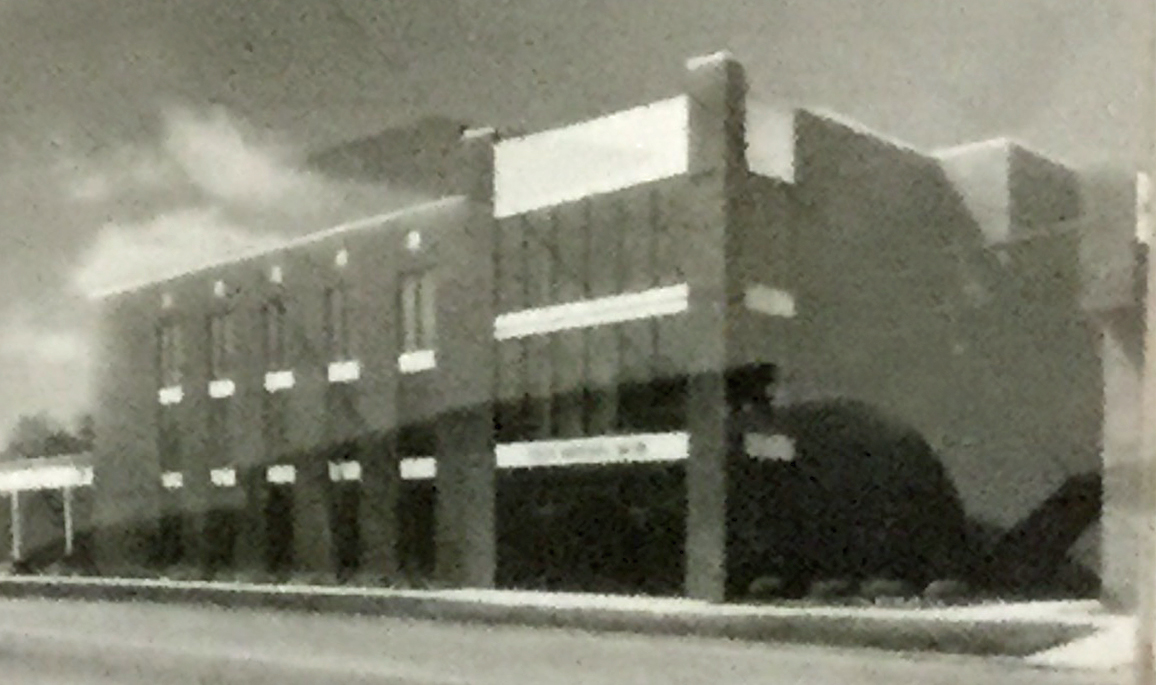 Three Generations of the bank founder, the Gay family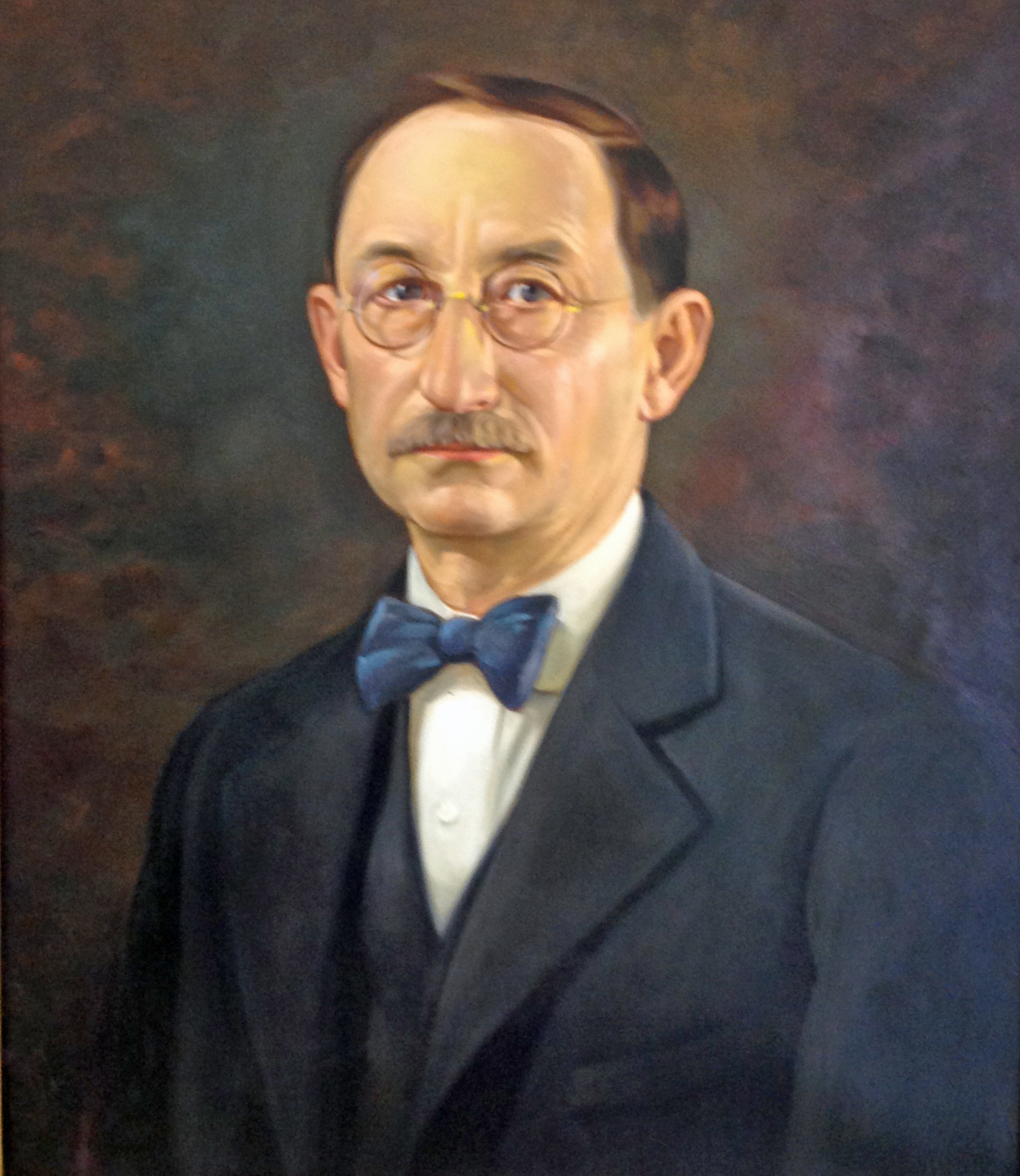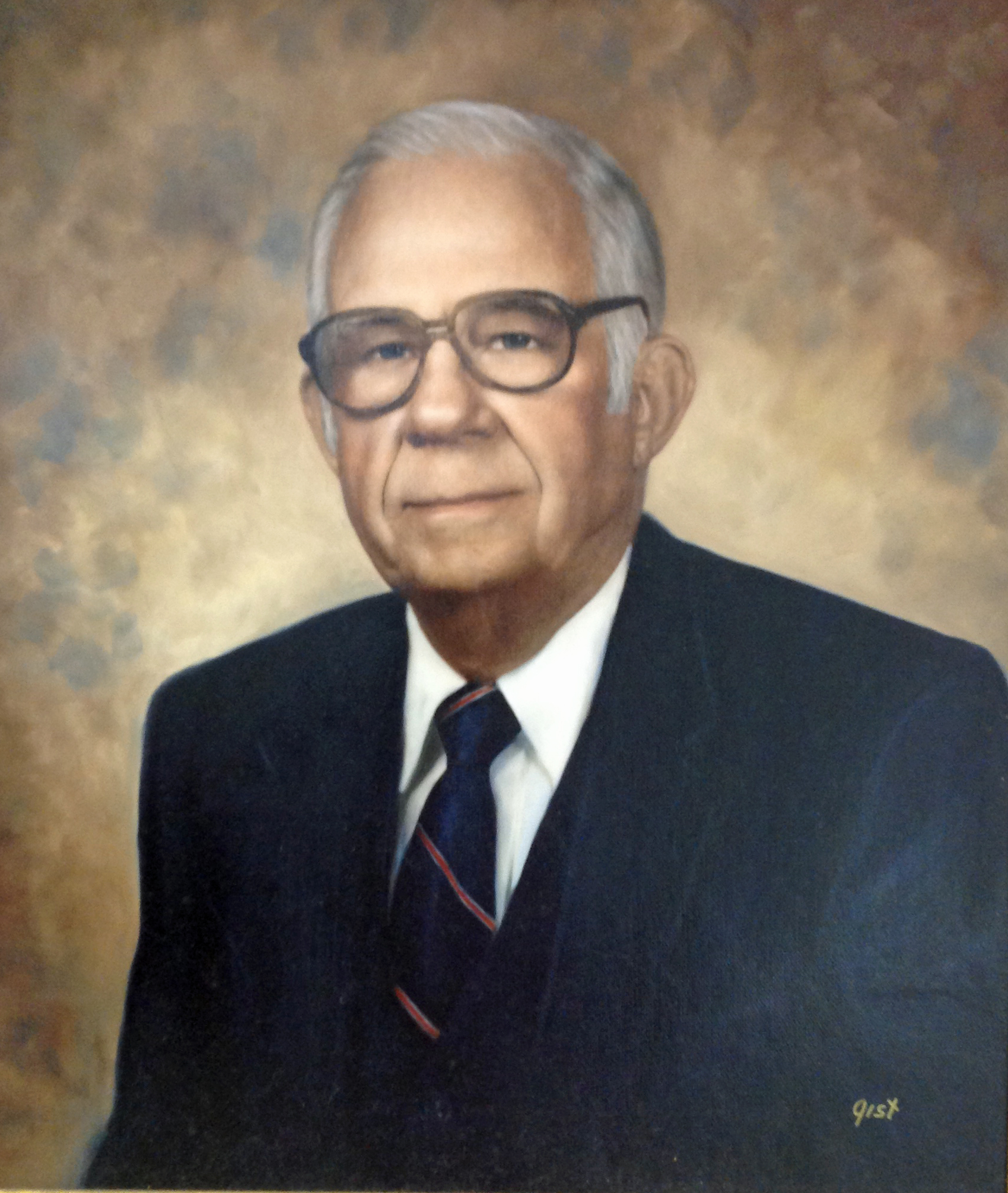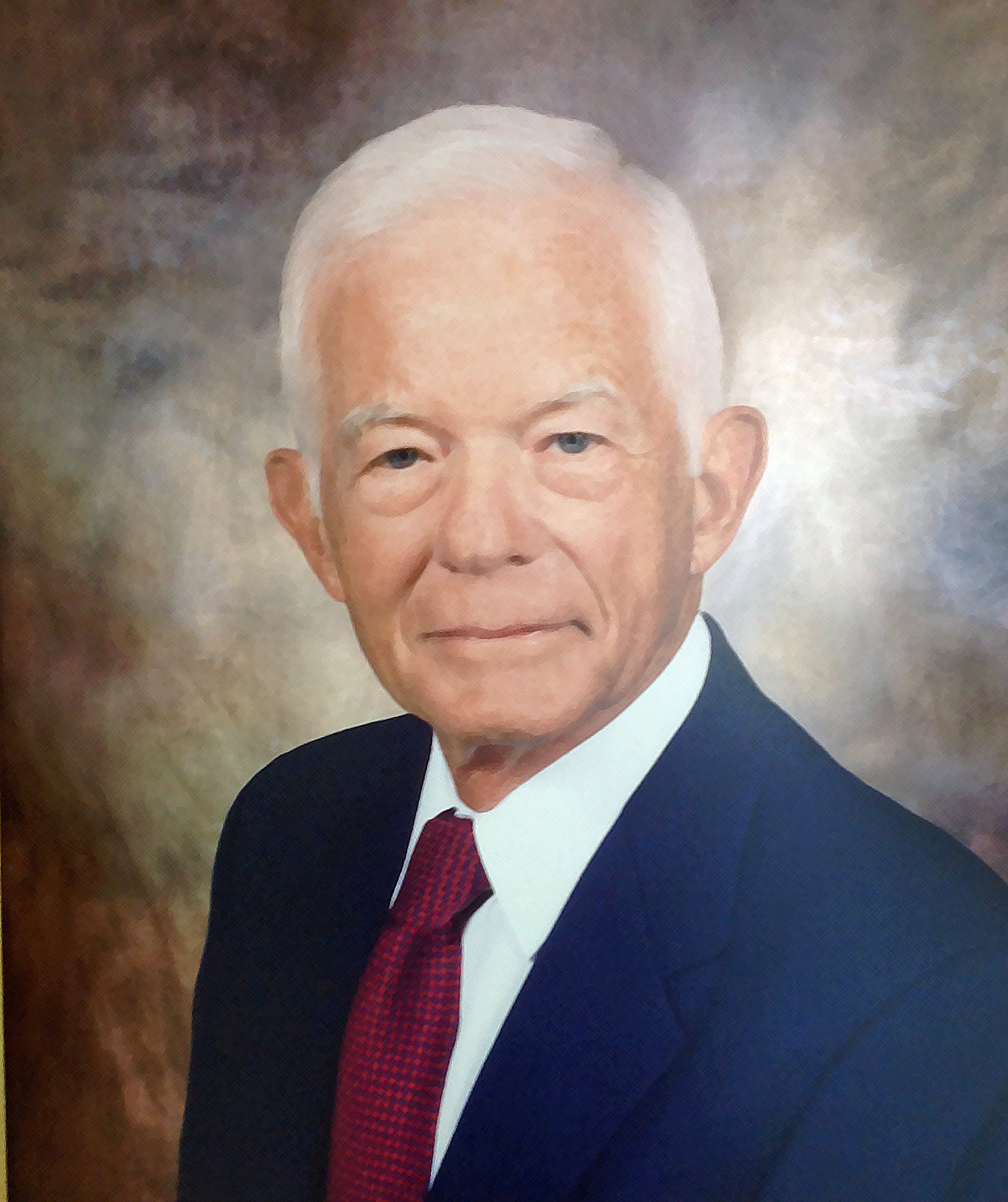 Reminders of the building's past: a bank vault and a gas furnace
The basement of the bank building was designated as a fallout shelter during the 1960s. The small space was deemed suitable air raid protection for 60 people. The old bank vault on one of three in the building and is used for fire proof record story for the law practice. The old furnace has a coal chute beside it on the Broad Street side where coat was shoveled into the basement to power the original furnace. The furnace was converted to gas.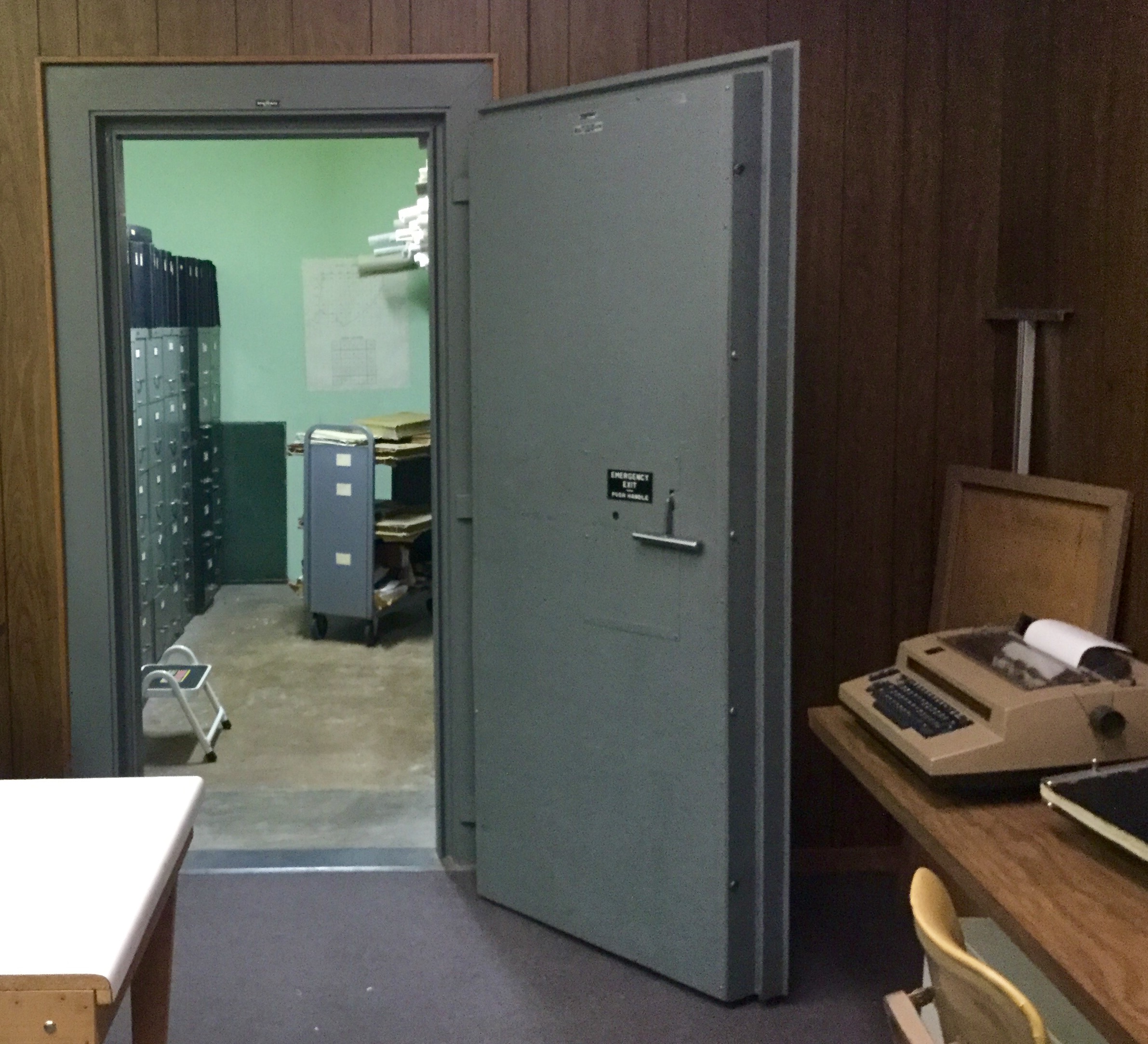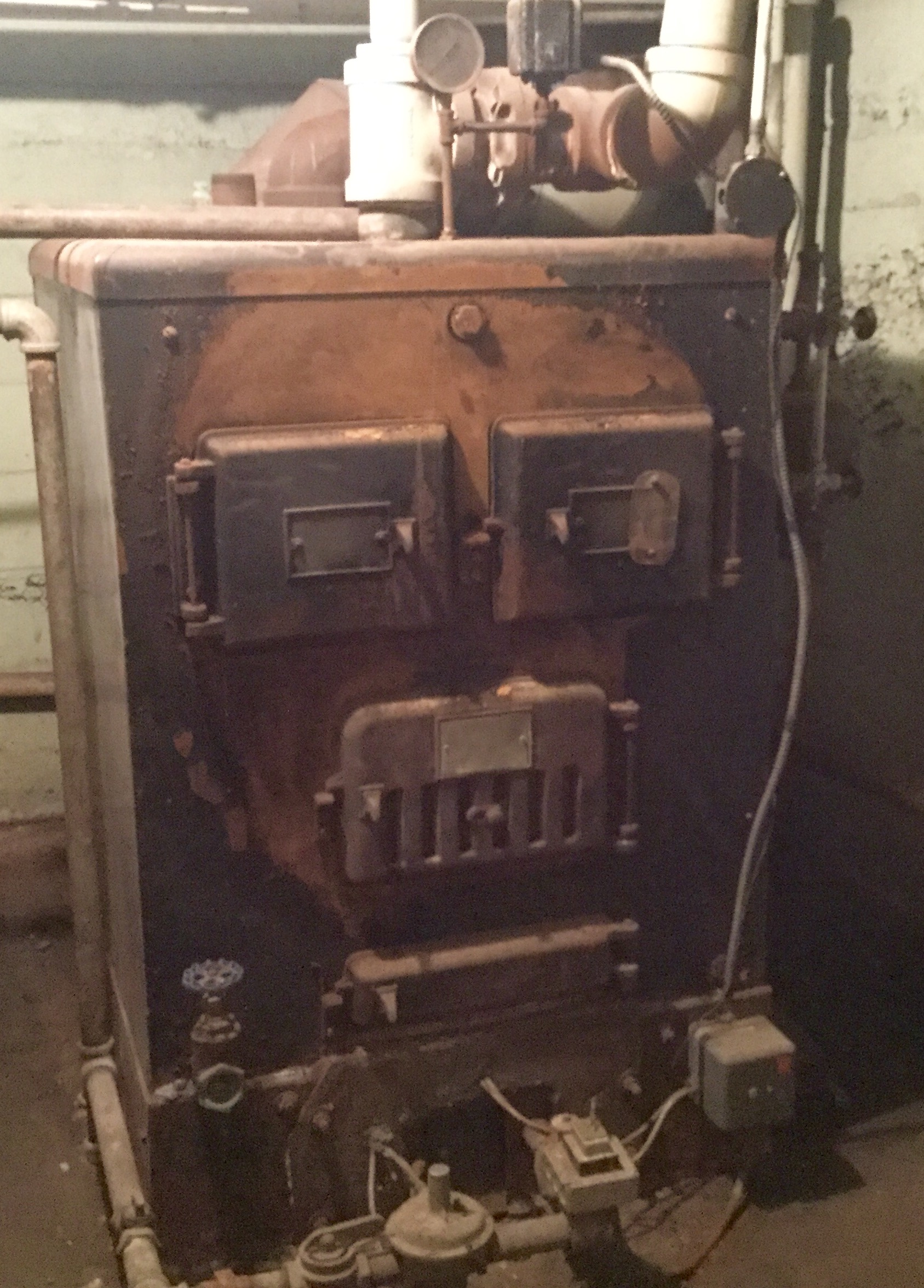 Checks from First National Bank
These checks from First National Bank are from 1908, 1909, 1915, 1922, and 1923.