South Market Street
Here are historical photos of the east side of the square.
1911-12
The building you can see in the photo is in the position of the Benson Building. The old Baptist church is visible in the background. This photo is from Walt Hammer's book.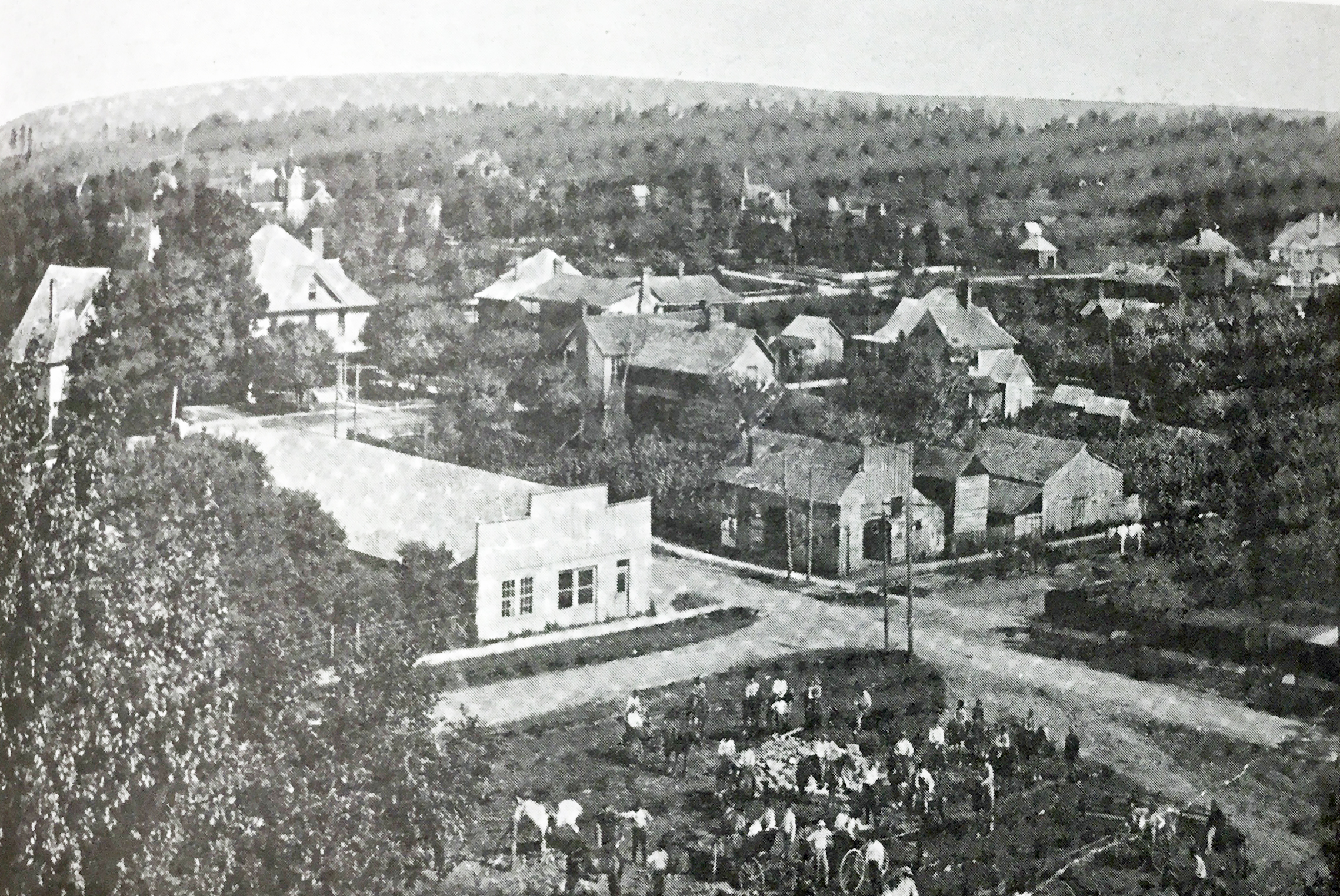 This same view was used to create a hand-tinted postcard.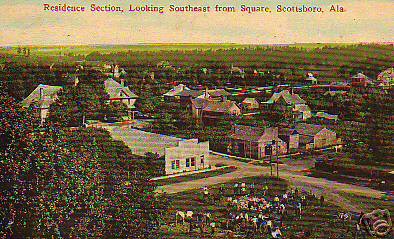 1916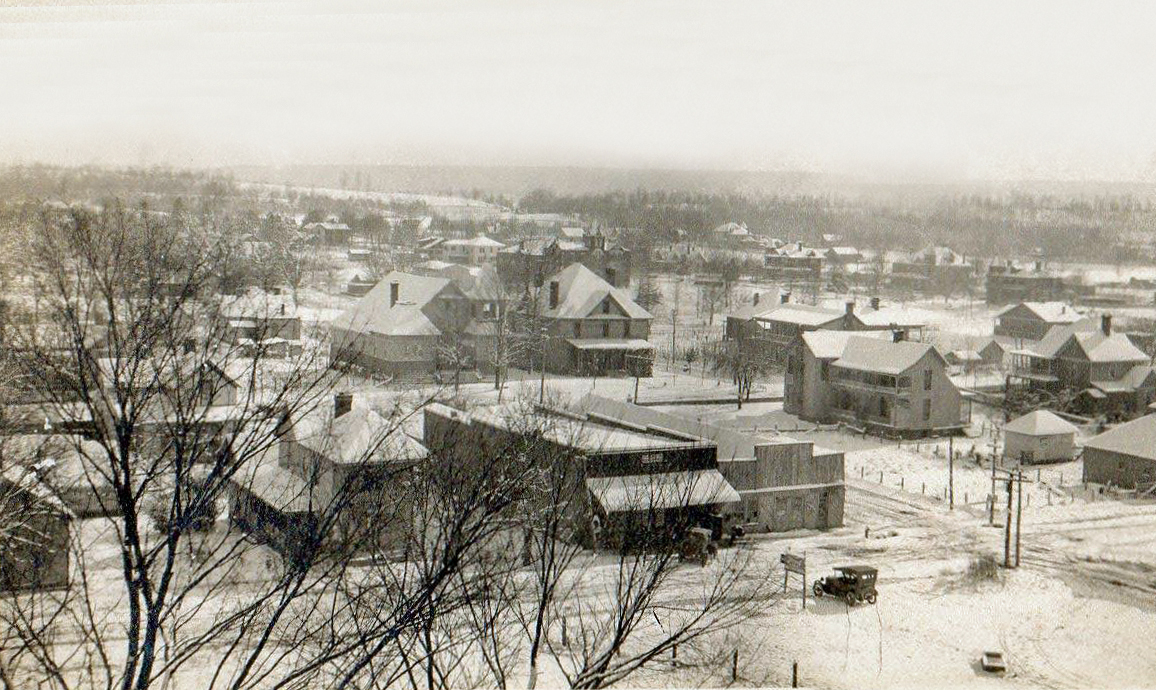 This diagram identifies some of the structures in this photo.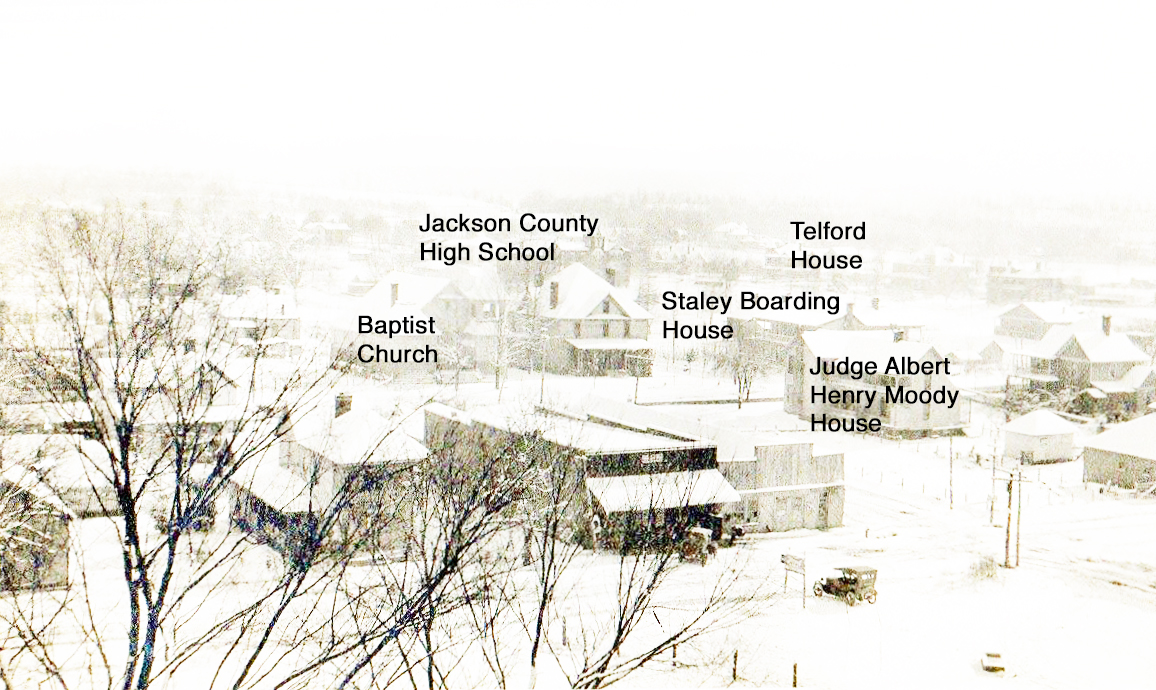 The history of the First Baptist Church is here.
The Moody house faced Peachtree Street. It was torn down WHEN and replaced with a parking lot. Judge Albert Henry Moody (1862-1934) married Jennie Campbell (1869-1946) and were the parents of 8 children, including Paralee, Redwing, and Jep Sr. His father Miles built the Moody Brick, where he was born. The most memorable photos of this family are associated with the Moody Brick.



Ann Chambless found this early deed information about this site: Deed from Miles and Rebecca Moody, his wife, to Benjamin F. Morgan, conveyed the Northwest quarter of the Southeast quarter, the Northeast quarter of the Southwest quarter, and the Southwest quarter of the Northeast quarter of Section 36, Township 5, Range 5 East, containing in all 120 acres. Deed made on December 11, 1865, and witnessed by J. D. Langston and A. G. Russell. This deed was recorded in the Jackson County Probate office by Judge Milton P. Brown on December 3, 1866.SOURCE: Jackson County, AL Deed Book H, page 308

The Staley boarding house run by James and Henrietta Staley (who is listed as the proprietor of the boarding house in the 1920 census), with help from Myrtle Whitesides, a 20-year-old black woman who is the cook. In 1920, the following people are boarders in this location:

James and Elizabeth Snodgrass. James is a retail merchant in a dry good store.
Pineny Ingram, a dentist
Benjamin Young, no employment listed
David Skelton, no employment listed
Munroe Swift, a bookkeeper at a bank
Hal Hurt, a cotton buyer
Sisters Joel and Ruby Wimberly. who are both stenographers at a bank
Richard McCulley, a telegraph operator






Is this Scottsboro?

There was some discussion on Facebook about whether this photo, part of a group of 1917-1918 photos that were sold on Ebay in 2014, was of Scottsboro, since it was part of that group of photos. Ann Chambless discusses the pros and cons of this photo being of the square.




1928:Proctor Building, Post Office, Word Motor

Walt Hammer found his 1928 photo of the Proctor Building and Word Motor Company when it was on the square. Notice that the post office is in the Proctor Building on the left.








1931:Claybrook and Proctor Buildings and Word Moters

Even though this photo is out of focus, it and the photo before give you a good perspective on what Scottsboro was like in 1930. The streets are not paved. Cars are few and parking places are not defined. The activity around the Proctor Building. The awning over half the Claybrook building, and the clear definition between businesses that share a physical space. The details is worth the lack of focus.







1958: homecoming parade






1970: East side of the square during First Monday






Where was Pat's Place

This photo is from the 1938 Progressive Age. In the background you can see a Progressive Age sign and the photo says this "food truck" was located on the east side of the square. The Progressive Age was in the Lynch Building at this time, and the McAnelly Building was not built until 1940. It seems likely that photo was taken on the site of McAnelly Building.







Snapshot Views of Market Street




The businesses on all sides of the square changed over time and as new buildings were built. We have reliable "snapshots" of the square from such public documents as phone books and city directories.




1956

Here are the businesses found on the East side of the square, according to the 1956 phone book.

108 North Market Bailey Hotel


102 Scottsboro Flower Shop
104 Jeff's Electrical Appliance
108 Jackson County Sentinel and Progressive Age
112 Jackson County Telephone Company (Farmer's Building)
112 State Farm/W. E. Tankersley Insurance (Farmer's Building)
113 Dr. Ralph Sheppard
115 Julian Hambrick Gift
119 Guy Hollis Furniture (McAnelly Building)
119 Mary B. Brewer Insurance Agency (McAnelly Building)
119 Emergency Aid Insurance (McAnelly Building)
119 Loy Campbell, Attorney (McAnelly Building)
119 Emergency Aid Insurance Company (McAnelly Building)
119 Army Recruiting Station (McAnelly Building)


201 Darwin's
205 Adams
205 Joseph A. Lee, Attorney (Proctor Building)
205 John B. Tally, Attorney (Proctor Building)
205 Jim Proctor, Attorney (Proctor Building)
205 J. E. Johnson, Dentist (Proctor Building)
205 Robert O. Haas Insurance (Proctor Building)
205 Alabama Farm Bureau Insurance (Proctor Building)
213 Word Motor Company (Oldsmobile and Chevrolet)
215 David Lee Store
219 Scottsboro Jewelers
221 Dr. Marvin Lynch
223 Wales Grocery Store
227 V. M Proctor Grocery
231 Western Auto
233 Mac's Furniture Mart
235 Surplus Commodity and Distribution Center
237 Firestone




1961

Here are the businesses found on the East side of the square, according to the 1961 phone book.

108 North Market Bailey Hotel
109 North Market The Printing Mart


102 Scottsboro Flower Shop
108 Scottsboro Newspapers
112 Jackson County Telephone Company (Farmer's Building)
112 State Farm Insurance
112 Helen's for Beauty salon
113 Dr. Ralph Sheppard, Dentist
115 Julian Hambrick Gifts
119 Campbell & Campbell, Attorneys (1 and 2 McAnelly Building)
119 Wallace Furniture
119 Mary B. Brewer Insurance (7 McAnelly Building)
201 Darwin's Clothing Store
205 Adams Clothing Store
205 Joseph A. Lee, Attorney (Proctor Building)
205 John B. Tally, Attorney (Proctor Building)
207 Webb Beauty Shop
215 David Lee
219 Scottsboro Jewelers
221 Dr. Marvin Lynch
227 Proctor Super Market
229 Ken's Records
237 Western Auto


320 Firestone Tire





1966

Businesses located on the East side of the square according to the 1966 phone book. A lot has happened between 1961 and 1966. Phone numbers are now seven digits instead or 2 or 3. Word Arcade has opened up as an office building, after closing as a car dealership some time after 1956, and is a popular new location. Ladies and Childrens has moved here. Dr. Foster moved his dental practice from the Sentell Building to Word Arcade. Dr. Atchley moved her optometrist office down the street to Word Arcade. The Bailey Hotel is no longer in business. The square has a take-out business, Proc's Char Grilled Foods. Businesses are moving off the square in greater numbers to location further down Broad street and on the Ft. Payne Highway. Other retail locations, like Holiday Plaza on East Willow, are becoming available.

101 North The Printing Mart


101 Post Office
102 Scottsboro Flower Shop
104 State Farm Insurance/Welton Norwood
110 Lovelady and Lovelady Tax and Accounting
110A Bill Roach Watch Repair
111 Hi-Jackson Wholesalers
112 Helen's for Beauty
112 Merle Norman
113 Dr. Ralph Sheppard, Dentist
115 Julian Hambrick Gifts
119 H. R. Campbell and Loy Campbell, Attorneys (McAnelly Building)


201 Darwin's Clothing Store
205 Adams' Clothing Store
205 Thomas and Proctor, Attorneys (Proctor Building)
213 H. T. Foster, Dentist (Word Arcade)
213 Mary B. Brewer Insurance (Word Arcade)
213 Kenneth Butler, Real Estate (Word Arcade)
213 State Farm Claim Office (Word Arcade)
213 Ladies and Childrens (Word Arcade)
213 Joseph A. Lee (Word Arcade)
213 Thomas Wilkerson, Accountant (Word Arcade)
213 Elizabeth's Shoe Box (Word Arcade)
213 Lois's Salon of Beauty (Lois Winninger, Opal Dobbins, Carol Martin, Joe Talley) (Word Arcade)
213 Dr. Sarah Atchley, Optometrist
219 Scottsboro Jewelers
221 Dr. Marvin Lynch
223 Ruff and Ready Furniture
227 Proc's Charbroiled Food (take out)
229 Ken's Records
231 Cash Home and Auto Store
237 Western Auto


301 Copeland Tire


403 Alabama State Employment Agency